FAULTY EQUIPMENT WAS to blame for a transmission error that subjected Prime Time viewers to 13 minutes of repetitive listening last night.
Those watching the current affairs programme were able to see what was happening on screen, but could only hear "Irish Ukrainians, not Russians" for about 13 minutes.
"We'd like to apologise for last night's transmission error on RTÉ One which was caused by an equipment failure in hardware installed in December as part of the RTÉ One HD project", a representative for the broadcaster said.
Transmission for those watching on standard definition (SD) was interrupted for just over 13 minutes. The automated system had to be manually overridden and this delayed the glitch being rectified. The transmission on RTÉ One HD was not affected.
The failure occurred during an interview with the Russian Ambassador, kicking in at the precise point when he uttered the phrase "Ukrainians not Russians" and causing it to be repeated.
Kolcoenterprises
The Managing Director of RTÉ News and Current Affairs, Kevin Bakhurst, took to Twitter during the incident to tell viewers that technicians were working to fix the problem.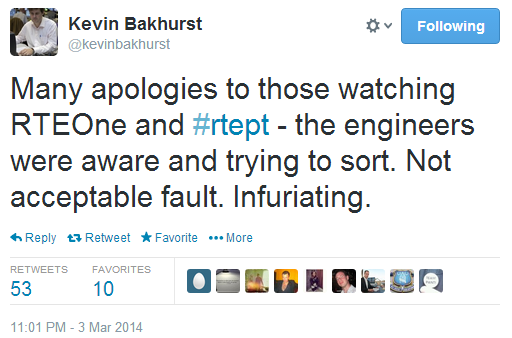 The error began trending on Twitter and was given two remixes in less than 24 hours.
KEVIN LORD
The full interview with the Russian Ambassador and the subsequent studio discussion will be made available on RTÉ Player later today.