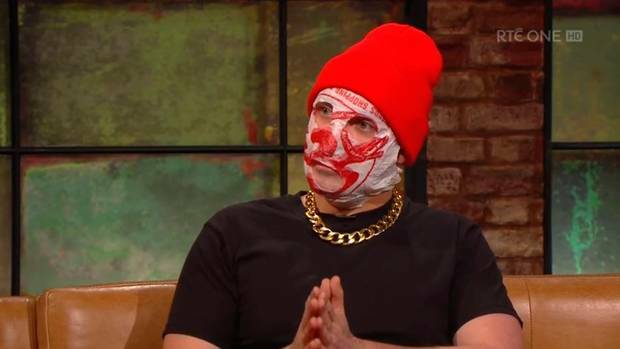 RTÉ RTÉ
IN THE LATEST episode of 'The Blindboy Podcast', Blindboy decided to explain why he has worn a plastic bag over his head for his entire career with The Rubberbandits.
The Rubberbandits shared a clip of the podcast on Facebook, where he explains that he uses it for privacy.
It's not really anonymity at this stage… It's privacy. I don't want to be noticed in public because I'm a Z-list Irish celebrity and that is a very cringy existence to be carrying around with you in your day to day life.
Blindboy explains that he's free to visit Aldi and Tesco and he's free to buy a load of toilet roll without somebody saying "Hey, there's Blindboy buying a load of toilet roll."
No one cares who I am, and I quite enjoy that existence. I can use public transport. I can sit down quite comfortably beside someone on a bus as a regular person and I don't have to worry about having a big long bus conversation about 'Horse Outside'.
Neither Blindboy or his bandmate Mr. Chrome are interested in fame at all.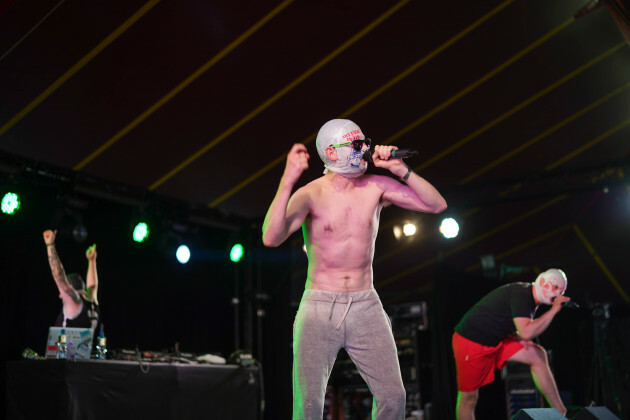 EMPICS Entertainment EMPICS Entertainment
Blindboy added that fame or notoriety are pretty shit "for your mental health".
He explains in detail the dangers of placing your self worth in external things, and basing it off of how other people feel about you.
You go up your own hole. You start to think you're special because people look at you as if you're special when they first clock that it's you. You're not f**king special, you're just on the television.
The key to good self esteem is to never give any value on yourself based on external things – based on approval or disapproval of other people. That should not matter for self esteem. Self esteem is about having an internal locus of evaluation.
High self esteem is "I am no better than anybody else and nobody else is better than me."
Later in the podcast he says:
If you can go home at night and look into the mirror and say "Today I had a good day. I didn't hurt anybody's feelings. I tried that little bit to be kind to someone, to have compassion" – and also to have compassion towards yourself, then that's all you can do. That's the best you can do as a human.
He appreciates the fact that he's one of very few people in Ireland who can "walk into a room as a person of note" and walk back in as himself a few hours later and go totally unrecognised.
The fact that his identity is hidden has some other benefits aside from keeping his ego in check.
After a gig in Vicar Street, Blindboy ended up with an awful hangover the following morning.
We got out of the hotel and I was walking down Dame Street, very, very busy, in the middle of Dublin. So I was walking down Dame Street with a roaring hangover and all of a sudden I needed to puke my ring up. There was bumper to bumper traffic and I was standing on the side of the road puking my ring up. Violently puking. Screaming puke out of my mouth… Such was my hangover.
The cars stopped in traffic beside him were staring him as the events unfolded, but it didn't matter because none of them recognised him at all. "I was just some lunatic puking onto the side of the ground."
"If I was Des Bishop, that'd be all over the papers. That's why I wear a f**king bag."
DailyEdge is on Instagram!