1. This €600 per month Rathgar studio apartment.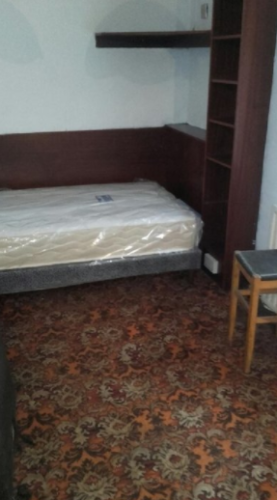 Daft Daft
The owner stipulates that it is suited to a 'QUIET PERSON'. Why? Probably in case you wake up the ghosts or something. Across from the bed we've got – you've guessed it – the kitchen. Well, a sliver of a photo of the kitchen.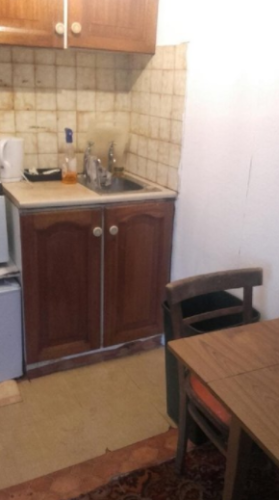 Daft Daft
Honestly, we don't need the whole photo. This says enough.
2. This attractive €720 per month Blackrock studio apartment that features a toilet inside of a sliderobe.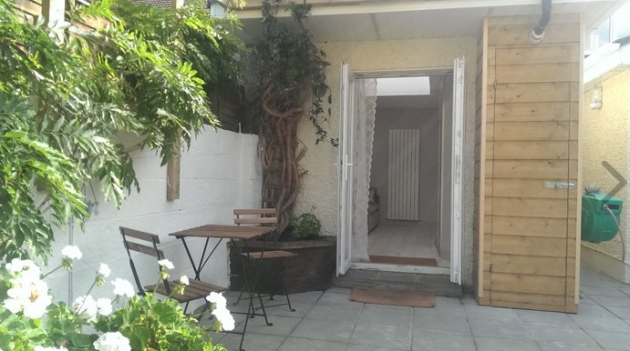 Daft Daft
It's small but the effort put into decorating brought it so close to being passable. So close. It all goes out the window when you picture yourself bringing a guest to visit. They squeeze in, you're hanging out, having some fun. Then the question comes. "Where's the jacks?" You have to say "Oh, it's just in the wardrobe there."
Here's the wardrobe door closed: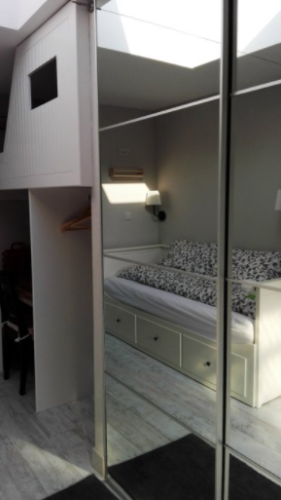 Daft Daft
And here's what's inside: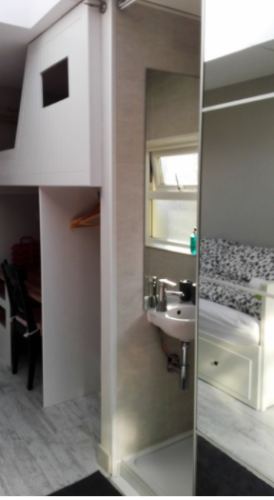 Daft Daft
Daft Daft
3. For €893 a month, you could live in this Dublin 1 flat.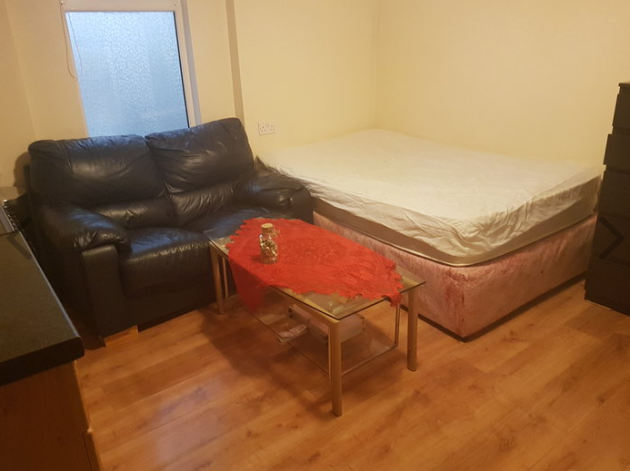 Daft Daft
Red lace throw and a jar of seashells are inexplicably included. Could that be there for structural reasons? A load-bearing jar of seashells? I don't know about you, but the way things are these days, I'd be hesitant about moving it.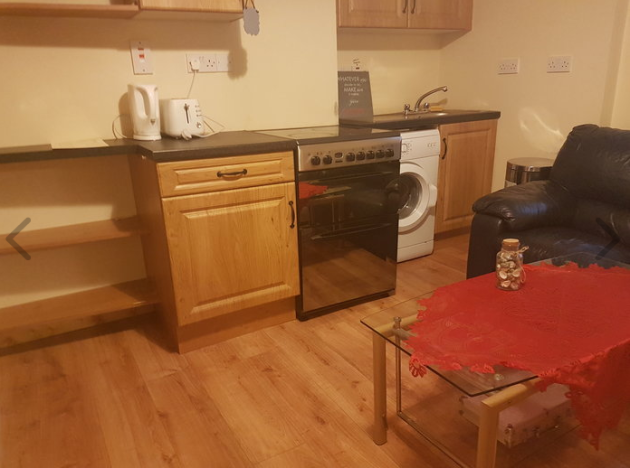 Daft Daft
 4. This Lucan property is… Interesting.
For €900 a month, you can live in this studio apartment – which spoils you with TWO entrances, a mere feet from one another.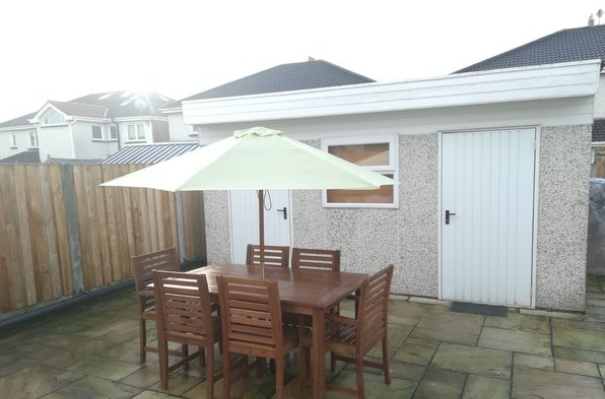 Daft Daft
Here is the living area and kitchen: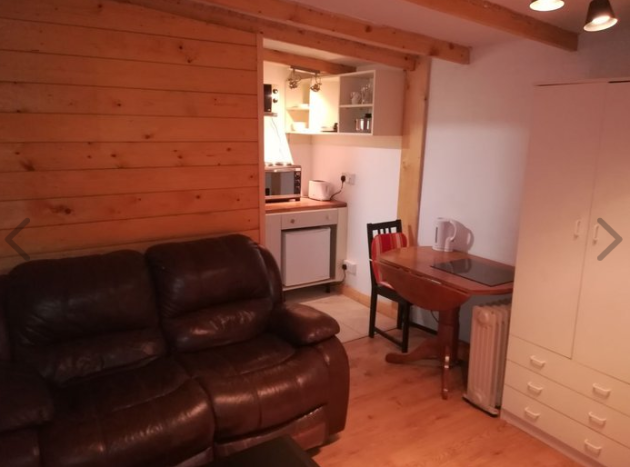 Daft Daft
And here is the utility room: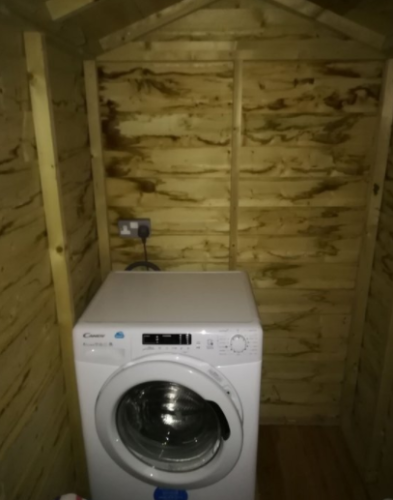 Daft Daft
Is that safe? Who knows?
5. This Ranelagh studio where you can fall asleep to the noise of your washing machine.
Well, a washing machine is very often a luxury on the Dublin rental market. You will be reminded of this blessing every time you turn it on when you've to spend the day either sitting beside it at the dining table or lying in front of it in bed.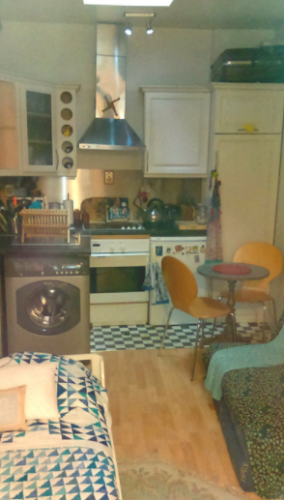 Daft Daft
This luxurious ambience will set you back €940 a month.
 6. This €750 per month flat on the North Circular road is perfect for someone who is training to join Dublin Fire Brigade.
There's some striking red kitchen tiles, and little else.
Daft Daft
Seriously. The only entertainment in this property is the fire extinguisher and fire blanket on the walls.
Daft Daft
There isn't so much as a kitchen table. For €750 a month, you could live like a robot. Your daily routine involves a quick snack (eaten in bed, of course) and then a quick read of the safety instructions on the fire extinguisher before you fall asleep in the single bed that costs you about half of a month's wages.
This is basically a prison cell with a cooker and a mini fridge. But hey! At least the tiles are nice and modern.
8. This €925 per month Rathmine studio apartment.
It has three different types of floor, to give the illusion that there are several different rooms here.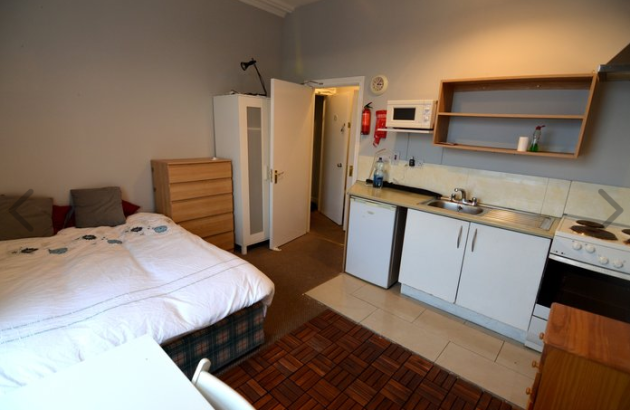 Daft Daft
Did you fall for it? That wooden floor in the middle is just some IKEA decking tiles. They look a lot better when they're used for their intended purpose.
IKEA IKEA
Between this and the jacks inside of the wardrobe, you can't help but notice how creative these people are getting.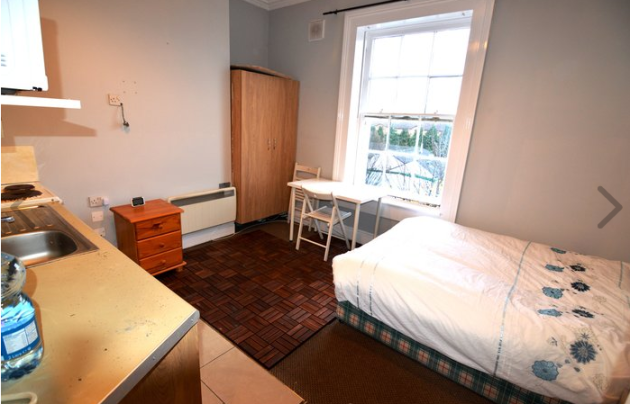 Daft Daft
The tiled side is the kitchen, the carpeted side is the bedroom, and the part with IKEA decking tiles is presumably the dancefloor (what other function would those decking tiles serve indoors?). In the hall between the kitchen/bedroom and the bathroom a tiny table has kindly been provided.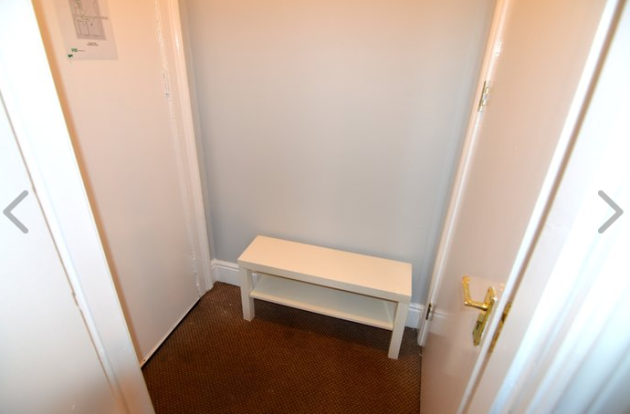 Daft Daft
This photo was probably added by somebody who thought that the tiny table may potentially be a selling point. Never mind the fact that it visibly obstructs both the front door and the bathroom door.
9. This €950 flat in Harold's Cross.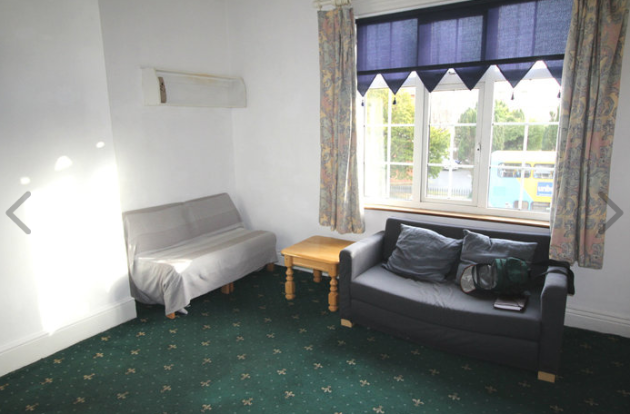 Daft Daft
In fairness to them, the bathroom, sitting room and kitchen are three separate rooms. It's amazing that we consider that to be a luxury nowadays. Is that justification for €950 a month? Well, think about what a€950 per month mortgage could get you.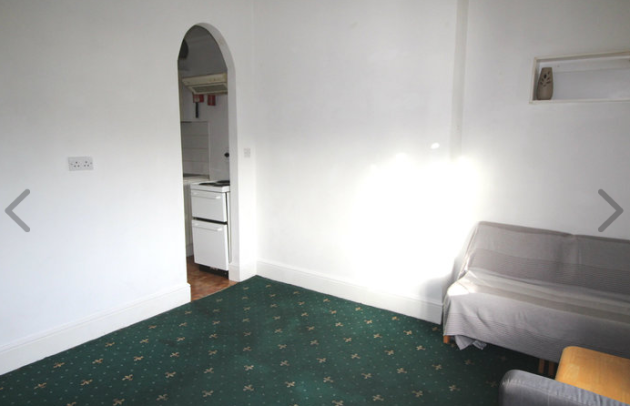 Daft Daft
On top of that, this has simply got the tiniest kitchen we've ever encountered. It's honestly not much bigger than what you can see in that sneak peek above. No fear of too many cooks spoiling your broth, because you mightn't even get one cook into this kitchen.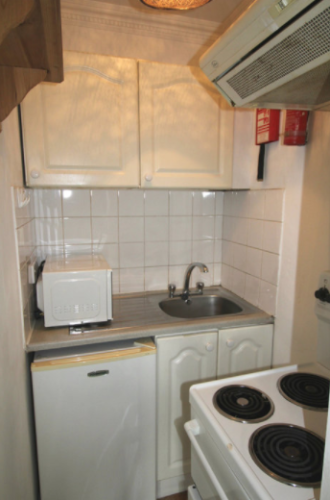 Daft Daft
10. Here's what €1,000 a month will get you in Tallaght.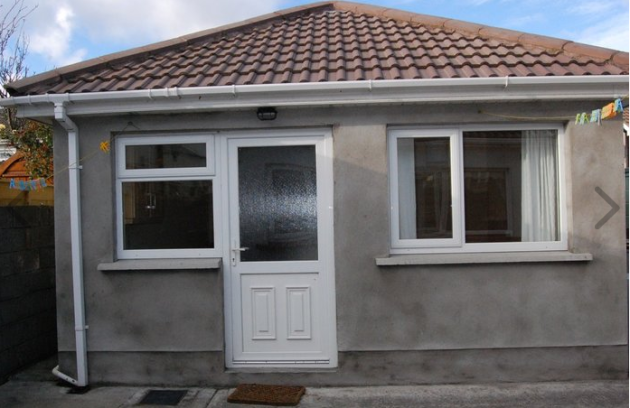 Daft Daft
Bills aren't even included in that price. €1,000 plus bills to live in somebody's back garden in Tallaght. A 35 minute drive away from the City Centre. A fifty minute bus trip away from town, in good traffic. So surely, for that price the interior of this property is adorned with gold, if not at least heavily bejewelled.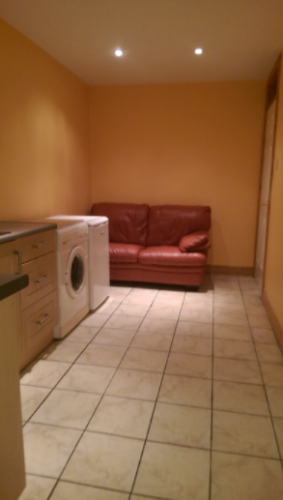 Daft Daft
Well. It has a couch. And a wine rack.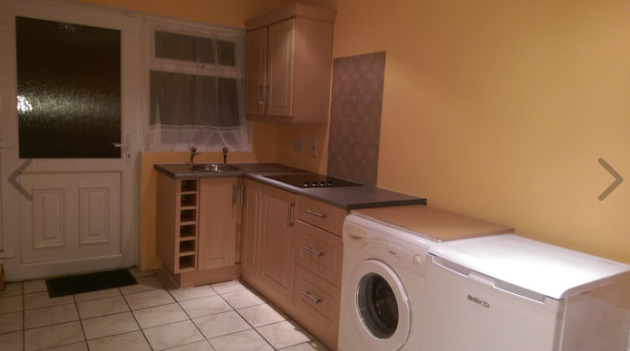 Daft Daft
A wine rack for all the socialising you'll be able to do on your couch. Over in the bedroom we've got an extremely hostile looking single bed.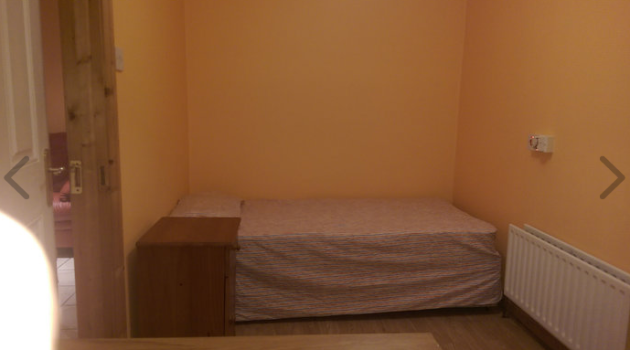 Daft Daft
The couch is suddenly a lot more appealing.
11. This month's second most expensive property is this €1,100 per month studio in Rathmines.
Daft Daft
This property, with the grey recliner that is included, might appeal to a ten-year-old. But anybody who has any concept of how much money €1,100 actually is will probably feel their blood pressure rise a little bit if they look at this photo for too long.
A gate-leg table is generously included, as if there is any space for it to be extended to its maximum size. It beats the trainee-firefighter apartment because it includes a table and a recliner, but you pay €350 per month extra for those exciting additions.
12. For the same price (€1,100 per month) you could opt for one of these studio apartments in Marino.
The first apartment looks like a hotel room.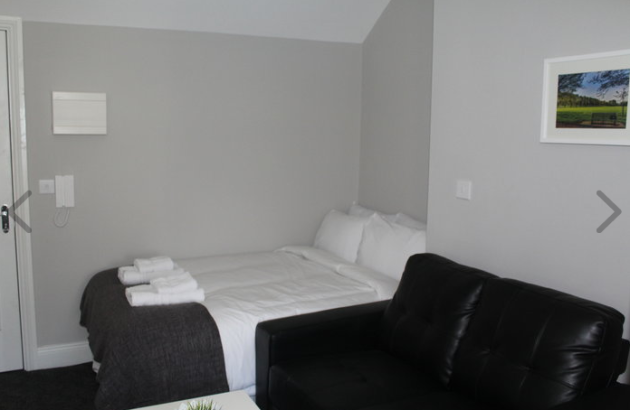 Daft Daft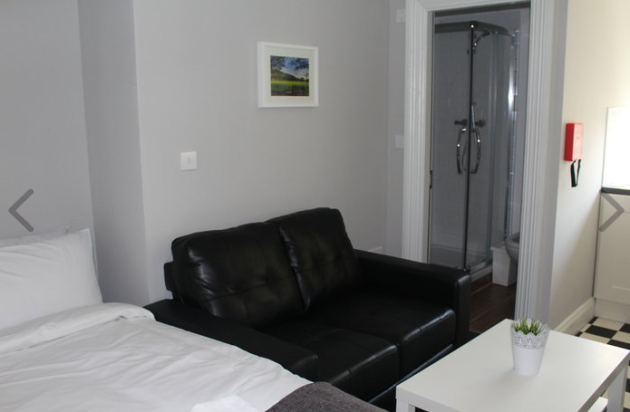 Daft Daft
At least you know the towels are included in the price. There are so many photos of different apartments that appear to be in the same building on this one ad that my brain is like this right now: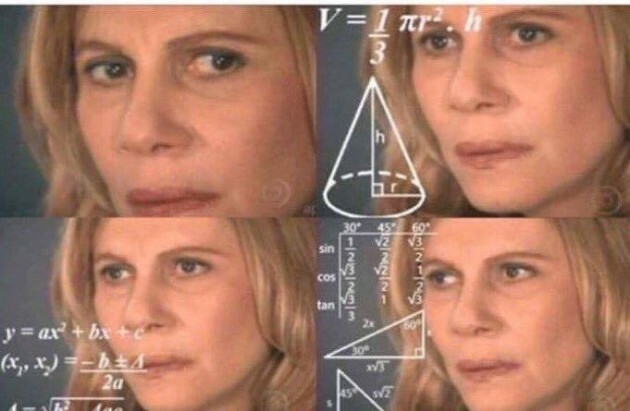 But I *think* I've finally got it figured out. This appears to be the bedroom of a second studio apartment, available for the same price.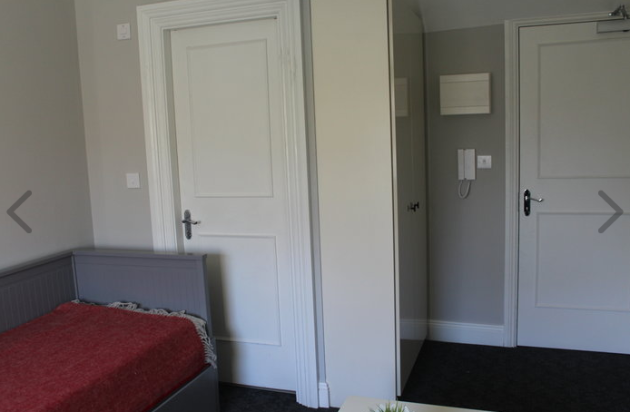 Daft Daft
It has a daybed that is obstructing a door. Because who cares about getting in and out of rooms? You're only paying €1,100 for it. Then we've got a third one, which may or may not be inside of a closet.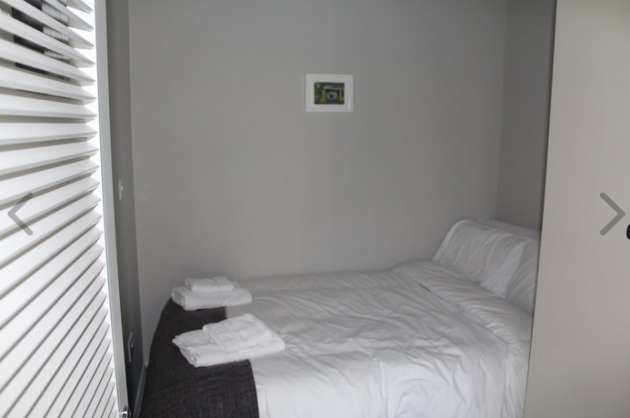 Daft Daft
13. Last but not least, we've got this studio apartment in Hartstown which is near Blanchardstown. Which makes the monthly price-tag of €1,157 even more unforgivable.
Daft Daft
Whoever's responsible for this property is under the impression that the average human wants to come home from work every single day and put themselves through the pain of extending their dining table every time they want to sit down for a meal.
That's just the tip of the iceberg.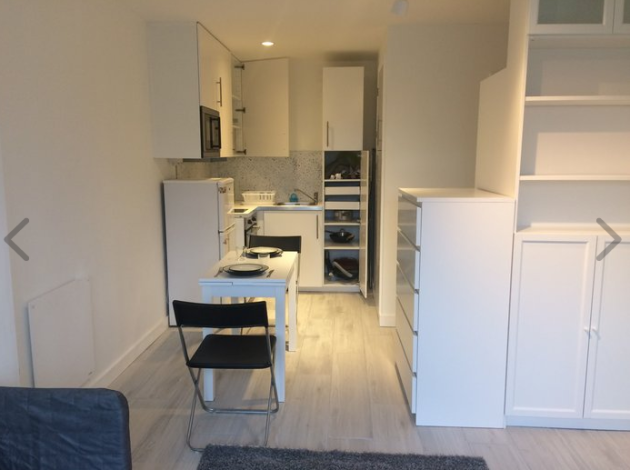 Daft Daft
If you stand in the dining room and do a little pivot, you might see the bedroom.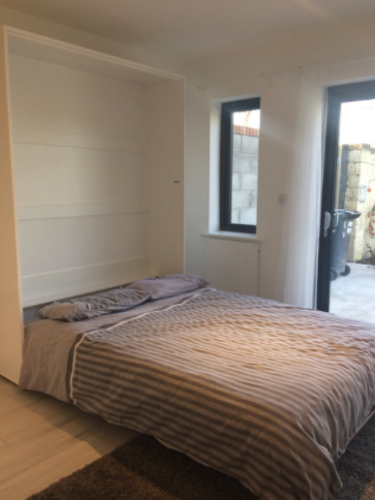 Daft Daft
Or you might not. Because that is a real life Murphy bed.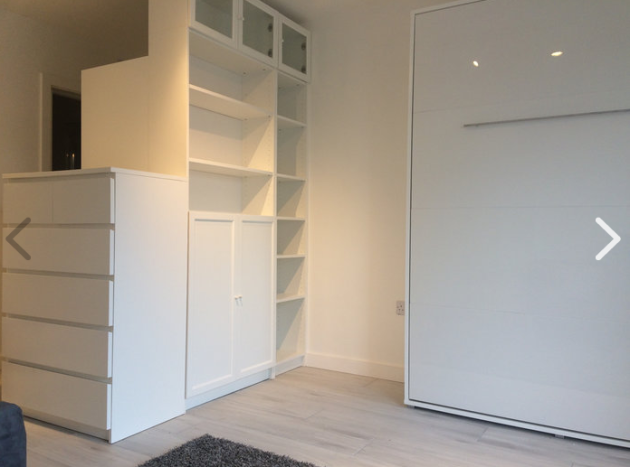 Daft Daft
A Murphy bed is a great idea as a spare bed, or somewhere for guests. But dealing with it full time seems a bit daunting. Especially when you're paying €1,157 a month to sleep in it. Let's not forget it's in a suburb that's an hour away from town on the bus too.
If all of that didn't depress you enough, you can look at all of the other sad properties we've discovered by clicking here. 
DailyEdge is on Instagram!