SAMUEL L. JACKSON HAS responded to Twitter backlash after he tweeted an image that was widely considered homophobic.
The initial tweet which was posted on President Donald Trump's birthday sparked the controversy. It included an image of a novelty product called "After Dick Mints" with the caption:
Must have been a party at The White House, Mitch, Paul, Rudy & others were spotted wearing knee pads & carrying these lined up outside. Happy Birthday."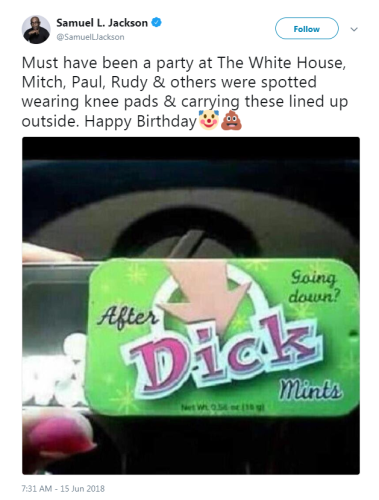 Seemingly shrugging off the criticism on Instagram, Jackson posted a pic of a Twitter message of the reports and complaints they have receiving from the alleged homophobic tweet.
"We have investigated the reported content and could not identify any violations of the Twitter Rules or applicable law," the message stated. "Accordingly, we have not taken any action at this time."
The Incredibles 2 actor captioned the pic with a long trail of laughter and the words:
They just keep tryin'."
DailyEdge is on Instagram!