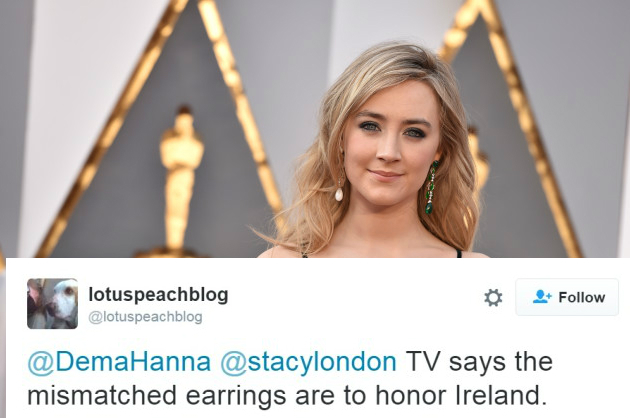 AP / Press Association Images AP / Press Association Images / Press Association Images
AS THE DUST settles on the 2016 Oscars, we can reflect on how our very own Saoirse Ronan absolutely slayed on the red carpet.
Most of the attention, of course, has been on her fabulous emerald green dress – which most people here took as a nod to her home country.
But now the analysis has moved on to her mismatched earrings
One white, one green – and winning plaudits all over the place.
Apparently the ABC coverage in the States said that the white and green were specifically a reference to Ireland
Twitter Twitter
I was only half paying attention to the red carpet, but I seem to recall someone attributing her mismatched earrings as a symbolic nod to the division of Ireland and Northern Ireland. Did anyone else hear that?
With another commenter backing that up:
That was my first thought upon seeing it.
So the theory was out there

Twitter Twitter
Despite the fact that no evidence for this assertion exists as of yet, the earrings will go down in history in the US as some sort of heroic cross-border symbol
Which is a cause of mirth for any Irish people thinking they might be over analysing the situation
@aoiph Twitter @aoiph Twitter
We'll need Saoirse to confirm this before we can even think that's what they stood for
Thanks, TV.
DailyEdge is on Snapchat! Tap the button below to add!