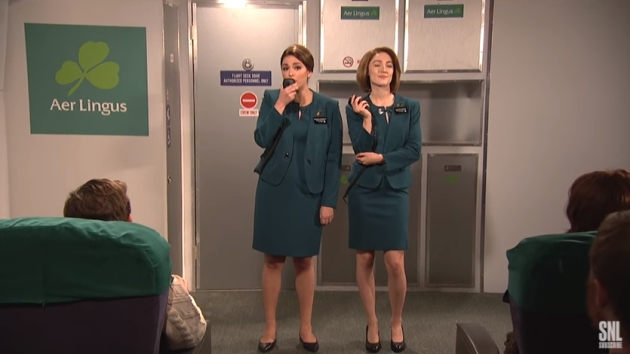 SNL SNL
MOST OF THE sketches Saoirse Ronan did as part of her evening hosting SNL catered to the sense of humour of Americans.
This is obviously completely fair, considering that the vast majority of the people who watch the show are from the US, so most people are understanding, even if they personally didn't get the appeal.
However, viewers (both American and Irish) found one sketch on the show bizarre and disappointing. It features Saoirse as an air hostess with Aer Lingus and some awkward jokes about potatoes. There are also some very poor attempts at Irish accents from the SNL cast.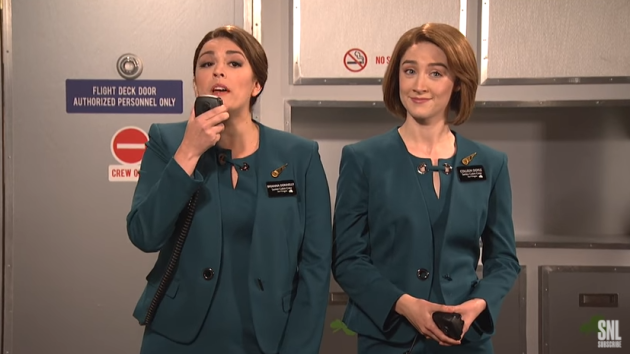 SNL SNL
For no apparent reason, the sketch centres on a gag about the plane being full of dogs. Is that an Irish thing? Did something happen with dogs on an Aer Lingus flight that none of us know about?
None of this makes sense. Much of it comes off as if the script was written ten minutes before the piece was filmed.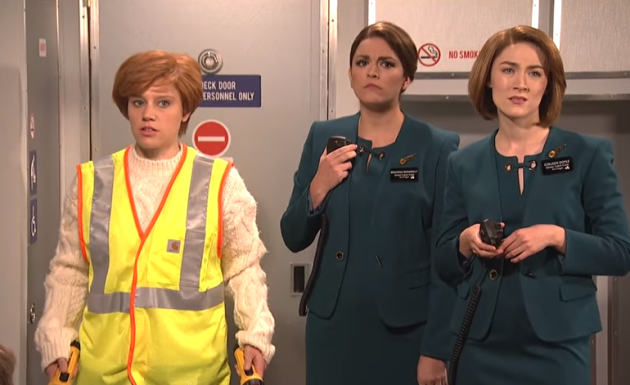 SNL SNL
The desperation of the team of writers who worked on this is almost palpable. You can pinpoint the moment when they realised that they didn't know enough about Aer Lingus to justify using one of their planes as a setting. But it's too late to go back now, so let's make a joke about how it sounds like the word 'cunnilingus'. Make it Irish. Mention potatoes. That should fix it, right?
Also, pay close attention to the wardrobe. Every single passenger is wearing a knitted jumper. You'd swear there wasn't a Penneys in the country.
Saturday Night Live / YouTube
The reaction on social media to this particular sketch was a mix of confusion and disappointment.
One comment read:
What was supposed to be funny here? They were flinging everything at the wall hoping for something to stick… and it didn't. What was the main thread of the joke? The name joke that's abandoned 10 seconds in? The dogs getting loose? The accents? The 5 seconds potato gag? I mean, what was this supposed to even  be about?
Fans were unsure of why Saoirse partook in this one. One Twitter user simply said "Let's never speak of it again." Maybe that's the best thing to do.
DailyEdge is on Instagram!