UP UNTIL THE arrival of Scrubs in 2001, hospital shows were where you went for your weekly source of high drama and emotionally-charged storylines.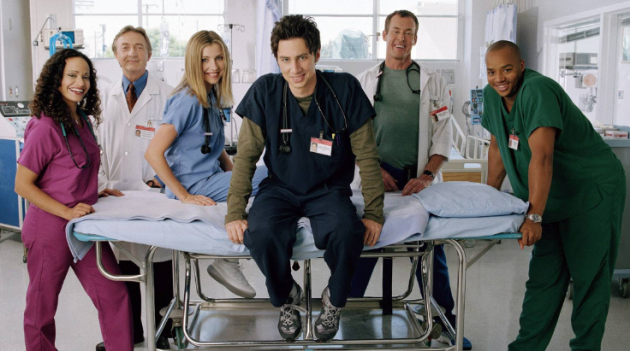 And then Bill Lawrence brought us the folk at Sacred Heart, and instantly turned the genre on its head.
With the inclusion of dream sequences and a reliance on slapstick humour, there was no denying that Scrubs was the outlier among shows like ER, Casualty, Holby City, and later, Grey's Anatomy.
However, while its creator certainly saw a gap in the market for a lighthearted hospital-based show, he didn't deviate entirely, and instead punctuated the comedy with a number of incredibly emotional moments which often caught the viewer off-guard.
And it's for that reason, they're all the more memorable.
Here we take a look at just seven times you went from crying-laughing to just pure crying.
1. When the entire gang lost a patient.
You had Jeff Buckley's Hallelujah playing in the background as all three patients flat-lined at the same time, so it was no surprise the vast majority of us absolutely lost it.

Zvonimir Jurković / YouTube

2. When Dr Cox made that mistake.
In the midst of a guilt spiral over failing to identify rabies in a patient, Dr Cox is dealt another blow, and ultimately loses a patient who had a fighting chance.
onlyfortime / YouTube
3. Carla's goodbye to Laverne.
In season 6, the show lost one of its most-loved characters, and none of us were able for it…. least of all, Carla.
Zvonimir Jurković / YouTube
4. Turk and Carla's baby announcement.
Granted, this scene was peppered with an abundance of classic Scrubs jokes, but it didn't detract from the sheer feels in this instance.
And the addition of some Christian Rock in the background? Sure, where else would you get it?
TTan777 / YouTube
5. When Dr Cox showed up at Jack's baptism.
After attempting to distance himself from his own childhood, Dr Cox has a particularly splintered relationship with his sister, Paige – tension which is ultimately diluted in the aftermath of his son Jack's baptism.
Zvonimir Jurković / YouTube
6. The death of Jordan's brother, Ben.
The 60th episode of the show saw Dr Cox struggle with the passing of Jordan's brother and his best friend, Ben.
Sleep-deprived and in a state of denial, Dr Cox is forced to acknowledge the death with the help of JD, who he initially blamed Ben's passing on.
blue1231 / YouTube
7. When JD told Dr Cox how much he idolised him.
In the aftermath of the rabies/transplant deaths, Dr Cox turns up drunk to work in Sacred Heart, and after being sent home, his colleagues take turns checking in on him.
During JD's visit, he tells Dr Cox how the whole sorry event only confirmed why JD idolises him so much. And sure, between Perry's tear-soaked face and JD's kind words, we were all in a heap.
dbfinch / YouTube
DailyEdge is on Instagram!