A DRAMATIC FINAL weekend of the Lions tour to New Zealand saw the series tied at 1-1, and the weird trophy presentation on Saturday was a little bit cringey for everyone involved.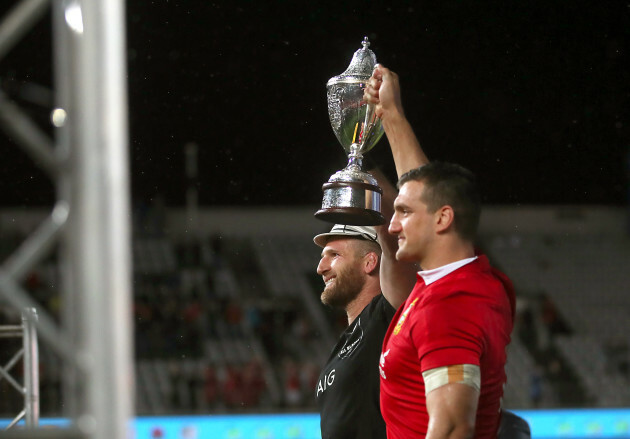 James Crombie / INPHO "Freiiiiend?" James Crombie / INPHO / INPHO
On the whole though, it was a fairly big success for the Lions to come out of there with a draw – so the session has well and truly been on for players and fans alike in New Zealand all weekend.
Some players have been going to great lengths to maintain a semblance of anonymity on social media
But thanks to Conor Murray's Snapchat – and the stellar documentation work by @NiallMcintyre on Twitter - we have one excellent snippet of the Lions' after party that needed to be filmed for historical purposes:
Sean O'Brien up and belting out Westlife's World of Our Own
Sean O'Brien belting out a westlife classic is what we all wanted to see!! pic.twitter.com/y46k2ghuOZ

— Niall Mcintyre (@NiallMcintyre) July 9, 2017
If you can't see the video, click here. 
Oh yes (and that bonus sideways angle for the feeling that you're actually on the sesh with them).
It's written on your passport that it's obligatory to mumble out a few words of Westlife if and when it comes on in a bar in a foreign land – so this performance is no surprise, really.
Some key questions remain, however:
Did SOB select the track in question? The Westlife back catalogue is substantial, so many stone cold classics were ignored with this final World of Our Own selection.
Or was he railroaded into it by other players "because Westlife are Irish and it will be great craaaaic"?
He's only joined by one other player standing up and belting it out. Does this mean Westlife enthusiasm in the squad is low, or were they giving O'Brien the floor because this is his specialty?
There are more important Lions questions to answer post tour of course, but this is a proud moment for all the Irish in New Zealand right now.
Now, sing it… WE'VE GOT A LITTLE WORLD OF OUR OWN.
DailyEdge is on Snapchat! Tap the button below to add!