A DEAD SHARK was found in a New York subway carriage in the early hours of this morning.
Here it is:
Yes, it was real. It was extensively documented by people taking photos with their phones.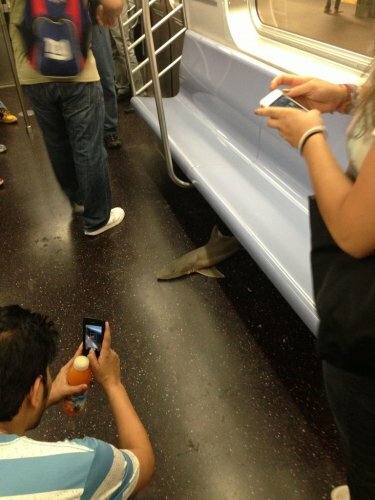 One traveller told Gothamist:
I board a car that's not terribly full and as soon as I enter, a stench hits my nose. It's not the typical urine/trash smell, it's…fishy? I look down to the end of the car to see a dead shark on the floor. I think I stood there for a good minute just staring, thinking 'Is this for real?!
The shark was discovered on board an N train running towards Queens, a New York transport spokesperson told the Huffington Post.
The conductor isolated the car and the train proceeded to Ditmars Boulevard terminal. Upon arrival at Ditmars Boulevard, a Train Service Supervisor reported the shark was dead and he placed it in a garbage bag and disposed of it in the trash.
But not before someone had dressed it up as a commuter, with a cigarette, can of Red Bull and a Metrocard.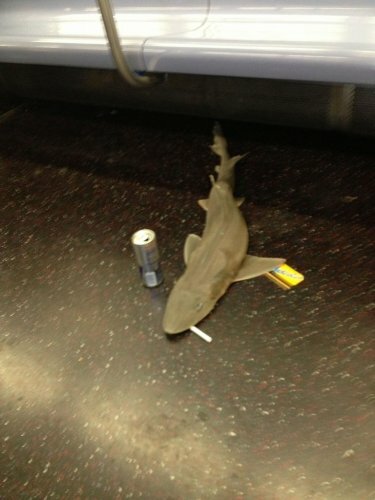 Lovely. As you might expect, the internet has been freaking out a little bit. Here are just a selection of the jokes, as tweeted by Buzzfeed reporter Samir Mezrahi:

The mystery of what the shark was doing there, however, is yet to be solved.
Do NOT forget that Sharknado is being premiered in Ireland tonight on Syfy. We'll be liveblogging every minute! Visit dailyedge.ie from 9pm to join the fun.