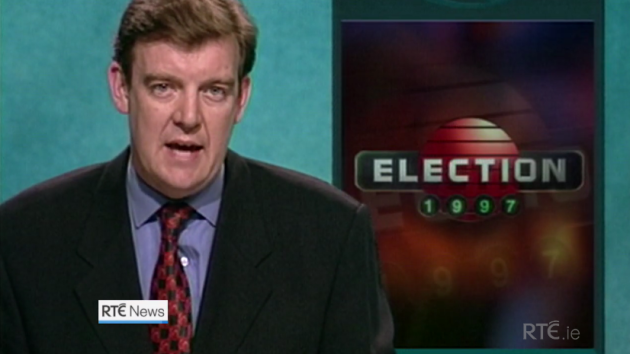 RTÉ Player RTÉ Player
TONIGHT MARKED THE end of an era for RTÉ News as Bryan Dobson hosted his last ever Six One. Gulp!
Dobson has anchored the programme since 1996, but next week will take up his new role as presenter of Morning Ireland on RTÉ Radio One.
RTÉ Player RTÉ Player
His colleague Sharon Ní Bheoláin took a moment at the end of tonight's broadcast to pay tribute to her friend 'Dobbo' – getting a little bit teary in the process.
You've been a rock to us, figuratively and literally… I not going to look at you now because I know I'm going to get all teary. From my point of view, you've been a great friend and mentor and I'm sure the whole country joins me this evening in wishing you the very best.
She then introduced what she called a 'reality TV'-style clip of 'Dobbo through the ages', which included his reports on major world events – and some excellent retro pics, of course.
RTÉ Player RTÉ Player
Said Dobbo:
Thank you Sharon for your very kind words, and it was wonderful working with you… It's been a blast. I hate to go, but I'm afraid I have to. So thank you, and goodnight.
Ah here. The tribute even managed to stir the emotions of some of the people watching at home:
Ah, we'll miss the dream team. But we'll always have the moment Sharon accidentally called him 'Dobbo' on the air in 2015. We'll always have that.
DailyEdge.ie / YouTube
DailyEdge is on Instagram!