Today is the 19th anniversary of the death of Father Ted actor Dermot Morgan. To mark it, here's our deep dive on one of the show's most beloved episodes…
ONCE UPON A time, in the not too distant past, a rash of hairy babies began mysteriously appearing on Craggy Island.
The culprit: milk-delivering sex pest Pat Mustard, who was determined to put his tool into the box of every willing woman on the island.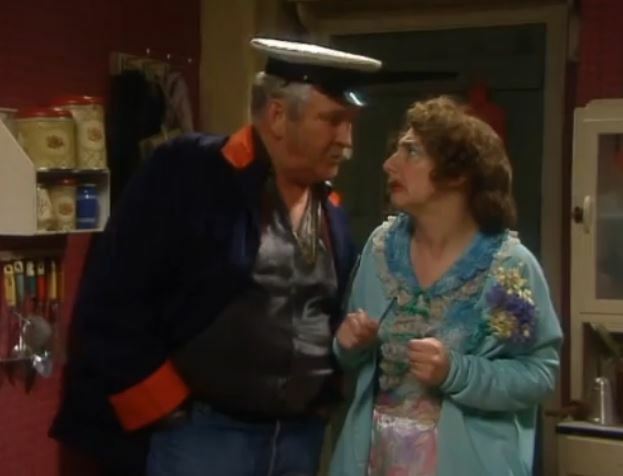 Enter Father Ted Crilly and co, determined to put a stop to his antics, resulting in near disaster involving Dougal, a milk float, a roundabout and a brick.
To mark the 20th anniversary of the broadcast of the first episode of Father Ted, we're treating you to an oral history of  that very special episode Speed 3; the writing, the casting, the filming, and the legacy of Ted.
'It was one of those nice writing sessions that just came together'
Father Ted co-creator Graham Linehan can't quite believe it's been 20 years since Father Ted was first aired on Channel 4, telling DailyEdge.ie:
It's crazy, I try not to think about it.
He remembers the script writing process for Speed 3 flowing fairly smoothly. He and fellow Ted writer Arthur Mathews had been inspired by the concept behind the 1997 film Speed 2: Cruise Control, which neither of them had actual seen:
… but the fact that it was set on a boat made us laugh. And the idea of that boat going very fast was very funny to us. We set to work thinking up a story for Ted which would be worse than Speed 2.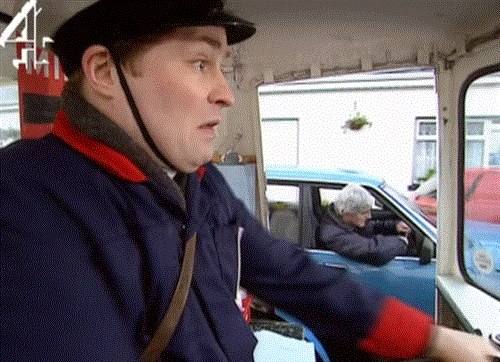 It was one of those nice writing sessions where the whole story came to us from the middle section of Dougal on the milk float.
We needed to get Dougal onto the float, so we thought 'how do we do that? Maybe he unexpectedly gets a job after the previous milkman is fired'.
Enter Pat Mustard.
'I'm so gorgeous they want to put me under arrest'
The role of Pat Mustard wasn't the first time that actor Pat Laffan had 'done sort of semi sexy stuff'.
Back in the early nineties he had played the role of Georgie Burgess in the film adaptation of Roddy Doyle's The Snapper.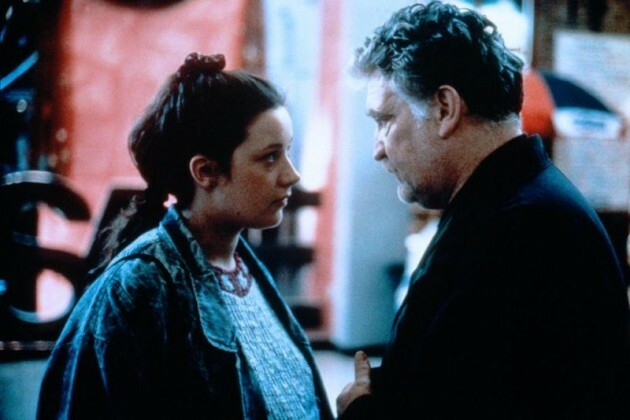 Laffan had actually already been up for a different Ted part – the one of Father Fintan Stack played by Brendan Grace:
I didn't get that one, but I had a mate who was helping them with the casting who knew I had done something kind of similar – semi sexy stuff – for Georgie Burgess.
Laffan was in California when he got the call to go to Clare to film Father Ted.
I had gone to spend time with a friend in San Francisco and the bed was so uncomfortable and then they put on the washing machine next to my head the next morning, so I was out of there.
He remembers about a week's worth of filming the outside location scenes in Clare, spending time with Pauline McLynn (Mrs Doyle) "who was a mate of mine" and Frank Kelly (Father Jack) "who I was in college with".
It was a nice atmosphere and they all worked very hard. The script was great, the weather was good.
Laffan's character provided the catalyst for Ted to become a participant in the central Dougal/milk float storyline.
Graham Linehan explains:
Because [Pat] had been shagging all these women on the island, Ted had to figure out who was having all this sex. That's where the hairy babies came into it. Dougal and Ted were at a bonnie baby contest and Ted noticed all of these hairy babies. It was just lovely how the whole story kind of fell together.
Linehan says that Speed 3 is one of his favourite episodes for a number of reasons, one of which is the appearance of his writing partner in a cameo role.
When Dougal becomes trapped on the milk float rigged with a bomb, Speed-style, by a vengeful Pat Mustard, Ted calls on the priests of neighbouring Barren Island to help.
Their solution? A mass of course, performed by Arthur Mathews himself.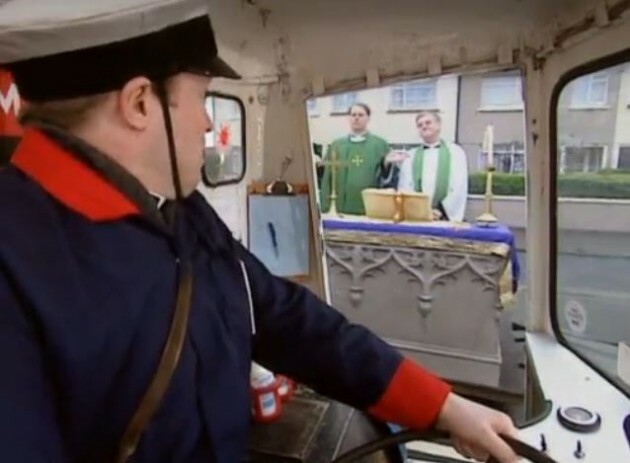 Linehan says that when they were writing Ted "it was always Arthur's voice that I heard".
Mathews had invented the character as part of a stand up routine, but didn't have the experience to go on and play the role that eventually went to Dermot Morgan.
That kind of lilting gormless smile that Arthur has when he's doing the mass or talking about anything. I always liked to see that.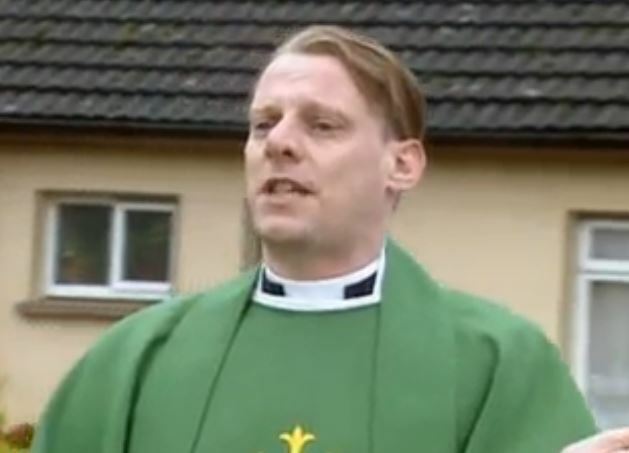 That scene is also the only one in the entire run of Father Ted which sees Ted himself carrying out the duties of a priest on camera.
Linehan explains:
We had a very strict rule in Ted that you would never see them doing their job – confession, mass, that kind of thing. We wanted to write about the stuff between those times. But the mass on the milk float was just too good to pass up.
'The studio audience was whipped into a frenzy'
TV director Andy DeEmmony had known Graham Linehan and Arthur Mathews since working on Spitting Image. He came on board for series 3 of Father Ted to direct some of the interior scenes in front of a live studio audience in London.
He told DailyEdge.ie that the audience were so caught up in the comedy that they became "more and more enthusiastic and sometimes filming in the studio become harder and harder".
With Pat Mustard we had this great sex dog music playing when he came in, and the audience were just in stitches.
An Introduction To Eastern Europe, European Funk & Grooves / YouTube
Pat Laffan remembers the audience were "whipped into a frenzy" for some of his scenes.
The scene where Pauline mentions putting my tool in her box. They went for that in a big way.
De Emmony also recalls the sourcing of the 'hairy babies*' for the episode.
One of them was definitely a picture of one of Ardal's kids, and one of them was mine.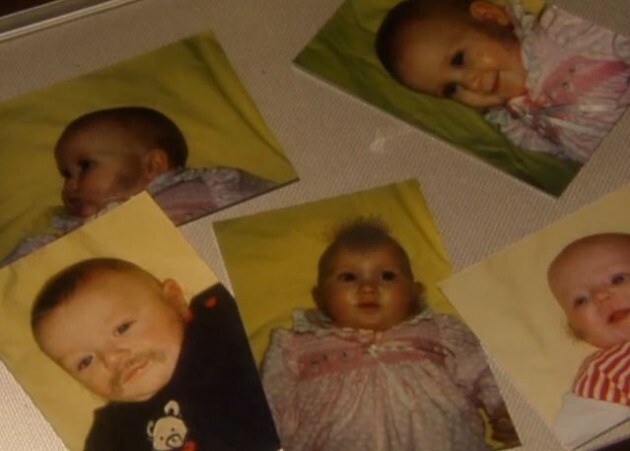 De Emmony remembers that each joke was perfectly scripted and planned, with little improvisation going into the episodes.
From our point of view the actors and directors were just so good. There may have been the odd 'feck' thrown in by Jack.
Linehan and Mathews were hugely involved in all aspects of the production of the episode, and every episode. From the writing, to the casting of the likes of Pat Laffan, to directing (Linehan directed all the location scenes), and editing.
There was a time when I felt that I was getting on people's nerves, and I had to force myself to stay away for the day. That's why I started directing. One thing comedy writers don't really understand is that if you're not directing it will not appear on screen they way you imagined it.
Hat Trick (the production company which made Father Ted) wanted to make sure there were no false steps. We had to be very involved. We didn't want it to become a diddly-eye Irish joke.
'I still get a lot of attention from it'
Pat Laffan says that the role he's still most remembered for is Georgie Burgess, but that he still gets regular Pat Mustard mentions too.
Sure everyone in Ireland has seen them, and more and more people have seen both of them.
De Emmony too says that the Father Ted legacy sticks with him.
I still get a lot of attention and questions about it. It's such an iconic show. Some of my younger relatives are just getting into it now.
Linehan says that on the 20th anniversary he doesn't have any bad memories of his time working on Ted. He told DailyEdge.ie that one of the things he's been told about the series that he holds close to his heart is that Father Ted was Ireland's "punk rock".
I always loved that. It meant a lot.
Now, is there anything at all to be said for another mass?
*Pat Mustard's hairy babies are often mistakenly credited with inspiring the name of successful Irish clothing company HairyBaby.com. Company director Daragh Murphy told DailyEdge.ie that the name is actually a happy coincidence, but that Hairy Baby is the official licence holder for Father Ted apparel for the past four years. Graham Linehan has also worked with them to design and create TedsTees.com, dedicated to Ted t-shirts.
First published April 2015