EVERY WEEKDAY MORNING, DailyEdge.ie rounds up the best of the day's celebrity dirt – from the top to the very bottom.
#STREETS OF PHILA… LIMERICK The Boss is settling in well in Ireland for his series of gigs here (he played Limerick on Tuesday, Cork tonight, Belfast this weekend, and Kilkenny next week).
So much so that he's even earned his own Irish passport… kind of.
A superfan called Jimmy from Kilrush in Clare made Bruce Springsteen an oversized version, and managed to pass it to him at Wednesday night's concert.
According to Bruce Springsteen.net The Boss downed a pint before exclaiming:
I drank that beer and I think I earned my Irish passport.
He then took the gift and placed it in front of the drums for the remainder of the show.
Wonder if he'll get his own People's Republic of Cork version tonight?
#GRANDAD WE LOVE YOU Charlie Sheen is somebody's grandad!
Which means Martin Sheen, aka our beloved President Bartlett, is a great-grandad.
Sheen's 28-year-old daughter Cassandra Estevez gave birth to a baby girl called Luna. (TMZ)
Baby Luna has Irish blood of course; Martin Sheen's mother was from Borrisokane in Tipperary.
"Give your old grandad a kiss (AP Photo/The Canadian Press, Aaron Vincent Elkaim)
#WHATEVER Liam Gallagher has filed a law suit against a US newspaper which claimed that he fathered a child with a showbiz journalist. (HuffPo)
The New York Post reported that the woman gave birth to the former Oasis frontman's child late last year, after having an affair.
She's suing Gallagher for $3m in the Manhattan Family Court, claiming that the 7-month-old baby is his.
Liam Gallagher has three children – 15-year-old Molly (with singer Lisa Moorish), 13-year-old Lennon (with former wife Patsy Kensit) and 12-year-old Gene (with current wife Nicole Appleton)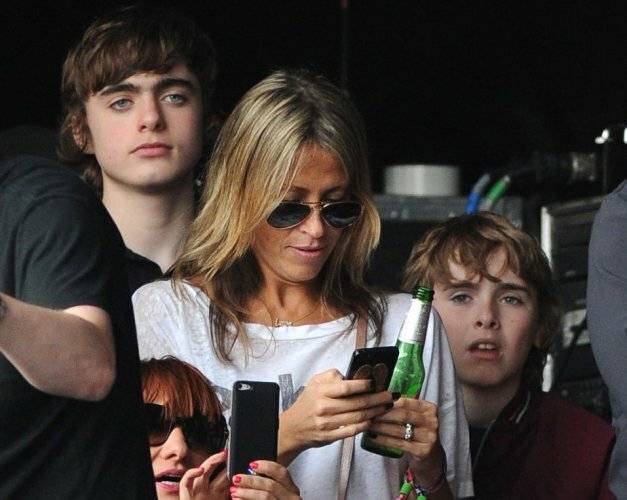 Spit of his da! Liam Gallagher's son Lennon (left), wife (centre) and son Gene (right) watch him perform at Glastonbury 2013 (Anthony Devlin/PA Wire)
And the rest of the day's celebrity dirt:
Blue Ivy Carter sure has her daddy's eyes (and now you're all singing this song) (Daily Mail)
Brendan O'Connor says he tried cocaine and ecstasy in college, but didn't enjoy it. Sure (Herald)
Brad Pitt's body double is earning just £4.44 an hour. Stingy (3am)
America Pie star Jason Biggs is set to be a da (People)