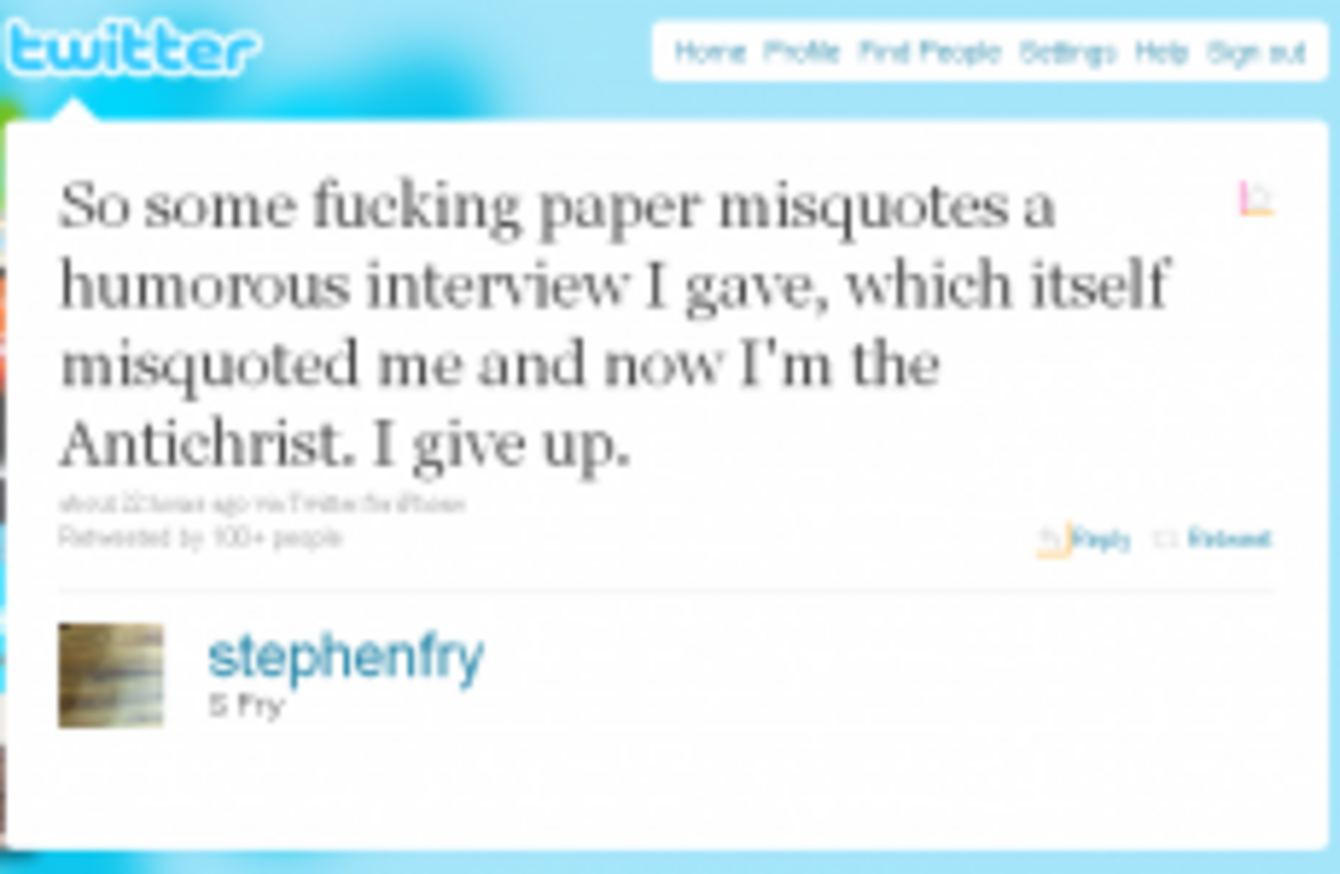 ONE OF TWITTER'S most famous faces – comedian and actor Stephen Fry – has apparently quit the site in complaint at being treated like an 'antichrist' after a controversial interview in which he apparently claimed that women have sex only to please men.
Fry (53), who has 1.9 million followers on the site and is one of its best-known users, appeared to have closed his account after The Observer newspaper published extracts from an interview with Attitude magazine in which Fry appeared to argue that women only agreed to have sex in return for being part of an emotional relationship.
"If women liked sex as much as men, there would be straight cruising areas in the way there are gay cruising areas," Fry apparently said. "Women would go and hang around in churchyards thinking: 'God, I've got to get my f***ing rocks off', or they'd go to Hampstead Heath and meet strangers to shag behind a bush.
"It doesn't happen. Why? Because the only women you can have sex with like that wish to be paid for it."
He added: "I feel sorry for straight men. The only reason women will have sex with them is that sex is the price they are willing to pay for a relationship with a man, which is what they want.
"Of course, a lot of women will deny this and say, 'Oh no, but I love sex, I love it!' But do they go around having it the way that gay men do?"
The Observer article, published under the headline 'Stephen Fry shocks feminists by claiming women don't really like sex', carried responses from feminist journalist Rosie Boycott, who described the remarks as "kind of rubbish" and from the Attitude interviewer Paul Flynn, who said the remarks caught him by surprise but that they were delivered "with certainty and it was clearly something he'd thought about."
The newspaper also carried a rebuttal from feminist author Hephzibah Anderson, who rubbished the remarks, noting the irony of such comments coming from a man who is openly gay.
Fry himself made his first response to the article on Twitter, posting, "Oh f***. Which newspaper what foes [sic, 'does'] it say?"
Having apparently been alerted to the Observer piece, he then wrote: "So some fucking paper misquotes a humorous interview I gave, which itself misquoted me and now I'm the Antichrist. I give up."
Stephen Fry's Twitter meltdown (2)

Stephen Fry's Twitter meltdown (3)

Stephen Fry's Twitter meltdown (4)

Stephen Fry's Twitter meltdown (1)
He later signed off with a simple "Bye bye", and changed his bio message to read, 'No longer in service' as well as changing his name to 'S Fry' – meaning that users searching for his name in Twitter's 'Find People' search will not see his profile in the results.
It is not the first time Fry has quit the service: he also stopped using the site last year (co-incidentally, a year ago yesterday) after taking offence to a user who describe his tweets as "boring". He returned to the site the following day, however.
He has also previously taken time off the site in order to write his autobiography, published earlier this year.
Last week Fry was asked to remove Twitpics posted from the set of the final Harry Potter movie.