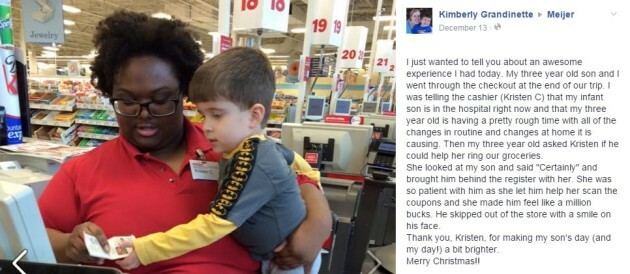 Meijer / Facebook Meijer / Facebook / Facebook
A SUPERMARKET CASHIER is going viral after an image of her random act of kindness was shared on Facebook.
Kimberley Grandinette was in an Ohio branch of Meijer, a US supermarket chain, with her three-year-old son when she got chatting to cashier Kristen Clark.
"I was telling the cashier (Kristen C) that my infant son is in the hospital right now and that my three year old is having a pretty rough time with all of the changes in routine and changes at home it is causing," she wrote on Facebook.
Then my three year old asked Kristen if he could help her ring our groceries. She looked at my son and said "Certainly" and brought him behind the register with her.
She was so patient with him as she let him help her scan the coupons and she made him feel like a million bucks. He skipped out of the store with a smile on his face.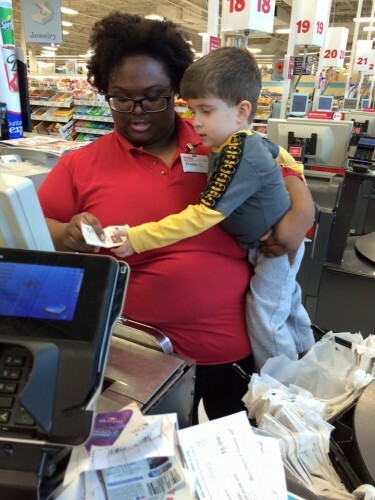 Mejerr / Facebook Mejerr / Facebook / Facebook
Grandinette shared the photo on Meijer's Facebook page and thanked Kristen for "making my son's day (and my day!) a bit brighter".
It has evidently struck a chord with Facebook users, having been shared over 157,000 times.
For her part, Clark said she never expected the gesture to go viral and stated that she simply trying to be kind.
I've been through it myself with my own Mom around the holidays being sick, so I know how that can be.
One person impressed with Clark's random act of kindeness? Her Da.

<3