EARLIER THIS WEEK Taylor Swift and Ticketmaster announced that she would be using Ticketmaster's 'Verified Fan' program that supposedly keeps tickets from the hands of resellers.
The Verified Fan program, which is currently only operating in the United States, requires fans to register in advance of ticket releases. After this, they receive a code that allows them to buy tickets, but not everyone is eligible to register.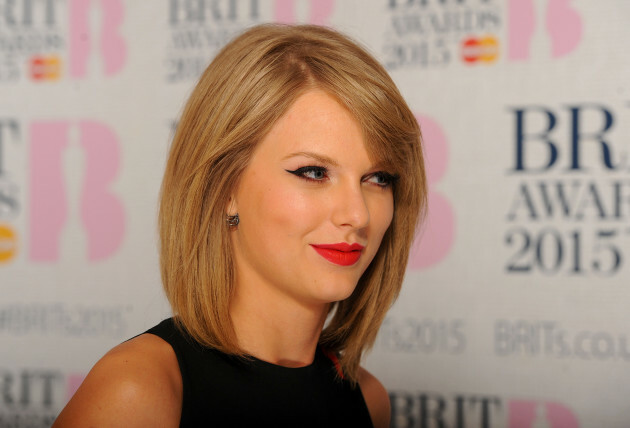 Dominic Lipinski Dominic Lipinski
Billboard explained exactly how this works:
Ticketmaster uses "proprietary data science technology" to try determine whether potential buyers are likely to be scalpers or fans – which presumably means no Swift tickets for Phish heads unless an algorithm determines they're probably parents – and only approves the latter.
A couple of hours before tickets go on sale, Ticketmaster sends a text message with a code to some consumers – not everyone who qualifies gets one – who enter it to buy tickets much as they otherwise would.
Aside from concerns about data collection, this is problematic in another couple of ways.
Firstly, fans have been told that they can 'maximise their chances' of being selected for tickets by registering on TaylorSwift.com, buying her merchandise and picking a city in which they want to the singer to perform.
This means that fans are being backed into a corner, where they are feeling as if they have to buy merchandise and share personal data such as their location with the singer's website in order to get concert tickets.
The program has yet to roll out in Ireland.
Secondly, fans can't even be certain that this will guarantee them tickets. Billboard's Robert Levine who explains the Verified Fan program shared his personal experience purchasing tickets for the Broadway show Hamilton.
Levine spent 30 minutes being told that excellent seats for the show were available but was met with an error message every time he attempted to purchase them.
He finally came back to the computer two hours later to try again and had to opt for below-average group of seats three months after the original date he attempted to buy tickets for and *finally* got the tickets.
As we all know, unlike Broadway shows that run for months, there's very little flexibility for concert tickets.
Daniel DeSlover Rou Reynolds of Enter Shikari Daniel DeSlover
Enter Shikari vocalist Rou Reynolds ranted on Twitter about Swift and Ticketmasters 'sickening' 'ultra-capitalistic exploitation of fans'.

Rou Reyno / Twitter Rou Reyno / Twitter / Twitter
Rou Reyno / Twitter Rou Reyno / Twitter / Twitter
Fans of Enter Shikari agreed with Reynolds.
However Swift's super-fans rushed in to defend her, insisting that they all would have at least bought a hard copy of the album ahead of the concert anyway.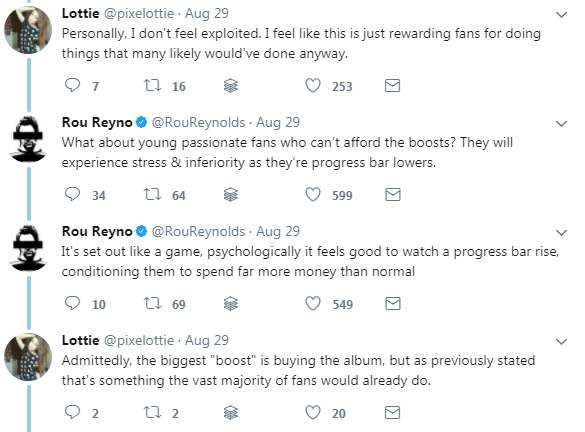 Rou Reyno / Twitter Rou Reyno / Twitter / Twitter
Consequence of Sound pointed out that express delivery on the CD, which some people will ultimately opt for, brings the cost of a single CD up to $63.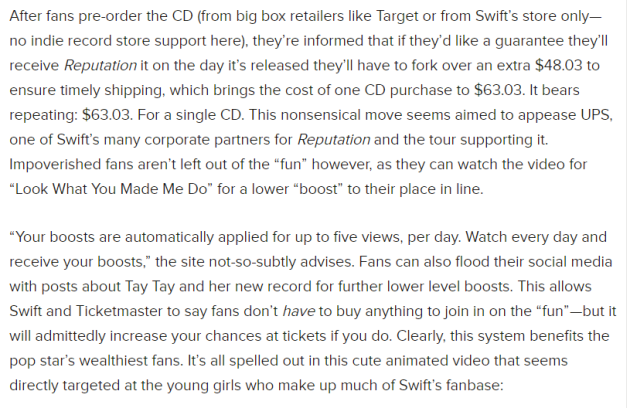 Consequence of Sound Consequence of Sound
This is the 'cute animated video' that Consequence of Sound were critical of:
Taylor Swift / YouTube
They sum it up with "Basically, give Swift a lot of extra money or join her publicity team to ensure you have not a ticket – but simply a place in line for the opportunity to purchase a ticket."
Finally, they point out that fans are able to purchase Swift's album 'up to 13 times' to receive boosts on their position in line.
In other Taylor Swift news, Page Six have reported that the diamonds in her bathtub in the video for 'Look What You Made Me Do' are authentic.
They're collectively worth $10 million.
DailyEdge is on Snapchat! Tap the button below to add!