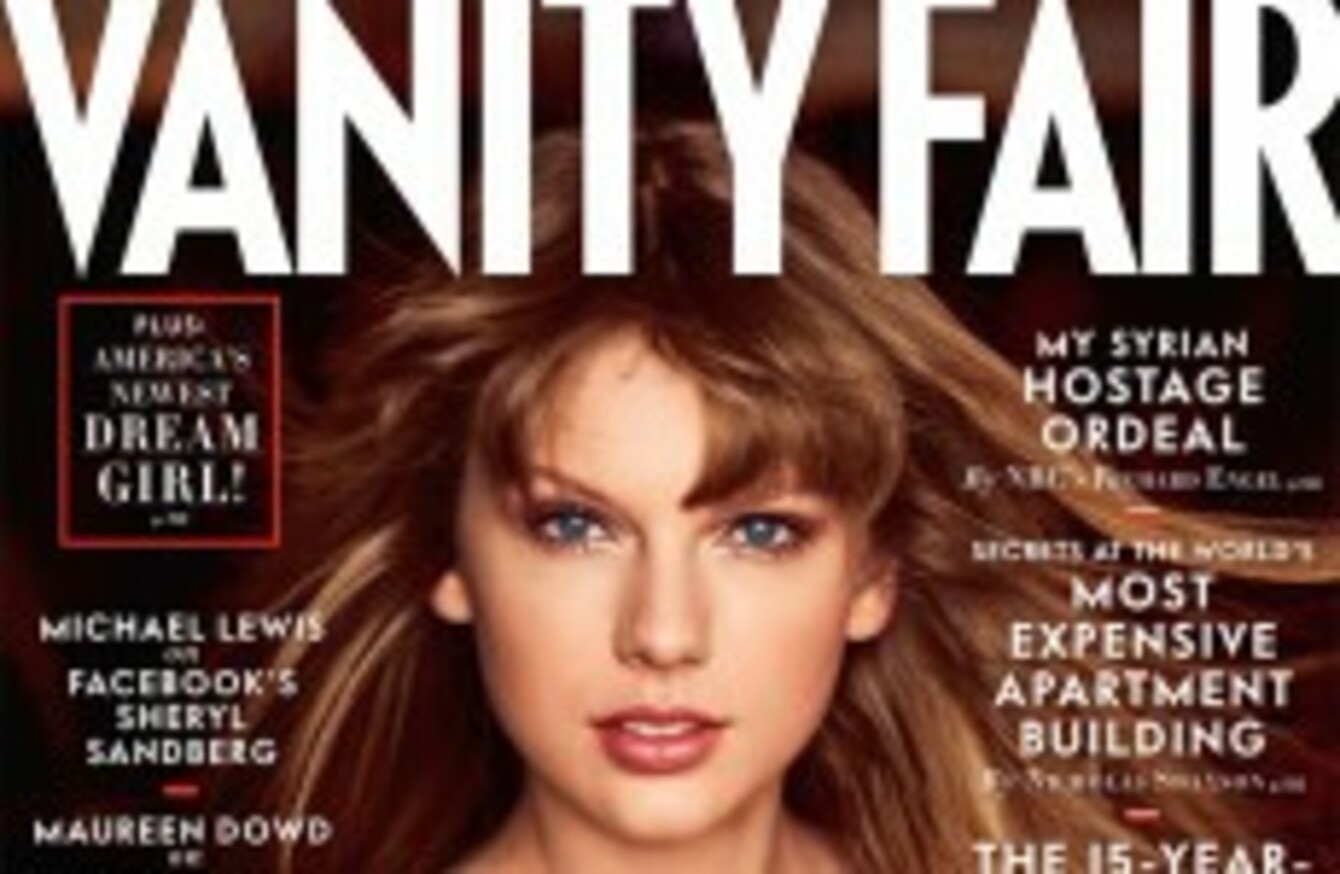 Image: Vanity Fair
Image: Vanity Fair
HERE AT CASA del Daily Edge, we don't have any beef with Taylor Swift.  In fact, some of us have her songs on our iPods.
However, there is no getting away from the fact that she didn't do herself any favours in a recent interview with Vanity Fair.
The full thing appears in the April edition of the magazine, but here are the most annoying lines from the preview.
On Amy Poehler and Tina Fey's joke about her at the Golden Globes
"You know, Katie Couric is one of my favorite people,because she said to me she had heard a quote that she loved, that said, 'There's a special place in hell for women who don't help other women."
"For a female to write about her feelings, and then be portrayed as some clingy, insane, desperate girlfriend in need of making you marry her and have kids with her, I think that's taking something that potentially should be celebrated—a woman writing about her feelings in a confessional way—that's taking it and turning it and twisting it into something that is frankly a little sexist."
Amy Poehler responded via the Hollywood Reporter, saying  "Aw, I feel bad if she was upset.  I am a feminist, and she is a young and talented girl. That being said, I do agree I am going to hell. But for other reasons. Mostly boring tax stuff. "
Tina Fey seemed a little less sympathetic, telling Entertainment Tonight that she was surprised by the reaction.  "If anyone was going to get mad at us I though it would be James Cameron.  I did not see that one coming.  It was a joke, it was a lighthearted joke."
On her apartment
…she sits drinking lavender lemonade in her "Tim Burton–Alice in Wonderland–pirate ship–Peter Pan" apartment…
LAVENDER LEMONADE?!?
On her relationships
Although one of Swift's rules is that she doesn't go into the personal details of any of her relationships, she authorised someone to discuss them with Sales.
If you're going to authorise someone to speak about them, then why not talk about it yourself you silly billy?
On her relationship with real estate
"People say that about me, that I apparently buy houses near every boy I like—that's a thing that I apparently do. If I like you I will apparently buy up the real-estate market just to freak you out so you leave me…they'll find out it's not true when you are actively not ever spotted at that house."
The thing is, she did buy a house near her ex Conor Kennedy's family home in Hyannis Port, or at least  "Jesse P. Schaudies" of 13management, her management company, did.  It was sold again shortly afterwards.
Oh Taylor.  Why you no tell the truth?