IT'S HERE.
Following weeks of blank social media, cryptic snake videos and some (Kanye inspired?) album artwork, Taylor Swift's new single Look What You Made Me Do finally dropped at midnight in the States.
And it feels like she's calling out *everyone*
TaylorSwiftVEVO / YouTube
It's only a few hours old – with the video still to come – but people have so many thoughts already:
1. Straight away, the chorus sounded a *little* like a classic '90s number
So, @taylorswift13's #LookWhatYouMadeMeDo kindof reminds me of something. Wait for it... pic.twitter.com/oC8RnBFsfQ

— Chase Holfelder (@chaseholfelder) August 25, 2017
If you can't see the video, click here.
2. Right Said Fred even gave her a shoutout for the "marvellous reinvention"
Yes, they have a writing credit.
3. So it's basically a remix of I'm Too Sexy, and this is something you should come to terms with now
Absolute earworm though.
4. You could see it popping up elsewhere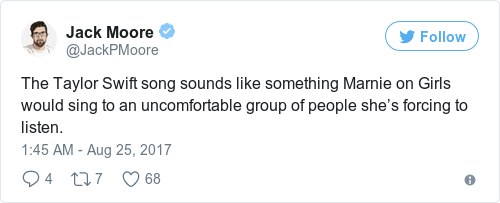 @JackPMoore Twitter @JackPMoore Twitter
5. Straight up, the reaction is nowhere near as positive as the lead singles off 1989 and Red
But it could be a grower.
6. It does have an iconic couple of lines in there that people are *loving*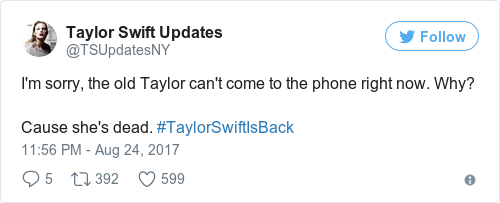 7. It all makes sense now
@TSwiftNZ @TSwiftNZ
8. There's already a ludicrous conspiracy theory doing the rounds about Reputation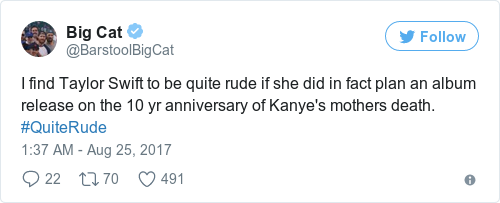 @BarstoolBigCat @BarstoolBigCat
More info here – but it's an absolute REACH.
9. There have been witty descriptions on what is a ~new sound~
10. The old Taylor is gone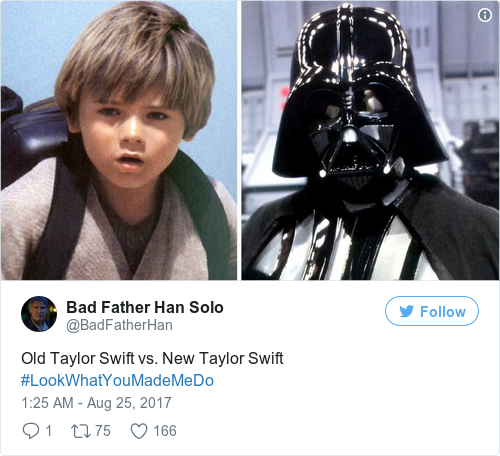 @BadFatherHan @BadFatherHan
She's no longer taking any shite.
11. It seems that her fans have reclaimed the snake emoji
@sara_farssi2017 @sara_farssi2017
12. And a reference in the lyrics to a "tilted stage" has already been linked
This song is *definitely* about the Kanye/Kim Kardashian feud, surely.
13. There were jokes about her voting for Trump
Unproven, but there have been criticisms for her "fairweather feminism" and not renouncing Trump.
14. There is a bit of a cartoonishly *evil* vibe from the single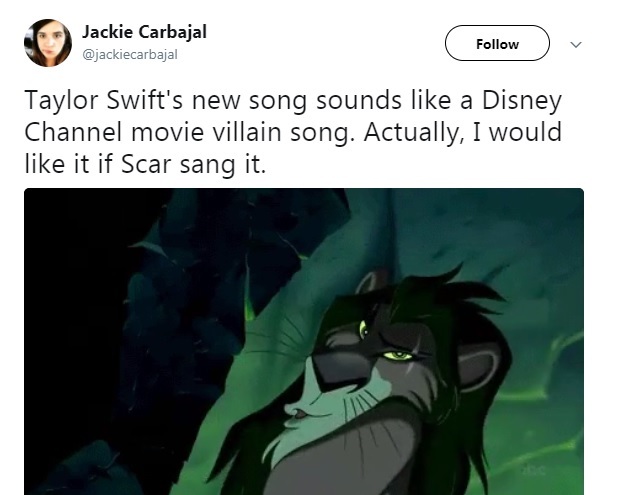 Twitter Twitter
15. And her fans are rowing in
16. Taylor is here to take names
17. America is going to sleep with this new song now, so the home of Taylor fandom will be up in a few hours with so much more analysis and conspiracy theories
Panic stations at Kanye's gaff this morning.
DailyEdge is on Snapchat! Tap the button below to add!