DUBLIN'S TEMPLE BAR – celebration of our unique Irish culture, or an overpriced, overcrowded tourist trap?
The Huffington Post seems to think it's the latter. The news website has named Temple Bar one of the most disappointing tourist destinations in the world, alongside New York's Liberty Island and Casablanca, Morocco.
Harsh.
Writer Caroline Morse says that though Dublin as a whole is great to visit, Temple Bar pushes the "Irish culture equals pubs" stereotype:
The Temple Bar area of Dublin…is a prime example of the rampant fleecing of drunken tourists that should be avoided at all costs. This small area caters to visitors competing to see how drunk they can get in "authentic" bars and nightclubs (AKA overpriced tourist traps.)
Avoid it at all costs and seek out a pub literally anywhere else in Dublin for a better experience.
We suppose she's talking sense. But it's like slagging off your family – it's not OK unless you're the one doing it.
Other destinations that made the list include Las Vegas, Disney World Florida (DISAGREE) and Hollywood, California.
The thousands of tourists that packed Temple Bar on St Patrick's Day disagree with you, Caroline. They disagree.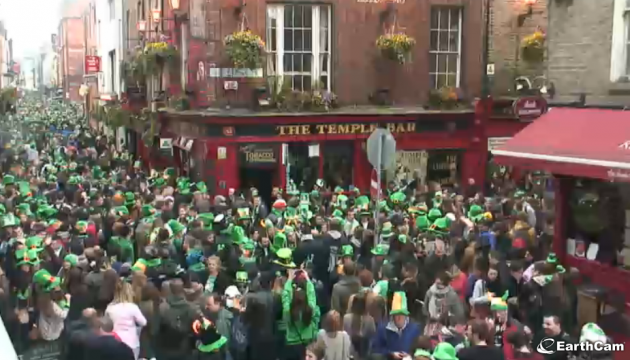 TheJournal.ie TheJournal.ie