FILM IS A medium that enables others to live in a world that is different from their own and to envision what it is like to walk a mile in another's shoes.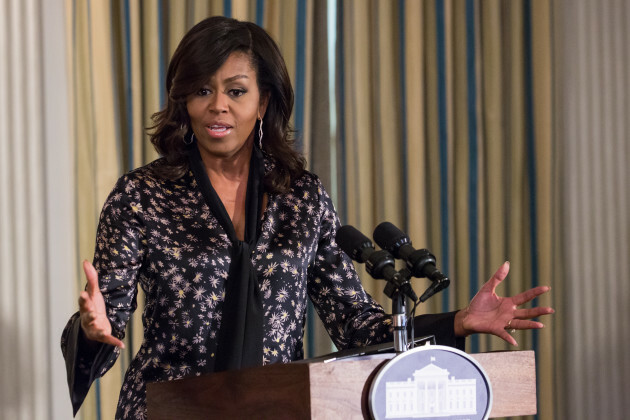 SIPA USA / PA Images SIPA USA / PA Images / PA Images
As former First Lady Michelle Obama put it:
For so many people, television and movies may be the only way they understand people who aren't like them.
In that vein, every Monday night at 10.55pm, RTÉ shows an Irish shortscreen (short film) that not only promotes and supports our homegrown talent and our film industry, but also shows the perspectives, stories and experiences that are unique to Irish people.
So that's why it's a shame that RTÉ have to postpone the broadcasting of Terminal, a film showing the experience that is common to an estimated 198,940 people who live in Ireland.  That is, the experience of waiting in an Irish terminal to leave your country to access abortion care.
Watch the 10 minute long film below:

Terminal Short Film / Vimeo
The blurb describes the film as:
A girl and a woman meet in an airport departure gate. Just before they board a plane to Manchester, we witness a private exchange as they share the different reasons that brought them to this moment, and the traumatic journey that awaits them.
The word abortion is not mentioned in the film, nor in the blurb. But any adult aware of Irish society knows why the woman and the teenage girl are travelling. After all, the go-to euphemism we use for abortion in this country is 'going to England'.
When I myself had an unplanned pregnancy, the doctor treating me wasn't allowed to mention the word. He asked me 'do you know how to go to England? Do you know how to access that information?'.
During one of the most difficult times of your life, when you are faced with one of the hardest decisions of your life, you need to speak with professionals who are not legally forced to speak in code.

fightbackfilms fightbackfilms
Likewise, the fact that a film such as Terminal, which has won Best Irish Short Film at the Indie Cork Film & Musical Festival in 2016 and has been nominated and shortlisted for a host of awards at Film Festivals in London, Dublin and Galway, is not shown on Irish television because it isn't impartial is quite laughable.
There is no judgment in this film. Just two women, a mother and a teenage girl, exchanging the different reasons that they are waiting to catch a flight in an Irish terminal. Under the Broadcasting Act 2009, RTÉ told DailyEdge.ie that they were obligated to "be fair, objective and impartial on a subject of current public debate and controversy".
But I ask, is it objectively fair that pregnant people in Ireland are made to feel like criminals for accessing care?
The music at the beginning, as you watch the teenage girl contemplate her choice in the bath and then see the woman stare out into the rain at her children's toys, is hauntingly beautiful, it gives us a glimpse into the background context of their lives.
We see that their chance meeting in an airport terminal was not a decision that was taken lightly
The sound designer of the film expressed his heartfelt disappointment that the film wasn't going to be shown in a tweet: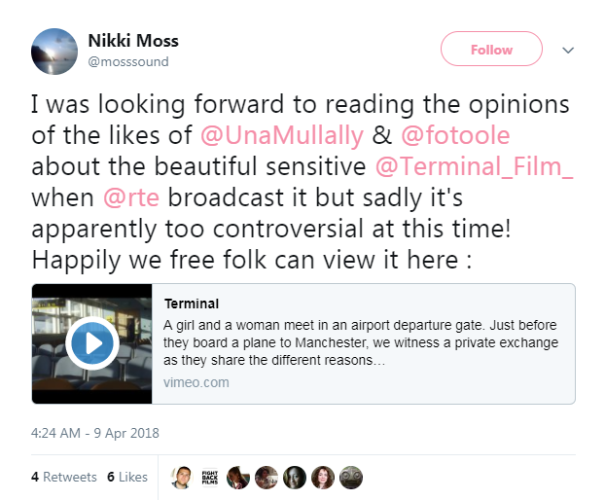 @mosssound / twitter.com @mosssound / twitter.com / twitter.com
In the tweet, Nikki Moss says:
I was looking forward to reading the opions of the likes of @UnaMullally & @Fotoole about the beautiful sensitive @Terminal_Film_ when @rte broadcast it but sadly it's apparently too controversial at this time! Happily we can view it here:
If your friends or family are on the fence, this is a compassionate film to share with them, that gives a glimpse into the many varied reasons that a woman needs to travel.
DailyEdge is on Instagram!