IT'S THE HEADLINE we never thought we'd see in our lifetime:
Irish Independent Irish Independent
The news that Tesco is gearing up to do away with the 'unexpected item in bagging area' message that spills forth from its self service checkout has been met with a considerable amount of jubilation. (Hold your horses though, Irish folk, Tesco Ireland has 'no plans' to follow suit).
No longer will you be asked to place something in the bagging area, before being swiftly told that there's an "unexpected item in the bagging area". The ultimate in first world problems.
However, not only is Tesco getting rid of that phrase, it's replacing the voice which spits out all of the phrases at the checkout, replacing the current woman with a man's voice.
'Shouty and irritating'
Tesco has called the move 'customer friendly', explaining that feedback showed that the current voice was perceived as 'shouty' and 'irritating' and left customers feeling frustrated. Tesco is replacing six 'unhelpful' phrases in total.
While celebrating the demise of 'unexpected baggage', the replacement of the woman's voice with a 'friendlier' male voice quickly became the focus of some discussion around the move.
Interestingly, a press release from Tesco about the change doesn't mention gender or the word 'bossy'. The statement does mention the words 'shouty' and 'irritating'. However the word 'bossy', which was the focus of 'Ban Bossy' campaign launched last year because of the negative connotations about women it evokes, doesn't appear.
The term in this context appears to have originated in media reports and headlines from the likes of The Sun and The Daily Mail.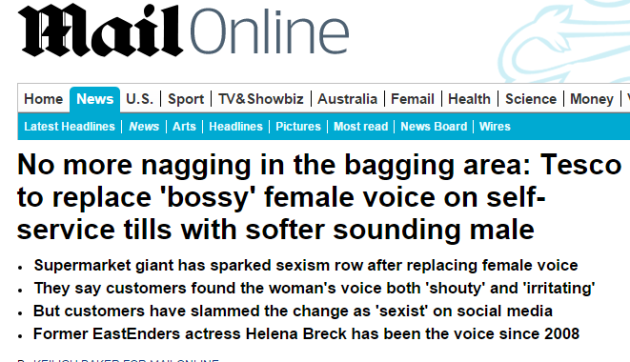 And with the word 'bossy' viewed so unfavorably, it was bound to raise eyebrows. The same goes for the word 'nagging', which is also absent from the Tesco press release, but present in some media reports.
Bossy aside, the switching of the genders alone was also a cause for comment.
With the likes of the 'vocal fry' problem (a type of speech pattern often heard in young woman, and often criticised in young women) and the 'women on air' argument (an ongoing debate about the prevalence of women's voices on the airwaves.
Tesco has responded to the criticism, stating on Twitter:
The gender of the voice happens to be male, but this was not our main consideration.
The new voice has a softer, more helpful and friendly tone & a number of unhelpful audio prompts have been removed.
So why then, many are asking, did the grocery giant not leave the voice as a woman, and simply change the phrases?
An educated guess would suggest  that the Tesco statement was incredibly carefully crafted, and that any PR person worth their salt could have seen this coming a mile off.
Weighing what the customer wants with a day or two of press backlach, Tesco probably took their chances.