IF YOUR FORAY into the world of babysitting had less to do with making money and more to do with emulating the characters from your favourite childhood books, we hear you.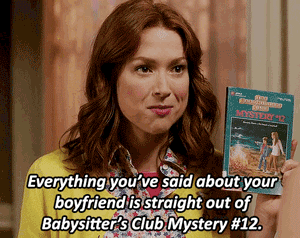 Giphy Giphy
There were few among us 90s kids that didn't wish they were part of the Stoneybrook squad, so naturally when it comes to Ann M Martin's book series, The Babysitters Club, the nostalgia runs deep.
And Netflix is making good on that.
This week, the streaming service announced that the story of Kristy Thomas and co is being revived in a ten-part series.
So, who's behind it?
Well, a crack team by the sounds of things.
The series will be produced by Escape at Dannemora producer Michael De Luca alongside Lucy Kitada. Glow's Rachel Shukert will be the showrunner while Broad City's Lucia Anniello is set to direct and executively produce.
Not too shabby, lads.
What can you expect?
Each episode will be 30-minutes long, and the revival will examine modern-day topics encountered by today's teens while also drawing on issues raised in the original book series, including divorce and racism. It's all go.
What has Ann M Martin to say?
Well, she's astounded that the impact of the series, which was first published by Scholastic in 1986, continues to reverberate more than 30 years on.
In a statement issued in light of the Netflix revival, she said:
I'm amazed that there are so many passionate fans of The Babysitters Club after all these years and I'm honored to continue to hear from readers — now grown, who have become writers, editors, teachers, librarians, filmmakers — who say that they see a reflection of themselves in the characters of Kristy and her friends.
"So I'm very excited about the forthcoming series on Netflix, which I hope will inspire a new generation of readers and leaders everywhere," Ann added.
 
Commenting on the now highly-anticipated revival, Netflix's Melissa Cobb said:
The themes of The Babysitters Club still resonate 30 years after the original book series was released, and there has never been a more opportune time to tell an aspirational story about empowering young female entrepreneurs.
And how does everyone feel about the news?
Well sure look, they're obviously buzzing.
@netflix I am 100% here for The Babysitters Club series.

— Margaret (@marge_cord) March 1, 2019
What's your babysitters club sign? I'm a Kristy with a Claudia rising

— tori stark (@ToriStark) February 26, 2019
I'm lit off this Babysitters Club show

— Snakebite Scruggs (@creeveramarie) March 1, 2019
THE BABYSITTERS CLUB IS GETTING A REBOOT AND THE 12 YEAR OLD IN ME IS CRYING

— emma | IG @ethics_over_everything (@EmmaSheltra) February 28, 2019
It's like my childhood aka the good times all over again. The Jonas Brothers is back and Netflix is doing a 10-episode live action series of The Babysitters Club. I am LIVINGGG for all of this.

— Man (@uelabando) March 1, 2019
Tbh all the Babysitters Club tweets on my timeline make me much more excited than the Jonas Brothers tweets

— Johara Ally (@AllyJohara) February 28, 2019
DailyEdge is on Instagram!