EVERY WEEKDAY MORNING, DailyEdge.ie rounds up the best of the day's celebrity dirt from the top to the very bottom.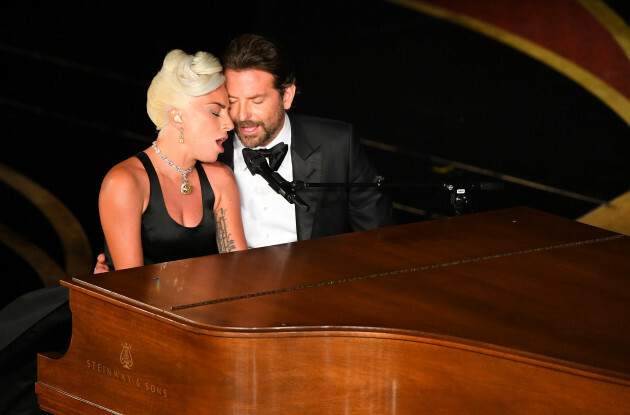 SIPA USA / PA Images SIPA USA / PA Images / PA Images
Gaga's step-by-step analysis of that Oscar performance has removed all the mystery
So, Jimmy Kimmel came right out and said it while interviewing Lady Gaga this week.
Referring to her performance of Shallow alongside Bradley Cooper at this year's Academy Awards, Jimmy laid his cards on the table:
People started saying, 'Oh, they must be in love'. We were watching it at home, we were going, what's going on between these two?'
And after rolling her eyes almost beyond the point of no return, Gaga reminded Jimmy and everyone watching that that was her and Bradley's exact intention.
"People saw love, and guess what? That's what we wanted you to see! This is a love song… the movie – it's a love story. We worked so hard, we worked all week on that performance," she told her host.
Jimmy Kimmel Live / YouTube
Getting down to the nitty-gritty, Gaga explained that – just like the movie – Bradley directed every minute detail of Sunday's performance, and to be honest, it wasn't long before the whole thing sounded vaguely clinical.
I knew that he had a vision for how it should go. He laid it all out. Everything that you saw, the way that it was shot, the way that they pushed the piano out. You saw them put the piano together. Us walk up on stage; no intro. All of that; that was all him.
"He even was also the one that said I think the audience should be lit, so that we're not just lit, the audience is lit," she continued.
From a performance perspective, it was so important – for both of us – we were connected the entire time. I guess we did a good job and fooled ya.
Well, that explains that…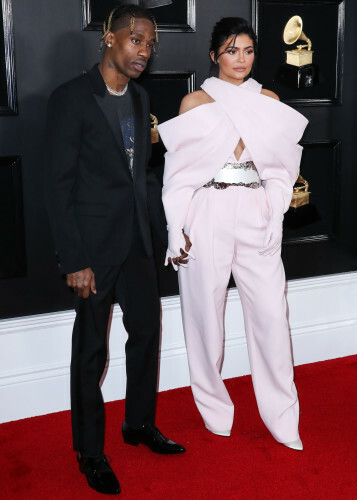 SIPA USA / PA Images SIPA USA / PA Images / PA Images
Kylie Jenner's drama doesn't seem to be winding down…
While still dealing with the fall-out of her best friend's reported tryst with her older sister's on again/ off again partner, Kylie Jenner is now reportedly dealing with her own relationship drama.
Rumours are flying that Kylie has accused her partner, Travis Scott, of cheating – an allegation the rapper has strongly denied via his representative.
Yesterday, Travis cancelled a concert, citing illness as the reason.
Buffalo I'm so sorry I can't perform tonight. I'm under the weather and it fucking sucks! Can't pull up without full rage. Show rescheduled to March 10 all tix are valid. See u soon

— TRAVIS SCOTT (@trvisXX) February 28, 2019
Taking to Twitter, he apologised for the turn of events, writing: "Buffalo I'm so sorry I can't perform tonight. I'm under the weather and it fucking sucks! Can't pull up without full rage."
However, there is much speculation that the cancellation was due to Kylie and Travis' relationship drama – something his spokesperson was at pains to dispute.
The reason he stayed home from his show tonight was very much because of illness.
If you say so…
PA Images PA Images
Drake's father said he supports R Kelly 100 per cent
In case you were wondering how Drake's father, Dennis Graham, felt about the allegations levelled at R Kelly, wonder no more.
In an interview with Variety, Dennis Graham maintained that the Ignition singer, who has been the subject of multiple accusations of sexual abuse, has his full support.
"He's a good friend of mine," Dennis, who was promoting his new solo single 'That On That', told the publication.
I wish him the best. I hate that it's happening to him. There's a reason why women come out after the fact. He has my support 100 per cent.
Kelly has been released on bail after being charged with ten counts of aggravated sexual abuse last week.
And in the rest of the day's dirt
Ryan Adams has been dropped from the BBC's 6 Music Festival following allegations of sexual misconduct last month. (mirror.co.uk)
Riverdale's Luke Perry has been hospitalised after suffering a major stroke. (dailymail.co.uk)
Kate Middleton said she's feeling broody, but isn't sure how Prince William feels about it. (eonline.com)
DailyEdge is on Instagram!