EVERY WEEKDAY MORNING, DailyEdge.ie rounds up the best of the day's celebrity dirt from the top to the very bottom.


Kerry Katona has been pie'd by her former Atomic Kitten bandmates
So, in case you weren't aware, Whole Again is getting the World Cup treatment.
The 2001 Atomic Kitten track is being re-recorded by the AK ladies…oh, except for Kerry Katona, that is.
According to reports, Kerry is raging that Natasha Hamilton and Liz McClaron returned to the studio to record the new version, which features lyrics from the original track interspersed with Three Lions lyrics.
Kerry is heartbroken. She's absolutely gutted that the girls would sing the song without her. She always thought they'd get back together and this was the most amazing opportunity for this to happen.
And the source didn't stop there.
She's a single mum and has been struggling looking after the kids and the family, so it hurts her a lot to be left out of it. Kerry still doesn't really know why they've left her out of this – as far as she's concerned she hasn't done anything to deserve this cruel snub.
Well, that's awkward.
Rob Kardashian isn't ready to see Khloe take Tristan back
Khloe Kardashian and her younger brother Robert have always shared a particularly close relationship.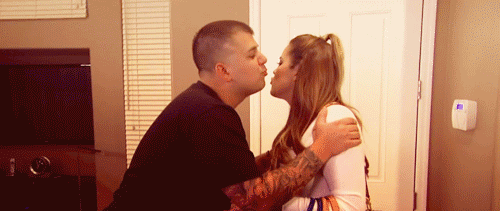 And, according to a source close to the Calabasas clan, this means that Rob is having a hard time celebrating the fact that Khloe is trying to repair her relationship with Tristan Thompson.
Explaining that Rob isn't yet ready to forgive and forget, the source said:
After helping Khloe through her divorce with Lamar Odom, Rob never wants to see another guy break her heart. With everything Lamar put Khloe through, Rob hates to see Khloe with another NBA guy.
And apparently, Rob's ill will towards Tristan is the family's worst-kept secret.
Now that Tristan is her baby daddy, Rob is having a real hard time overlooking his recent mistakes and trusting him with his sister. Rob is not going to say anything against Tristan, he's promised Khloe to keep things civil for her sake, but all Rob's friends know how he feels about Tristan.
Right, so.
Caroline Flack was sick of funding Andrew Brady's lifestyle
Yesterday, news broke that Love Island presenter, Caroline Flack, had ended her engagement to former Apprentice star Andrew Brady.
And according to those in the know, Caroline felt that Andrew had been using her.
The pair, who announced their engagement three months, weren't on the same page in the end, with Caroline saying she felt used by the reality star.
I really tried to help him and support him, but I feel he just used me. He's fame hungry.
A source close to Caroline said she had been supporting him financially, and was no longer willing to do it.
Caroline is heartbroken. She believed Andrew was The One, but now she believes he was using her.
Well, that's rough.
And in the rest of your day's dirt
Bruno Mars was forced to press pause on a concert in Glasgow after a fire broke out due to a pyrotechnic failure. (mirror.co.uk)
Comedian Jason Manford has cancelled an upcoming gig in order to watch England take on Croatia in the World Cup (mirror.co.uk)
Kylie Jenner says Instagram can give people the wrong idea about her post-baby body. (cosmopolitan.com)
DailyEdge is on Instagram!