EVERY WEEKDAY MORNING, DailyEdge.ie rounds up the best of the day's celebrity dirt from the top to the very bottom.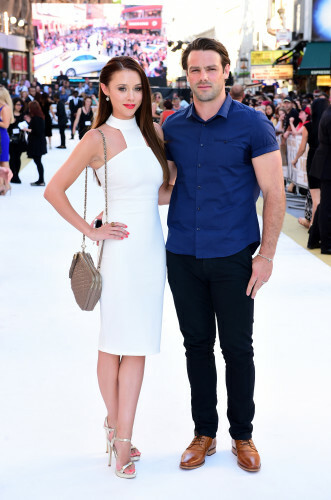 PA Archive / PA Images PA Archive / PA Images / PA Images
Ben Foden says Una Healy helped him create that infamous Bumble account
The news of Ben Foden and Una Healy's separation had barely sunk in last summer when word landed that Ben had created a Bumble profile where he made reference to his divorce.
It seemed like a fairly classless move just weeks on from the dissolution of his marriage to Una, but as it turns out, Una actually helped Ben create that very profile.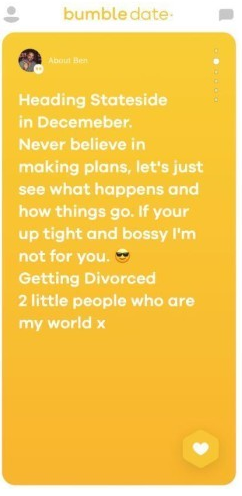 Bumble Bumble
Speaking to The Guardian this week, Ben insisted that there was more to that situation than met the eye.
"I'll tell you the real story behind that," he told the publication. "I picked up Una from the airport and we were sort of joking about dating."
So I loaded up Bumble, and we did the profile together, joking around. And then I realised something dodgy was going on with it and the next day it was all over the paper.
"It's not ideal but at least I can laugh about it and especially so with Una," Ben continued.
"If she hadn't known about it I can see it would have been a bit of a knife in the back. But we were messing around, so we can laugh and she can call me a bit of an idiot."
Doug Peters Doug Peters
Following the pair's separation in July of last year, rumours abound that Ben had been unfaithful – something he addressed during the interview.
"At the moment anything that's published about me is never very good and pretty rightly so, because I was the one who committed adultery," he acknowledged.
But at the same time, it wasn't the only reason for our divorce to go through. It's not ideal but we're very amicable, we're getting through it. We're not the first people in the world to get divorced. 
Fair enough.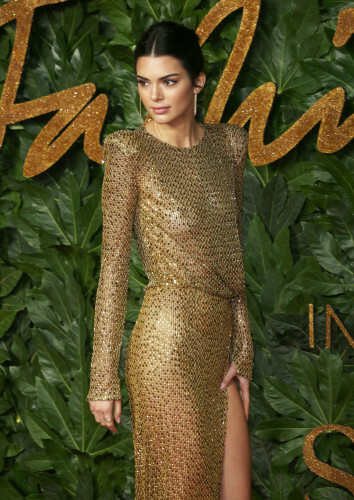 Brett Cove Brett Cove
Kendall Jenner had similar thoughts as the rest of us when it came to Stormiworld
Look, we all know Kylie Jenner and Travis Scott went somewhat overboard when it came to the party they threw for their daughter's first birthday.
We mean, must we remind you of that giant inflatable head?

Anyway, it turns out Kylie's older sister, Kendall, was on the same page as the rest of us when it came to Stormiworld, and actually told her sister as much.
Speaking to Jimmy Fallon last night, Kendall said:
I said something to her. I was like, 'You know she's one? Like, I don't know if she's gonna remember this. Like, I love you for the effort but…
But as Kendall told Jimmy, Kylie wasn't about to be moved on it.
She was like, 'I really don't care. I just really want to do it.' I was like, 'You know what? More power to you'.
Kendall, unfortunately, couldn't make the Stormi-inspired gala, but momager, Kris, was on hand to show her around the three-storey venue via FaceTime.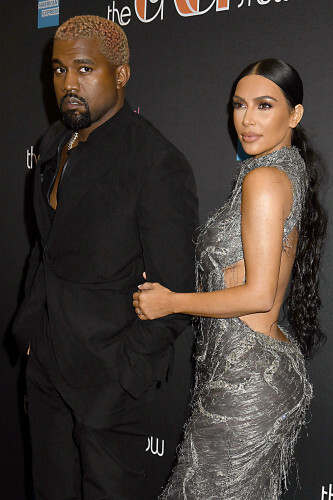 SIPA USA / PA Images SIPA USA / PA Images / PA Images
From Kendall and Kylie to Kim and Kanye…
In case you were wondering how Kim Kardashian-West and her husband Kanye celebrated Valentine's Day this year, you'll be pleased to know it was outrageous as you would expect.
Kanye surrounded acclaimed American saxophonist, Kenny G, with dozen of roses and then had him serenade Kim in the comfort of her own home, and naturally, Kim remembered to document it. 
Vids or it didn't happen, you know yourself.
NO BIG DEAL KENNY G IN MY LIVING ROOM!!! Happy Valentines Day 💋💋💋 pic.twitter.com/A1GD0UlEwu

— Kim Kardashian West (@KimKardashian) February 14, 2019
NO BIG DEAL KENNY G IN MY LIVING ROOM!!! Happy Valentines Day.
In a series of tweets, Kim paid tribute to her husband and his grand gesture.
Best husband award goes to mine 🙋🏻‍♀️!!!! Most thoughtful gifts ever!!!! pic.twitter.com/X3g1iwXeJE

— Kim Kardashian West (@KimKardashian) February 14, 2019
So yeah, what did you get for Valentine's Day?
And in the rest of the day's dirt
Miley Cyrus shared more shots of her wedding day with Instagram followers in honour of Valentine's Day. (mileycyrus/Instagram)
There's concern that Lady Gaga and her fiancé Christian Carino may no longer be heading down the aisle together. (eonline.com)
Prince Harry had to spend Valentine's Day away from Meghan, but his igloo (yep, igloo) was decorated in photos of his wedding day to the former Suits actress, (eonline.com)
Bono's daughter, Jordan Hewson, has featured on Forbes 30 Under 30 list. (The Irish Sun)
DailyEdge is on Instagram!