EVERY WEEKDAY MORNING, the Daily Edge rounds up the best of the day's celebrity dirt – from the top to the very bottom. Here's The Dredge.
#PASS THE DUTCHIE Lady Gaga went as 'weed' for Halloween. Just about.
Her brief outfit consisted of some boob covers, inexplicable sleeves, and a tutu, and a giant spliff. (Little Monsters)
She tweeted last night:
So I was weed for Halloween. BEST COSTUME EVER IT'S SO FUN. Princess High the Cannabis Queen.
#IN THE NIP 'Troubled' star Amanda Bynes gave customers at a New York city tanning salon an eyeful when she strode into the reception area in her pelt. She had booked a private booth but swanned out in her altogether to pick up a pair of goggles. Eyewitnesses said "there was definitely something wrong with her". (People)
It's the second time in recent weeks that she's allowed people to ogle her goodies. She stripped down to a strapless bra and started putting on makeup in the middle of a spinning class at a gym in Hollywood last month, while she also faces a number of driving charges. (Daily Mail)
What's going on Amanda? We loved you in She's The Man. Classic performance.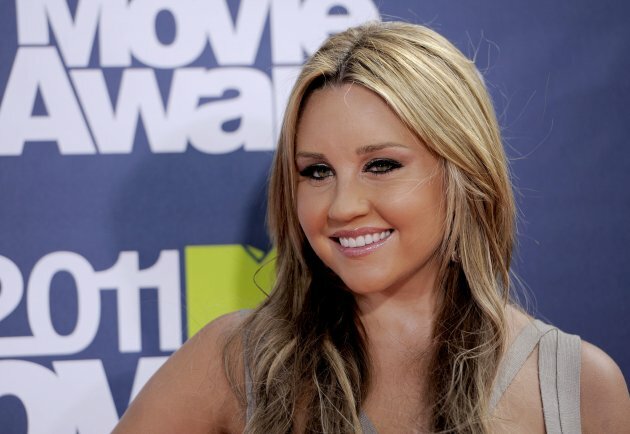 Amanda. What gives? (AP Photo/Chris Pizzello, File)
#CHARLIE Charlie Sheen is smoking and snorting cocaine every day, according to a 'source'. The actor has reportedly been spending almost $2,000 a day on drugs and hiring high-end prostitutes.
He's so taken with one girl that he's agreed to pay for 'vaginal rejuvenation' surgery for her. Yuck. (Radar)
Hello there. Would you like a new vagina? (AP Photo/The Canadian Press, Aaron Vincent Elkaim)
And the rest of the day's dirt
Apparently George Clooney is distantly related to Abraham Lincoln. Shall we start calling him Baberaham Lincoln? (People)
Former Westlife singer Shane Filan has turned down an offer to appear on I'm A Celebrity Get Me Out of Here. Maybe the wilds of Sligo are enough for him. (Irish Daily Star)
Mrs Wayne Rooney Coleen is set to snub private health care for a second time when she gives birth next year. (The Irish Sun)
Did you know Val Kilmer and Cher used to step out together? Us neither. And now they've been hanging out together again. (Oh No They Didn't)
Model Sophie Dahl and her jazz pixie husband Jamie Cullum are expecting their second child. The pair describe themselves as 'geeks who fell in love'. So cute. (Irish Daily Mirror)
For more, follow @dailyedge on Twitter and like The Daily Edge on Facebook.