EVERY WEEKDAY MORNING, DailyEdge.ie rounds up the best of the day's celebrity dirt – from the top to the very bottom.
#WHY ME? Linda Martin has said she won't be going to Denmark next year to watch the Eurovision, not because she was called a drag queen, but because she can't cope with watching another Irish act getting a pasting.
According to the Evening Herald Martin has said that she's doneso with the song contest.
The presenter in Malmo on Saturday night compared Linda to Johnny Logan in drag. OUR JOHNNY LOGAN! We don't blame Linda for turning her back on them.
Meanwhile she's currently helping Louis Walsh and Aonghus McAnally pick a new boyband at the Button Factory in Dublin. Hello? Is it 1992?
#RUDE BOY Chris Brown is in trouble again, after he crashed his car into the back of another drive's vehicle in LA. (TMZ)
According to les papparazzos, Brown was with his on-again, off-again ladyfriend Karrueche Tran when he hit a Merc with his Range Rover.
The pair took pictures of the damage to the car, because let's face it, if Chris Brown crashes into you, you're going to make sure he pays up. He's an awful divil. Truly awful. (Daily Mail)
He does have a very cute new puppy though…
#RUDE GIRL Meanwhile Brown's ex Rihanna has printed her own money for her new music video.
The promo for Pour It Up will be set in a strip club (classy) with Rihanna dolla dolla bills (double classy) and stripper shoes (the classiest ever).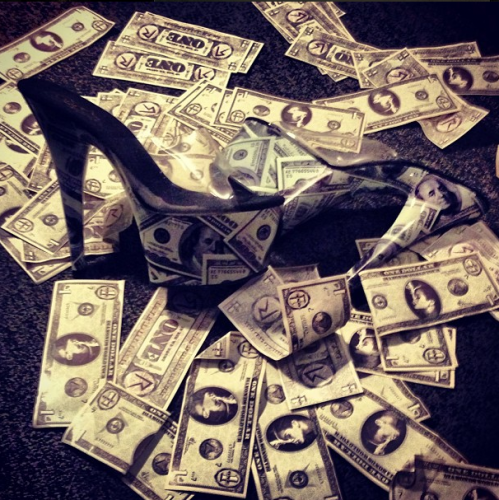 And the rest of the day's celebrity dirt…
Did you miss yesterday's Dredge about Brian (née Bryan) McFadden singing Westlife songs, drunk, at karaoke? Here you go…