EVERY WEEKDAY MORNING, the Daily Edge rounds up the best of the day's celebrity dirt – from the top to the very bottom. Here's The Dredge.
#THE HACK OF HER Lindsay Lohan's Twitter followers wondered if maybe her account had been hacked a few days back when she tweeted asking why everyone was in such a panic about "Hurricane Sally". But no, that really was her.
Then last night she posted a tweet which read:
How does Hitler tie his shoes?
The tweet also included a link to the comedy site The Oatmeal (and the punchline to the joke). Lindsay quickly swooped in and claimed that her account had been hacked and that people should ignore her last post. She was right. It was a fairly crap joke. (Perez Hilton)
We still love you Lindsay. Shine on you crazy diamond.
#SHOWMANCE That's what the Daily Mail is branding K-Pattz and R-Stew's rekindling of love after the shock revelation that she was cheating on him with director Rupert Sanders. The pair's new film Breaking Dawn Part 2 (are these films just going to keep coming until the end of time?) is due out later this month and Pattinson and Stewart are due to take part in a joint interview for MTV later today. (Daily Mail)
Body language experts at the ready!
We really really love each other. Really. (Gareth Fuller/PA Wire)
#SNEAKY Evan Rachel Wood (she used to go out with Marilyn Manson and is now in True Blood) and Jamie Bell (he used to be Billy Elliot) got married yesterday in California after several showbiz sites speculated that the nuptials were nigh. The pair met when they filmed the video for Green Day's song 'When September Ends' back in 2005. (Just Jared)
They split up after a year, she got engaged to Marilyn Manson, got sick of putting on his makeup for him (probably), and went back to Bell in 2010. They will have beautiful babies.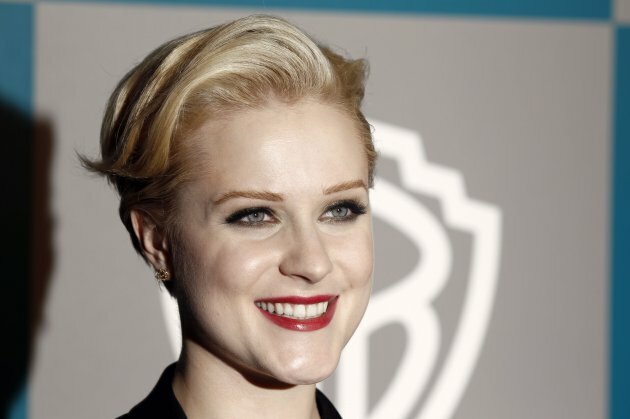 Evan Rachel Wood, and the ways she might look at you. (AP Photo/Matt Sayles)
And the rest of the day's dirt…
West Wing creator Aaron Sorkin joined Twitter last night, allowed more than 15,000 people to follow him, tweeted twice, and then locked his account. Odd.
Dawn Porter has decided against taking new husband (and IT Crowd, Bridesmaids and Moone Boy star) Chris O'Dowd's name but instead has settled on Dawn O'Porter (Irish Daily Mirror)
Katy Perry and Russell Brand turned up at the same basketball match in LA, and Brand quickly hightailed it to another seat (beside our Robbie Keane) to avoid a confrontation. (The Irish Sun)
Nickelback frontman Chad Kroeger has admitted that his fiancée Avril Lavigne doesn't listen to his music. He also hinted that they are quite, er, active in the bedroom. Shudder. (Radar)
For more, follow @dailyedge on Twitter and like The Daily Edge on Facebook.