EVERY WEEKDAY MORNING, DailyEdge.ie rounds up the best of the day's celebrity dirt – from the top to the very bottom.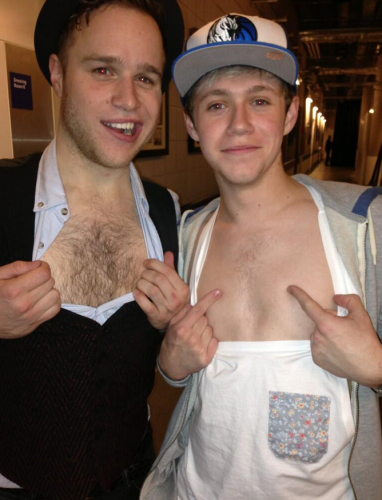 #OLLY OLLY OLLY Oy! Oy! Oy!
Look at that pair of divils Olly Murs and Niall 'Mullingar Massive' Horan showing us their man boobs.
Horan tweeted the picture after he went along to Murs' show in London at the weekend, claiming that the pair have matching chest hair. (Niall Horan/Twitter)
Give it another few years Niall pet.
Murs meanwhile was in Dublin last night playing at the O2, but sensibly left his crew hitting the bottle hard at Lillies Bordello and hit the hay.
#GIRLS A-QUIET Sarah Harding, the blonde one from Girls Aloud, has insisted the Nadine 'What Date Birth Did I Say?' Coyle didn't make her feelings known about wanting the band to stay together.
They announced two weeks ago that they were throwing in the towel, and Nadser took to Twitter to defend herself against rumours that she was responsible for the split, tweeting that she wanted to "keep going".
Sarah is calling bulls**t on her though, saying that she kept her gob shut about it. (Look)
Ultimate handbags.
It's because they made you sit in the back, isn't it Sarah? You can tell us, you're amongst friends. (Ryan Phillips/EMPICS Entertainment)
#MY GIRL The little girl from My Girl is all grown up, and she's pregnant!
Anna Chlumsky, who now stars in HBO's Veep is a few months along, and if that doesn't make you feel old let us remind you that she is now 32 and has been married for five years. (Daily Mail)
All together now:
HE CAN'T SEE WITHOUT HIS GLASSES!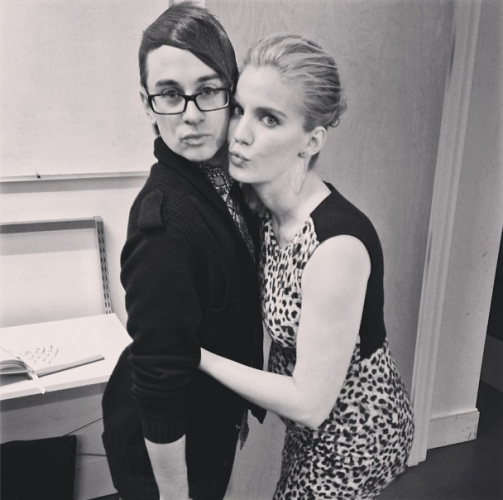 If it's a girl will she call it Thomas J? (Brad Walsh/Instagram)
The rest of the days celebrity dirt…
Check out Andy Murray's farmer's tan (TMZ)
Donald Trump is crap at changing nappies apparently. He's also crap at knowing when to give up the ghost on that hair (Daily Mail)
Remember that charmer Frankie Cocozza from X Factor? He's been acting the maggot again… by forgetting his PIN number in a shop (Yahoo/OMG)
Brooklyn Beckham has been spotted taking a lady friend on an ice cream date. Isn't he, like, four? (Irish Sun)
Justin Bieber has been banned from a nightclub in Austria after his security team allegedly smashed some phones and caused a ruckus (Mirror)