EVERY WEEKDAY MORNING, DailyEdge.ie rounds up the best of the day's celebrity dirt – from the top to the very bottom.
# OKEY COKEY:  Philip Schofield has revealed that he, GASP, took drugs in the 80s while he he was working as a children's television presenter (Daily Mail).
He says he's never tried to hide it, and that he did the same as everyone else, however, never properly got into drugs because he 'wasn't very good at it'.
The real question here is Gordon the Gopher's involvement.  He's been strangely quiet on the matter.
#HAVE A WORD, WOULD YOU? Someone really needs to have a word with Katie Price about this singing malarkey.  First there was the Eurovision attempt, then the ill fated duets album with Peter Andre, and now there's a cover of the Vanessa Williams classic, Save the Best for Last.
Her new husband Kieran Hayler has uploaded a recording of the song, which she sang for him at their wedding, to YouTube.  It's…well…have a listen yourself.

YouTube/kieran0322
Ok, it's actually not the worst thing ever, but she's no singer.
#1,000 DAYS Yesterday, One Direction fans had a lot to celebrate.  First of all, there was the fact that the band had apparently existed for 1,000 days:

Perhaps even more exciting though, was the launch of the lads' new wax figures in Madame Tussauds (Daily Mail).
John Stillwell/PA Wire/Press Association Images
Around 60 fans were lucky enough  to be the first to see them, but for some girls it was a bit too much as they found themselves 'overcome with emotion'.
Overcome with emotion at seeing the waxworks.
THE WAXWORKS.
#FRENEMIES: When asked whether she'd ever boast to Madonna about her superior abs, Gwyneth Paltrow said no, that she wouldn't do that because it would be 'rubbing it in'.
Instead she said she'd 'polaroid them and text them to her'.
BURN.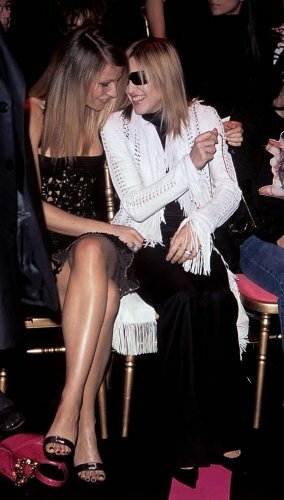 You can just imagine the kind of passive aggressive chat that's happening here.  Steve Wood /EMPICS Entertainment
And the rest of the day's dirt…
Missed yesterday's Dredge?  Then you might not know why Russell Brand is in a rage with Tom Cruise>