EVERY WEEKDAY MORNING, DailyEdge.ie rounds up the best of the day's celebrity dirt – from the top to the very bottom.
Handy place to keep his bike chain (Matt Crossick/Matt Crossick/Empics Entertainment)
#JAYZ US Let's all take a moment for Jay Z's hyphen, which he has finally laid to rest for good.
According to a tweet from the editor of Billboard, the plucky little dash is no more:
While it's been pointed out that the hyphen actually went the way of the dodo with the Watch The Throne album, Jay Z's (see, no hyphen) record company have confirmed that now he really means it.
That means when he comes to Dublin later this year, he won't be bringing his hyphen with him. But sure we'll cope, won't we? Together, we'll cope.
#IMMA LET YOU FINISH Kanye West has apparently been caught on tape giving out yards about Taylor Swift among other things.
Audio leaked to Gawker appears to reveal that the rapper wasn't happy about not being asked to perform at the 2009 MTV awards (where he infamously took the microphone from Swift after she won for Best Video).
He also rants that "Taylor Swift cannot beat Beyoncé!" and throws in a "F**k MTV" for good measure.
Kanye, pet, you're someone's da now. Let it go.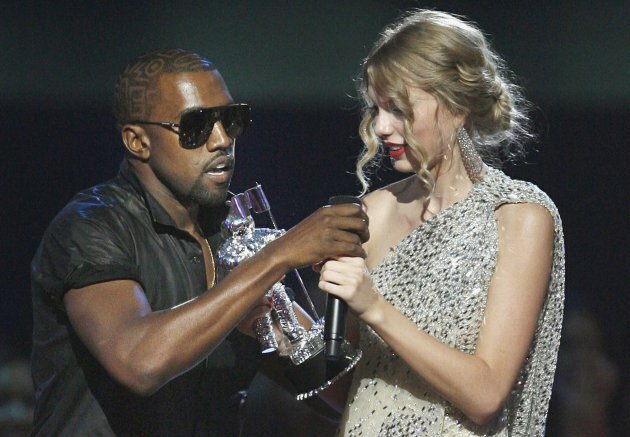 We were all so busy focusing on Kanye's 2009 rant, that nobody every stopped to take a good look at his ridiculous haircut. Taylor's hair meanwhile, is stunning (AP Photo/Jason DeCrow, File)
#DOWTCHA BOI Bruce Springsteen played the second of the dates on his mini tour of Ireland last night, thrilling the crowds at Pairc Uí Chaoimh in Cork for three hours.
Once again he played an acoustic warm up set in the late afternoon, and brought not one, but two local kids up on stage to help him sing Waiting on a Sunny Day.
YouTube/OSullr
Next it's on to Belfast for the boss, and then back to Kilkenny for two shows next week. He'll be wrecked.
And the rest of the day's celebrity dirt…