EVERY WEEKDAY MORNING, the Daily Edge rounds up the best of the day's celebrity dirt – from the top to the very bottom. Here's The Dredge.
#AWRIGHT GUVNER? Chris Christie the New Jersey Republican governor who successfully postponed Halloween in the wake of superstorm Sandy has appealed to Justin Bieber, Bruce Springsteen and Danny DeVito for help to spread the word about the relief effort.
He's taken to Twitter to appeal to Bieber, Springsteen and DeVito, as well as the Jonas Brothers, Ryan Seacrest and Piers Morgan.
Springsteen has not been a big fan of Christie's in the past, refusing to perform at his inauguration in 2009, but maybe he could suck it up for a good cause? (Although, to be fair, he already has).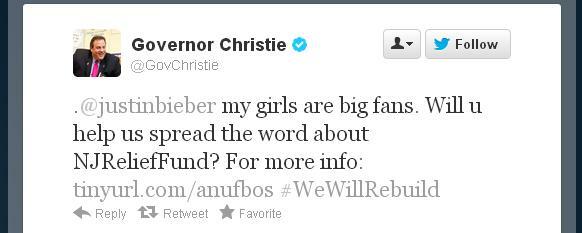 #NOT GAY Jessica Simpson's father Joe has responded to reports that he's gay, saying "I'm not gay". He's been telling people that the reports about his marriage breakdown are simply not true (TMZ – which also has a handy poll so YOU can vote on whether you think he's gay or not. WTF?). A few days ago a male escort said that his services had been engaged by Simpson, while it was also reported that he had been seeing a 21-year-old male model (Perez).
Joe and Jessica, lovely teeth and hair (AP Photo/Kevork Djansezian)
#NOT FAT Meanwhile Lady Gaga has responded to reports that she's fat, saying "I'm not fat". The singer said that Adele is bigger than she is, but "nobody says anything about it". She said that she has put on about 30 lbs and her mother was phoning her asking her had she gained weight, but that she doesn't care. (Stylist.co.uk)
This is her last week at a Halloween party. Yeah, she's really fat.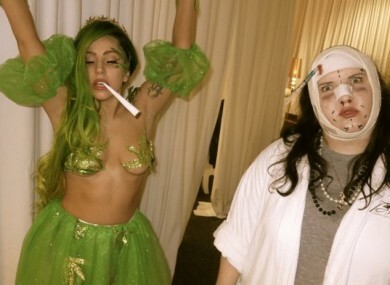 Lady Gaga. Not fat at all. (Little Monsters)
And the rest of the day's dirt…
No Doubt pulled their latest video because of complaints that it was offensive to native Americans (Buzzfeed).
Sharon Osbourne has had both of her breasts removed after she discovered she was carrying a gene that increases the risk of breast cancer (Irish Daily Mirror)
Westlife man Nicky Byrne has survived to get through to the next round of Strictly Come Dancing… or Twinkletoes Byrne as he is now known (Irish Daily Mail)
Kasabian and Editors could be among the bands set to record a new version of The Snowman in time for Christmas. We're not sure if we can get on board with this (Irish Daily Mirror)
Want to see a picture of One Direction in woolly jumpers holding puppies? Look no further (3am).
For more, follow @dailyedge on Twitter and like The Daily Edge on Facebook.