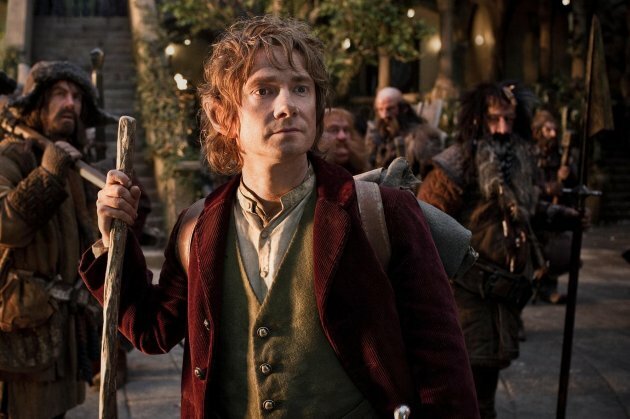 Credit: Warner Brothers
WE'VE ALL BEEN THERE: You're having a puff on your trusty pipe in The Shire one day when an old wizard you haven't seen for 30 years shows up and scolds 'you used to be cool'.
He then proceeds to prattle on about an adventure in a far-away land before peering through your windows, etching some magical graffiti on your door and sweeping off.
Later that night, as you settle down to a fish supper, 12 dwarfs show up at your hobbit hole, eat everything in your larder [including six wheels of cheese], drain barrels of red wine and bleat hoary old war ballads by your fireplace until the early hours.
This is Bilbo Baggins' Tuesday.
By Wednesday he's riding a pony and borrowing handkerchiefs but it gets much worse from there on out.
Misty Mountain hop
Peter Jackson is single-handedly propping up the New Zealand and British film industries by employing half of its actors and employing the rest as horse groomers, stunt-folk, chainmailers and crooked-tooth extras.
Anyone who has ever visited New Zealand will tell you Lord of the Rings or The Hobbit could not be set anywhere else, such is the majesty of the landscape.
Jackson's eternal tribute to J.R.R Tolkien, and his revered books, has been to watch UK Gold on digital TV, pour over the box-set of Cold Feet series 1-5, and cherry-pick the finest cast

as British as Betty's Hot Pot.
In The Hobbit: An Unexpected Journey, we are treated to appearances of familiar faces Bilbo Baggins the elder [Ian Holm], Frodo [Elijah Wood], Gollum [Andy Serkis] and Coronation Street's favourite con artist, Gandalf the Grey [a.k.a Ian McKellan].
Add to the Middle Earth melting pot, a slew of Britain's up-and-coming acting talents and it is enough curl the hair on a Hobbit's foot.
The Office, Doctor Who, Sherlock, The Bill, Spooks and Being Human are all represented, with former stars deftly disguised under braids, blades, prosthetics, tattoos and thickets of hair.
A long way from Gareth, staplers and jelly
As The Hobbit is set 60 years before the bromance and ring smelting of Lord of the Rings, Martin Freeman takes up the running as a Bilbo the younger.
Settling into his 50s [30-35 in human years], Bilbo has grown weary of whizz-cracks and fizzy-jigs, has a comfortably stocked larder and enjoys nothing more than a toot on his pipe and grabbing his braces whilst chatting.
The cosy blandness of his days are disrupted when wizardly Gandalf shows up, etches a mystical rune on his door and invites a troupe of refugee dwarfs to the peaceful Shire.
A back-story relayed over sloshings of wine and bedtime songs at the hearth, informs Bilbo that the dwarfs are on a mission to reclaim their homeland.
Adventure beckons but it takes more than washed dishes at sunrise to convince him that he is the final piece to their heroic but fool-hearty jigsaw.
YouTube credit: ColliderVideos
Cold, hairy feet
While Freeman does an excellent job in his portrayal of Bilbo as a reluctant and accidental hero, Tolkien tales require a brooding pack leader, close calls with death, offhand humour and a retreat at an elfin spa.
The Hobbit has all of the above, ogre stews, a dragon and misty glimpses of Benedict Cumberbatch.
Richard Armitage plays Thorin Oakenshield and is not instructing Spanish child-minders to swim any more [or smuggling budgies] as he wields a sword and a hunk of wood.
His performance as king of the dwarfs never comes close to touching that of Viggo Mortensen's in LOTR but he possesses enough sullen charisma to front the thrill-seeking travellers.
James Nesbitt plays the amiable Bofur, a dwarf with a Ballymena twang, and takes charge of the wisecracks and good-natured advice.
He nearly loses his life on a rocky mountain pass on a stormy night. It is not the first time rain has caused him grief:
YouTube credit: debalco
The verdict
The Hobbit was always going to face a challenge to match a trilogy that grabbed the world's attention at the turn of the 21st century.
It lacks that touch of magic, however, and true engagement with many of the main characters.
A dwarf by the name of Tyrion Lannister achieves more in a rude one-liner that The Hobbit's merry band can manage in three bombastic hours.
[Three hobbit holes out of five]