IF YOU WATCHED The X Factor over the weekend, there's a chance you might have spotted a familiar face.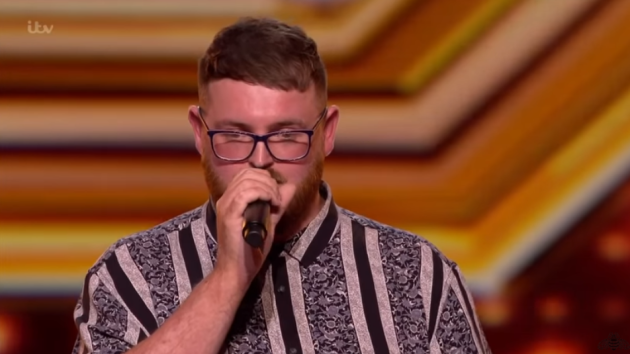 ITV ITV
27-year-old Patrick James, who won The Voice of Ireland in 2015, appeared on the ITV talent show and sang 'Human' by Rag'n'Bone Man for the judges. Despite the fact that he won Ireland's biggest singing competition, Patrick barely got four lines into the song before Simon Cowell asked him to stop.
Cowell told him, "I'm really sorry. I'm not feeling this and I'm not going to remember you in one hour." Robbie Williams added "I'm not feeling it either, and I don't know why that is." 
Anthony Ying / YouTube
Patrick had a chat about the experince on The Ray D'Arcy Show on RTÉ Radio 1 this morning. 
Patrick said that "X Factor was never really [his] plan", as he had "been there, done that with the whole reality thing". 
I got a phonecall that they'd love me on it and they think I'd do well, so would I fly over in 36 hours, so I was humming and hawing, would I or wouldn't I? Everyone was like, it's exposure, it's not really an opportunity that you could miss. 
Patrick said that it's not unusual for the X Factor, or any other reality TV show for that matter, to scout talent ahead of the auditions. The fact that a 90s pop-star auditioned the week before Patrick already raised the public's suspicions about that. 
Patrick said that The X Factor didn't even pay for his flight over to England for his audition, which wasn't great since he's "up to his neck in the Credit Union." 
In comparison, Patrick said that The Voice of Ireland were "so good" to him, and that his experience on the show was so relaxed. 
The Voice of Ireland / YouTube
Patrick told Ray D'Arcy that the positive feedback he received from Ayda and Louis was edited out of the show's final cut, as was Patrick's conversation with the judges before his performance. He hoped that his performance wouldn't even make it to the show in the first place.
I was praying they wouldn't show it, but I knew I wouldn't get away with it. 
In spite of the negative remarks from Simon Cowell and Robbie Williams, Patrick has been receiving lots of support from fans who were sorry to see him getting turned down from The X Factor. 
I can't believe how positive people have been. I've literally gotten hundreds and hundreds of mails off of strangers just saying "You didn't get a chance!" and "We love you from The Voice" and "Ireland's behind you" and all that.
Eventually, the topic turned to Patrick's burn scars on his arms.
Ray D'Arcy brought up the fact that this was Patrick's first time wearing short sleeves in fifteen years, and Patrick explained that he had been in a house fire when he was twelve. 
Tactlessly, D'arcy said "I'm looking at your hands there. Your right hand looks like the hand of an old man as a result." Incredulously, Patrick said "Are you for real? Is he for real?! You're actually slagging a burn survivor? And I said you looked young when I walked in here?" Patrick then jokingly said "Stop the interview." 
You can listen to the entire interview here. 
DailyEdge is on Instagram!