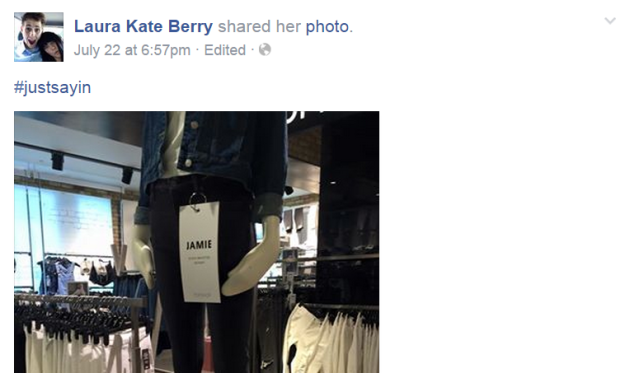 UK TOPSHOP CUSTOMER Laura Berry has made the clothing company stop and think after posting a complaint about their mannequins on Facebook.
Dear Topshop…
she writes
… having been paid yesterday, I decided to spoil myself by purchasing a new pair of my favourite Jamie jeans. However, I was stopped in my tracks by the mannequin in the picture I've shared with this post.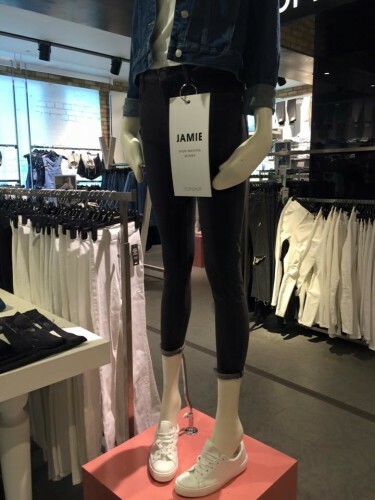 Facebook Facebook
Berry describes the mannequin in the Bristol store as "ridiculously tiny" and "ridiculously shaped". She observed "not one mannequin in your store showed anything bigger than a size 6″ and questioned whether the one pictured was even that size.
Now, Topshop has responded after Berry's post gained considerable traction.
Hi Laura, we just wanted to send you another message and say thanks for getting in touch. We think it's important to showcase a healthy size image, from the choice of models used in campaigns, to the stories featured online and on the blog. 

For some background, the mannequin you saw in store is supplied by a company that has been working with lots of different retailers for the past 30 years. This particular style is used in small number of our stores and is based on a standard UK size 10. The overall height (187cm) is taller than the average girl and the form is stylised to have more impact in store.

As the mannequins are solid fibreglass, their form needs to be of certain dimensions to allow clothing to be put on and removed easily; this is therefore not meant to be a representation of the average female body.

That said, we have taken yours and other customers' opinions and feedback on board and going forward we are not placing any further orders on this style of mannequin. The views of our customers are extremely valuable and we apologise if we have not lived up to the levels of service that we aim to deliver.

Again, thanks for your message.
Berry has now started an online petition, aiming to bring standardised sizes across the fashion industry.
As we all know, one size in one store is never the same in the next! This can impact our own body confidence and even more worrying, the body confidence of those younger than us susceptible to media pressure or those fighting their own battles with self acceptance