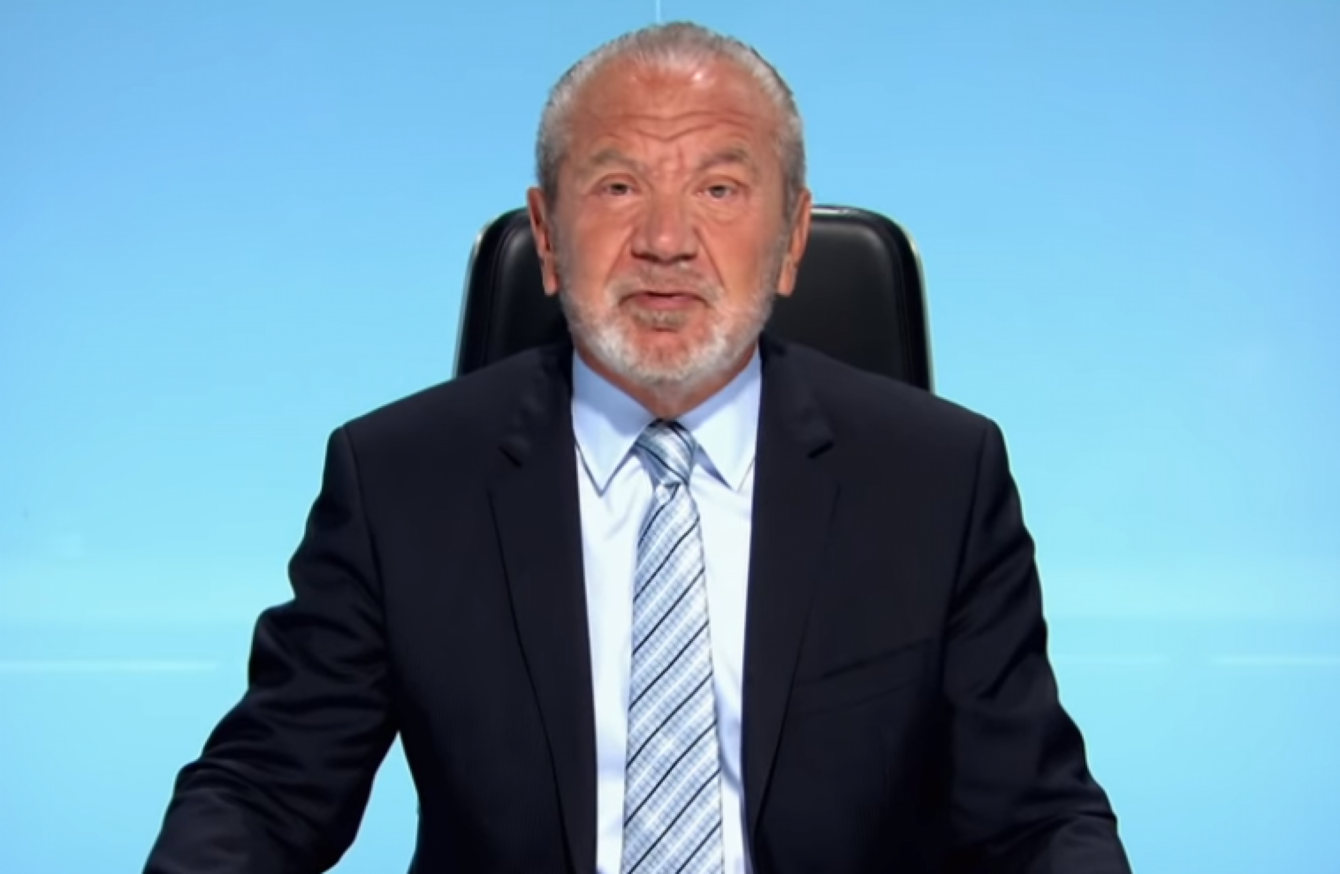 Image: YouTube
Image: YouTube
DailyEdge.ie rounds up the TV shows that you'll be tweeting about tonight and talking about tomorrow.
The Apprentice (BBC One, 9pm)
If you're a die-hard fan of The Apprentice, you'll know that this is the episode that truly sorts the wheat from the chaff, as the final five candidates present their business plans to a panel of experts. After weeks spent dodging those infamous two words, the finalists know it's crunch-time so expect serious stress and heightened tension as they navigate a series of particularly brutal interviews tonight.
Who Do You Think You Are? (RTÉ One, 11.25pm)
Two years after his father's death, comedian Greg Davies has decided to travel to Wales to learn more about his Welsh heritage. The Inbetweeners star returns to the place of his birth and delves further into his family tree than he ever thought possible.
One Born Every Minute (RTÉ 2, 10.30pm)
The last in the series, this episode follows 17-year-old Elisha who didn't know she was expecting until the six-month mark, Gemma and Kosta whose impending arrival has sparked a cultural clash between them, and Jenny whose past has forced her to prepare for a difficult experience.
Everyone is talking about… Power

Filming for the sixth series of 50 Cent's show Power was brought to a standstill this week after a crew member died in a tragic accident.
Production assistant, Pedro Jimenez, was killed after being struck by an SUV on-set.
The show paid tribute to the 63-year-old crew member in a statement, saying:
Our thoughts are with Mr. Jimenez' family as we work to fully understand what has happened.
50 Cent acknowledged the passing on Twitter, writing: "I just learned we lost Pedro Jimenez, a member of the Power production team early this morning. My prayers and condolences are with the entire Jimenez family."
May his soul rest in Power...♥️

— Siddique_SA (@SiddiqueSA1) December 10, 2018
Prayers and condolences to the his family as well as the cast of Power and etc!!!

— Pandora7 (@Pandora20244991) December 10, 2018
Sorry for the loss. As a great Power fan, I share in the grief.

— melchi (@melchi89) December 11, 2018
And ICYMI…

Miley Cyrus might be starring in an upcoming episode of Black Mirror.
Rumours have circulated in recent months as to whether or not the 26-year-old singer will be making an appearance in the next series of the hit show, but neither Miley nor the people behind the show have confirmed a role.
Yesterday, however, Miley's older sister, Brandi, got the rumour mill swirling again while hosting her podcast, Your Favourite Thing With Wells & Brandi.
Brandi spoke about staying with Miley in Cape Town while she filmed a show, appearing to confirm earlier reports that suggested Miley's trip to South Africa was in connection with an upcoming series of Black Mirror.
 Or flick over for…
The World's Most Expensive Presents (Channel 4, 10pm) We're talking £40,000 ball gowns… for a dog.
Neven's Christmas Menu (RTÉ One, 8.30pm) Tune in if you want to impress your mates in the coming weeks.
Breaking Dawn: Part One (E4, 9pm) Just in case you're still into vampires.
The Woman With No Face (Virgin Media Three, 9pm) Documentary about Tambudzai Makinzi, a model whose life was saved due to a pioneering surgery after she developed an aggressive form of bone cancer.
DailyEdge is on Instagram!