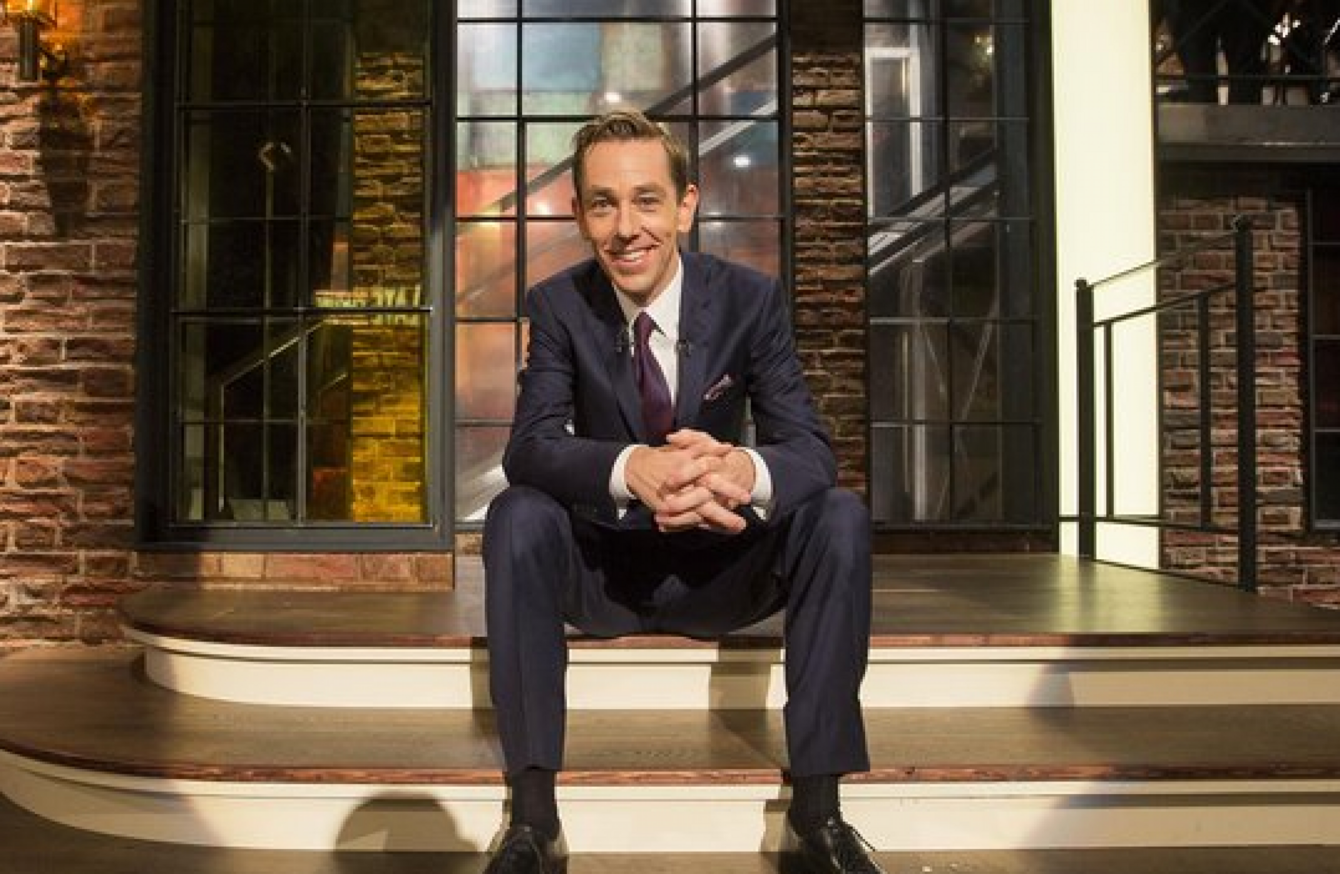 Image: twitter.com/rte
Image: twitter.com/rte
DailyEdge.ie rounds up the TV shows that you'll be tweeting about tonight and talking about tomorrow.
The Late Late Show (RTÉ One, 9.35pm)
You may be one of the poor unfortunates who has another few days to go until payday arrives, so it's a Friday night on the couch for you, right? Well, who better to spend it with than Tubs? Tonight, Ryan will be joined by Hozier, Joe Wicks aka The Body Coach as well as four Dancing with the Stars hopefuls. And as for music, Wild Youth will be on hand.
Dumb and Dumber To (E4, 9pm)
It's been 20 years, but Harry and Lloyd are finally reunited after the former breaks the latter out of a psychiatric facility. With that small matter dealt with, the pair hightail it across the country to find Harry's daughter – someone Harry did not know existed. Standard procedure.
Jamie and Jimmy's Friday Night Feast (Channel 4, 8pm)
Jessica Chastain joins Jamie and Jimmy in their Southend cafe for an all-vegan feast. We're talking falafel fritter wraps, home-made hummus and more cauliflower than you can shake a stick at. 
Everyone is talking about… Tadhg from First Dates Ireland

'It's not possible to say all the time, "I'm proud to be gay."'#FirstDatesIRL pic.twitter.com/v7HjhPUcQ3

— RTÉ2 (@RTE2) January 24, 2019
Last night we met Tadhg from Carlow and his date Zach from Offaly – a truly lovely pair – but it was Tadgh who really captured the heart of the nation when he opened up about how he finds life as a young gay man.
Explaining that he's never had a relationship, the 18-year old said: "It's not possible to say all the time, 'I'm proud to be gay', it's not possible, cause there are moments when you're like, why."
It's taking me a while to be able to talk to lads, even straight lads.
Viewers took Tadhg to their hearts, and wasted no time saying as much on Twitter.
Tadhg doing Carlow proud on #FirstDatesIRL I'm blown away by how self aware and courageous he is for such a young man ❤️

— Rachael Doyle (@RachNiDhuill) January 24, 2019
#FirstDatesIrl Tadhg is a wonderful young man I'd love to tell be proud hold your head up your amazing your family are so lucky to have you

— Rita Doyle (@RitaRitadoyle1) January 25, 2019
If everyone was as nice and dignified as Zack and Tadhg the world be a better place. #FirstDatesIRL

— Graham Patchell (@GrahamPatchell) January 24, 2019
Or switch over for…
The Graham Norton Show (BBC One, 10.35pm) Sure look, Graham rarely steers you wrong and tonight's line-up includes Judi Dench, Kenneth Brannagh, Noomi Rapace and Claire Richards.
8 Out Of 10 Cats Does Countdown (Channel 4, 9pm) Time with Wee Miss Bea is time well spent, TBF.
The National Television Awards (Virgin Media One, 9pm) Worth it for the dress critiquing alone.
The Last Leg (Channel 4, 10pm) John Bishop joins the trio this week.
DailyEdge is on Instagram!