DailyEdge.ie rounds up the TV shows that you'll be tweeting and talking about this weekend.
The Blind Side (RTÉ One,9.30pm)
It's Bank Holiday Monday night and it's likely you're in a fragile state, so channel that emotion by watching Sandra Bullock in her Oscar-winning performance in The Blind Side. The 2009 film tells the story of a homeless teenage boy who goes on to become an All-American football player after being taken into the care of a local family.
Reeling in the Years (RTÉ One, 7pm)
RTÉ take a look back at a year etched in the mind of many; 2001. Europe endured the foot and mouth epidemic which eventually, despite desperate intervention, reached both Northern Ireland and the Republic, and the world watched on in horror as a terrorist attack in New York City claimed the lives of more than 3,000 people on September 11.
60 Days on the Streets (Channel 4, 11pm)
Former soldier, Ed Stafford, spends two winter months sleeping rough in a bid to get first-hand experience of the homelessness crisis. The first episode of the series follows Ed through Manchester where drug addiction has resigned many addicts to a life spent sleeping on the streets.

Everyone is talking about…Darby O'Gill and the Little People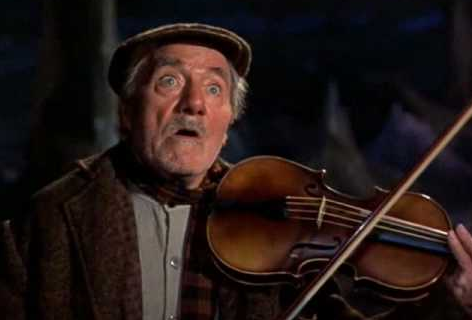 As people all over the country took to the streets to celebrate St Patrick's Day, those who chose to stay indoors were 'treated' to the annual showing of Darby O'Gill and the Little People.
Love it or hate it; it's a St Patrick's Day staple.
And here's what people had to say about the story of an ageing Irish caretaker and yarn-spinner who stumbles into the underground kingdom of the leprechauns.
Been wanting to rewatch Darby O' Gill and The Little People for the last few weeks, so what better day to do it than today?

— Keith™ (@weemantweets) March 17, 2019
That part of #DarbyOGill that's terrified Irish kids for years and years. #StPatricksDay ☘️ pic.twitter.com/pexhIWyzpu

— John Fox (@foxymm12) March 17, 2019
darby o gill and the little people is on im suddenly wrapped in an irish flag, eating tayto and drinking a pint of guinness x

— zoë (@kindazo) March 17, 2019

Or switch over for…
Say Yes to the Dress (RTÉ 1, 8.30pm) Hook this wedding content to our veins.
St Patrick's Festival Highlights (RTE One, 6.30pm) Scared you missed out on the craic?
Masterchef (BBC One, 7.30pm) We're hungover; show us the food.
Fleabag (BBC one, 10.35pm) The latest from Fleabag.
DailyEdge is on Instagram!