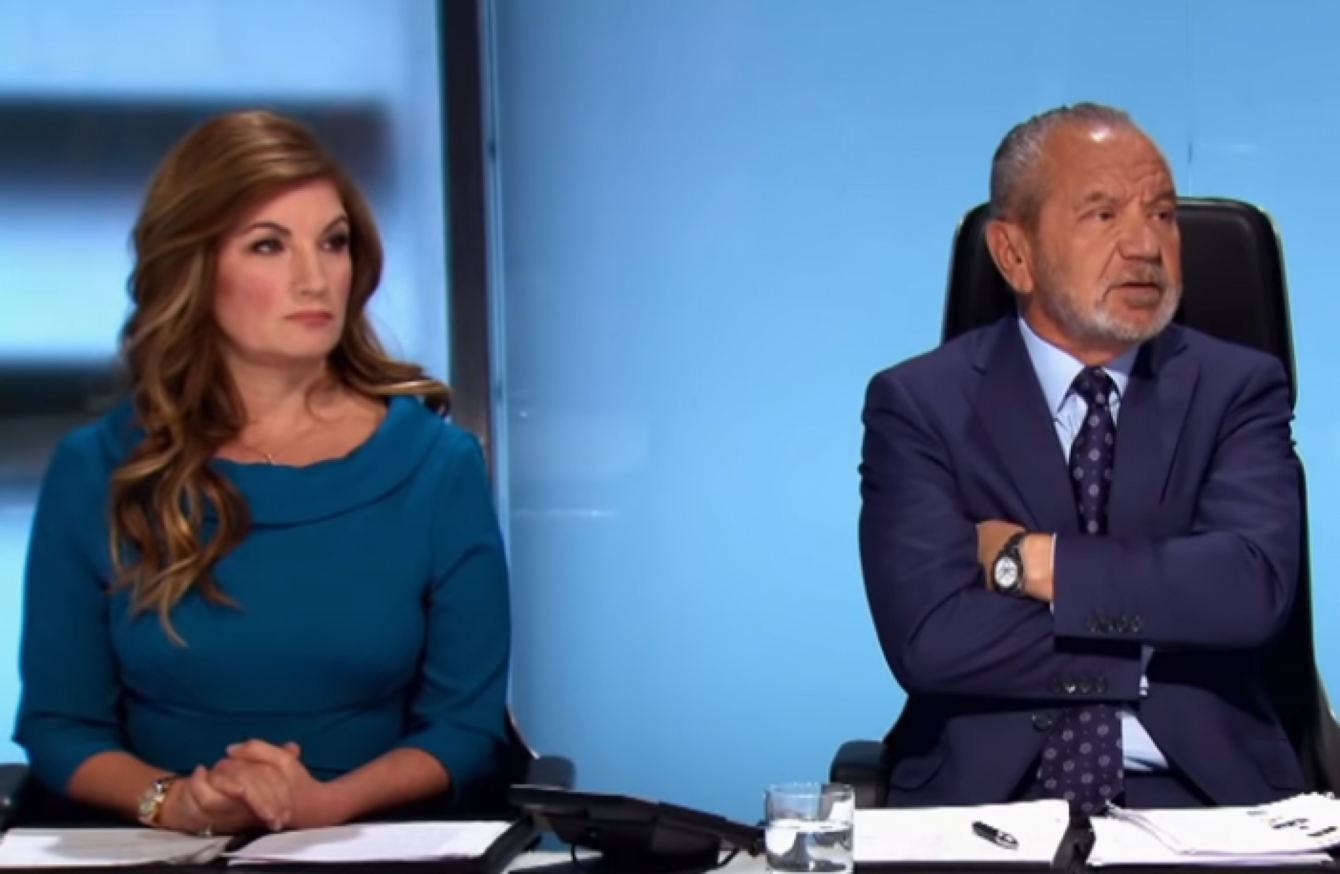 Image: YouTube/BBC
Image: YouTube/BBC
DailyEdge.ie rounds up the TV shows that you'll be tweeting about tonight and talking about tomorrow.
The Apprentice BBC One, 10pm
After a very questionable performance at the fitness expo last week, the candidates are keen to win back Lord Sugar's esteem. And this week, they've been tasked with shoe designing. As usual, there is in-team tension, unenthusiastic feedback and a boardroom filled with quivering would-be business partners.
This Crowded House RTÉ 2, 9.35pm
29-year-old Tanita and 21-year-old Emanuel meet with Brendan Courtney in the latest installment of This Crowded House. They give an insight into their respective paths and the various reasons they're struggling to move out of the family home and onto the next stage of their lives.
The Secret Life of the Zoo Channel 4, 9pm
A brand-new episode in the latest of the Channel 4 series. Tonight, pregnant elephant Thi, giraffe Meru and clownfish Polo take centre-stage. The zookeepers are worried that Thi may be three months overdue, concerned that Meru's behaviour is getting a little reckless and fearful that Polo has injured himself in an attempt to impress a female clownfish.
Everyone's talking about… the letter Terry wrote to the Great British Bake-Off Team
Last night was the grand finale of the Great British Bake-Off.
If you've yet to find out who was crowned this year's best baker, we'll say nothing here and focus instead on a letter written by ex-contestant Terry.
Yesterday, the programme shared a photo of the letter in which Terry wanted to express his gratitude for all the support that was shown to him throughout the show's run.
On the day of the #GBBOFinal it's time to share a letter we've recently received from lovely Terry. He's not on social media, but wanted to say thanks for all your kindness and encouragement.

The post has been liked more than 27,000 times, with Twitter users falling all over themselves to wish Terry well in response.

Or switch over for…
Samhain Live (BBC Two, 10.30pm) Live entertainment from Derry, featuring Le Galaxie, Gavin James and Saint Sister.
Gogglebox Ireland (Virgin Media One, 9pm) You know the drill.
Finding Joy (RTÉ One, 9.35pm) We're on episode 4; have you made up your mind yet?
Don't Tell the Bride (E4, 10pm) Will Nathan's Mexican-themed wedding impress Jenna?
DailyEdge is on Instagram!