DailyEdge.ie rounds up the TV shows that you'll be tweeting about tonight and talking about tomorrow.
The Apprentice (BBC One, 9pm)
It's week 8, and it's time to sort the wheat from the chaff. Although if this series is anything to go by, Lord Sugar is going to have his work cut out for him choosing a potential business partner among this year's selection of hopeful candidates. This week, the groups will become art dealers and travel to Scotland to host their own event.
Trans Kids: It's Time to Talk (Channel  4, 10pm)
With an increase in the number of individuals seeking to transition gender, psychotherapist and author Stella O'Malley reflects on the progress which has been made when it comes to gender identity issues, and considers whether her own life course may have altered had the same options been available to her as an adolescent. Meeting with some of these people and the experts eager to support them, Stella helps them to share their story.
The Investigator: A British Crime Story (Virgin Media Two, 11pm)
The person responsible for the murders of Anna Kenny, Agnes Cooney and Hilda McAuley in Glasgow 1977 has yet to be brought to justice. Journalist and former detective Mark Williams-Thomas interviews the ex-wife of convicted murderer, Angus Sinclair, and with her help seeks to place Angus at the scene of all three crimes.

Everyone is talking about… The Good Place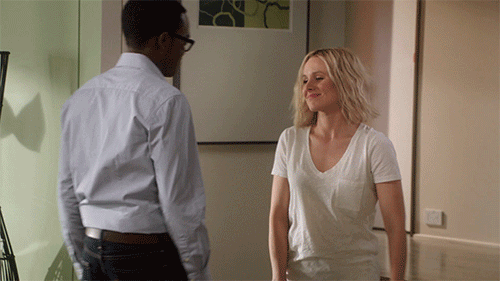 If you've yet to see The Good Place because you haven't sprung for a Netflix subscription, fear not, your time has come.
E4 has acquired the rights to the US sitcom, which stars Kristen Bell, Ted Danson and Jameela Jamil, from international distributor NBC Universal International Distribution.
The first season of the show will be broadcast on E4 from December 13.

Or flick over for…
Tommy Bowe: The End Game (RTE One, 10.40pm) Tommy Bowe fan? Watch this.
Don't Tell the Bride (RTÉ 2, 9.30pm) It's a Harry Potter-themed wedding, people.
The Secret Life of the Zoo (Channel 4, 8pm) A little meerkat couple welcome their very own baby meerkat.
I'm a Celebrity… Get Me Out of Here (UTV 9pm) More celebs, more insects.
DailyEdge is on Instagram!