Every lunchtime, DailyEdge.ie rounds up the TV shows that you'll be tweeting about tonight and talking about tomorrow.
The Jonathan Ross Show (UTV, 10.35pm) 
Who's on tonight? ONLY MACCA. Yes, Paul McCartney joins Wossy to talk about oh, I don't know, being a bona fide music legend and also a bit of a cheeky chappy, and maybe having made some poor romantic decisions along the way. He's joined by Martin Freeman, Miranda Hart, and Jeremy Clarkson (because they couldn't have a panel who were ALL nice).
New You've Been Framed (UTV, 6.30pm)
How on earth does You've Been Framed still exist in the age of YouTube? We're not sure, but we're interested in finding out tonight when Harry Hill presents an improbable new collection of clips. Do people still send in actual tapes? Do you still get £50? All these questions will be answered.
Play Misty For Me (UTV, 11.55pm)
Classic Clint Eastwood thriller, starring the man himself as a radio DJ who acquires a possibly-murderous stalker after a one night stand. Features lots of brooding Clint Eastwood and nice photography of the California coast.

Everybody's talking about: The Walking Dead spin-off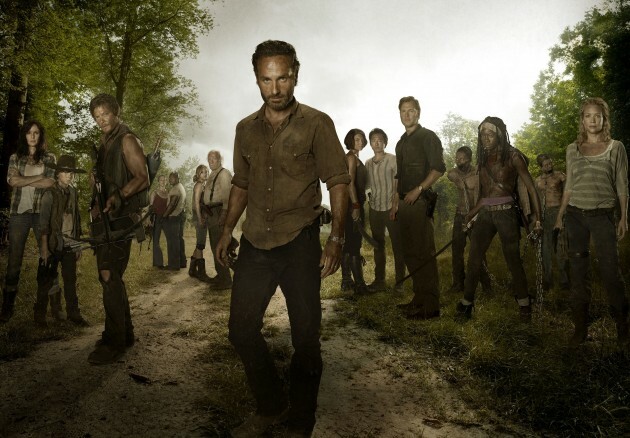 AMC AMC
The hugely successful zombie show is getting a 'companion series' – another show set in the same world, after the same viral apocalypse, but looking at events in a different location. And the cast is beginning to emerge.
We still don't know what the show will be called, but it will centre around a schoolteacher, his ex-wife and their son, according to the Hollywood Reporter. Network AMC is currently filming a pilot and casting the main roles – with Cliff Curtis of former crime drama Gang Related currently in the frame for the lead.

Or flick over for…
The X Factor (TV3, 8pm)

Hopefuls (and audiences) undergo another night of singing.

I'm A Celebrity Get Me Out Of Here (3e, 9.30pm)

The latest from the jungle, where the camp is dwindling in size.

Strictly Come Dancing (BBC1, 7pm)

Dancing, innit.

Sherlock (BBC3, 9pm)

The one when Sherlock reappears after two years 'dead'.

From Dusk Til Dawn (Channel 4, 10.35pm)

Schlock-horror film with Quentin Tarantino.