BRAVEHEART, SAVING PRIVATE Ryan and The Princess Bride were all filmed in Ireland, but what about the TV shows that have made use of our landscapes and talents.
If you've ever spotted something being filmed and wondered what the blazes was going on, maybe some of these will answer your questions…
Ripper Street
This BBC drama is set in London's East End in 1889, but was filmed entirely in Dublin, and has already been commissioned for a second series.
Filming took place in several locations including Clancy Barracks, Trinity College, Dublin Castle, Kilmainham Jail and the tunnels under Connolly Station. It's on Sunday nights on BBC 1 if you want to do some location spotting.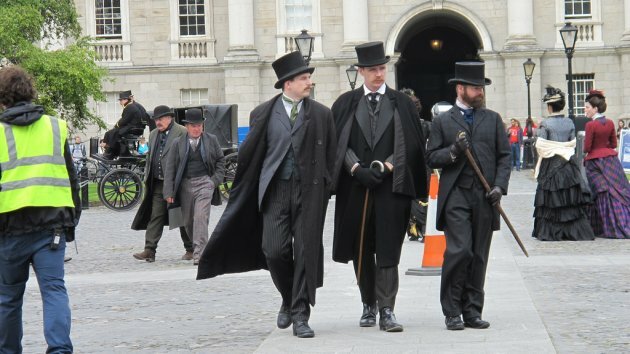 Ripper Street filming in Trinity College (Image: Juan Sarasua/Flickr/Creative Commons)
Vikings
Gabriel Byrne stars in this series produced for the History Channel which is set to air in the US next month.
It's the History Channel's first scripted series and was filmed in Ashford Studios and in Luggala in Co Wicklow.
Big things are expected of Vikings, and it even had a Super Bowl ad…
YouTube/HistoryChannel
Game of Thrones
Many parts of HBO's massive series based on George R R Martin's books were filmed in various locations in Northern Ireland, and in the Paint Hall Studios in Belfast.
Sandry Brae in the Mourne Mountains, Castle Ward in Co Down, Saintfield Estate, Ballintoy in Co Antrim, Tollymore Forest in Co Down and Cairncastle in Antrim.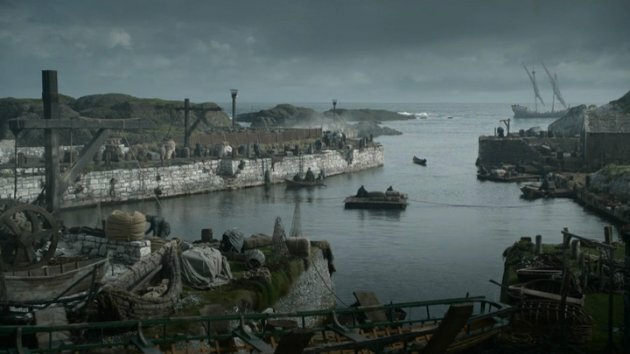 Ballintoy Harbour in Antrim transformed for Game of Thrones (Images: Horslips5/Flickr/Creative Commons)
Castle Ward in Co. Down, which served as Winterfell in Season One of Game of Thrones (Image: William Marnoch/Flickr/Creative Commons)
YouTube/Stiener2161
Sons of Anarchy
In 2010 part of the third series of Sons of Anarchy was filmed in Belfast.
The FX show about a motorbike gang featured an Irish character called Cameron who kidnapped a rival's baby and headed to Ireland. Standard.
Some of the Irish accents were fairly dodge though:
YouTube/ChalkItDown
You can check out some of the Belfast scene in this season 3 recap…
YouTube/JacksFangs
Camelot
This TV series starring Joseph Fiennes and Eva Green was filmed in Ardmore Studios in Wicklow, but sadly was limited to only one season.
It was made by the same people behind The Tudors, which was also filmed in Ireland.
YouTube/CelticGrips
Primeval
In an effort to cut costs the fourth and fifth series of the ITV show Primeval were filmed in Ireland in a variety of locations… the Powerscourt Estate, The O2, Dublin Port and Grand Canal Dock to name a few.
Bonus info: Hannah from S Club 7 was in Primeval.
Lookit, it's the Bord Gais Energy Theatre (Image: YouTube/BBCAmericaTV)
YouTube/BBCAmericaTV