1. First things first – the weather yesterday was the polar opposite to last year's washout
The start the weekend needed.
2. Repeal banners were spotted in prominent positions early on
3. Electric Picnic brings out everyone's creative side
4. These "Repeel" bananas caught the eye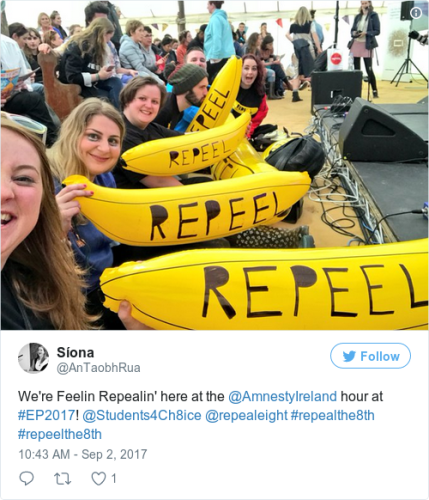 @AnTaobhRua Twitter @AnTaobhRua Twitter
5. The crowds last night were as raucous as you'd expect
SOME AUL BUZZ for Belfast duo Bicep <3
6. "Sure look, at least we have the Late Late" – everyone at home
@ThisisiRadio @ThisisiRadio
Great!
7. Would it even be Electric Picnic weekend if you didn't make a cans joke?
*applause*
8. Or a joke at the expense of those going
The only way to get over the FOMO.
9. The xx were the big draw on the main stage last night
10. But for any artist getting up there, it's a pretty good feeling
11. For those less into the music side of things, they can take inspiration from It's Always Sunny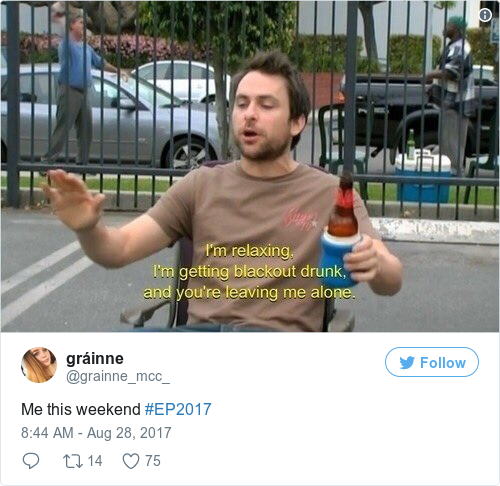 @grainne_mcc_ @grainne_mcc_
12. The Strypes have the tent pitched up and ready to rumble
No fancy hotels for the lads.
13. There are ominous signs on the weather front though
Always be vigilant.
14. But so far, so good
Just got to keep the momentum going.
DailyEdge is on Snapchat! Tap the button below to add!