Twink and Teddy Bear
PERFORMER ADELE KING, aka Twink, was on the Saturday Night Show to discuss the headline-grabbing theft of her terrier Teddy Bear.
Happily, Teddy Bear was found on Tuesday evening, and Twink brought him on the show with her.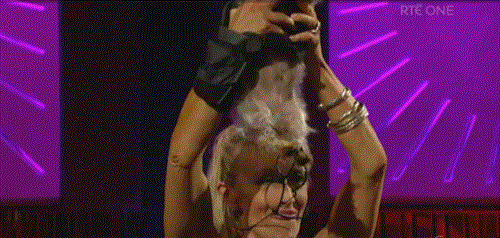 (He got a big round of applause.)
Twink began the interview by saying that she was in a vulnerable and emotional state after the week's events, saying: "I haven't eaten or slept since Thursday week, or very little."
She also thanked everyone who had helped in the search for Teddy. However, her story of the theft was cut short because the interview – at the very end of the show – had to be curtailed. Presenter Brendan O'Connor said they had run out of time.
Twink asked to say one thing before the show ended. Speaking to camera, she addressed pet thieves directly, saying:
The people around the country who do this heinous crime, looking at me on the telly – actually, it's probably some other woman's telly. Shame on you. Shame on you.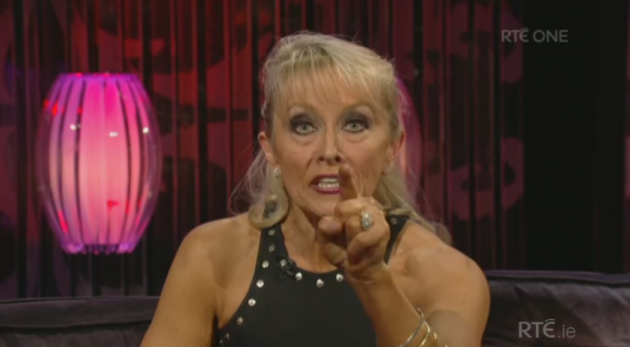 Get your grubby little hands out of my garden, old lady's cars, little kids' lives, tearing a hole in their lives.There was only me, Linda Martin, a few other people watching you. But the whole nation is watching you now. You won't be getting away with it for long.
She concluded: "They robbed the wrong woman's dog."
There was a strong reaction on Twitter, with many viewers responding to the strength of Twink's feeling.
However, some felt that she was in too vulnerable a state to be interviewed, and that the results were exploitative.
O'Connor concluded by saying that the show would have Twink on again, to finish her story. You can watch the full interview on the RTÉ Player here.