Updated: 1.15pm
U2′s PUBLICIST HAS said that she is "not aware of any plans" to release the band's new album pre-loaded on the iPhone 6.
Her comments follow widespread rumours that the band would do so, amid talk of a possible marketing tie-in ahead of the new iPhone's launch next week.
Regine Moylett of RMP London told DailyEdge.ie: "No, I'm not aware of any plans to load the album onto a phone."
However, speculation continues that U2 will have some involvement in next week's launch. Here's what we know so far:
U2 filmed a secretive video on Dublin's Samuel Beckett bridge two weekends ago, shutting it down to traffic while keeping the band's involvement under wraps. It was only confirmed that it was a U2 video several days later.
Dublin music promoter Stephen Browne tweeted this blurry image apparently from the shoot, claiming that the "focus of the "video" on the bridge last week was a phone" and linking it to the iPhone 6 launch.
In the pic, a man can be seen holding a handheld device. However, it's not clear what it is.
Browne has said that he may post "the rest of the photos" on this Facebook page later today.
Several people suggested that U2′s new album would come preloaded on the iPhone 6. MacRumors quotes a "tipster" as telling them this, while 9to5mac notes other tips claiming a partnership between band and brand.
Closer to home, Carlow-born Russia Today journalist Bryan MacDonald made the same claim, adding that the album may premiere on 2FM:
DailyEdge.ie reached out to 2FM, who declined to comment.
Charles Sykes Charles Sykes
Apple are constructing something large at their Cupertino headquarters ahead of Tuesday's launch announcement. One school of thought is that it's a stage. As this site notes:
Apple always like to trot out a musical guest at the end of big events like these. Norah Jones, the Foo Fighters and Coldplay have all participated in the past. Could it be that this stage is being constructed for…U2?
CNET's writer Shara Tibken, who has been covering Apple for some time, tweeted today:
Finally, there are also these rumours on an Apple fan site, which asked friend of U2 Julian Lennon what the band were up to recently and apparently got the reply: "I think they were shooting an Apple commercial."
So could it be? Let's not forget the special-edition U2 iPod in 2004, a tie-in deal with the How To Dismantle An Atomic Bomb album…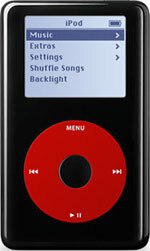 U2.com U2.com
AppleKeynotes / YouTube