EVERY WEEKDAY MORNING, DailyEdge.ie rounds up the best of the day's celebrity dirt from the top to the very bottom.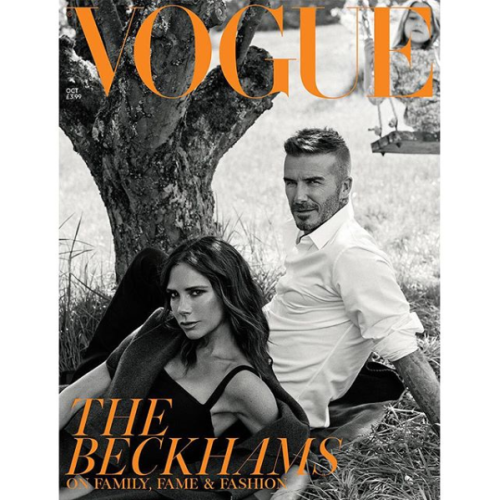 British Vogue British Vogue
Victoria Beckham proved she's still a gas bitch in her latest interview with Vogue.
She pulled the piss out of herself and the time she spent lip-synching in the Spice Girls, while very humbly describing herself as "one of the most enduring fashion icons of all time". 
Now, there were some serious bits in the interview as well, including her acknowledgement of those split rumours dogging herself and David:
"People have been making things up about our relationship for 20 years, so David and I are pretty used to ignoring the nonsense and just carrying on as normal," she said. 
But these things have a wider effect on the people around us, and that's unfair."
(Obviously referring to kiddos Brooklyn, Romeo, Cruz and Harper there.) So, now you know! (Daily Mail via British Vogue)
Hahn Lionel / ABACA Hahn Lionel / ABACA / ABACA
OK, disclaimer – this story is a bit batshit. If it any point you think your eyes are failing you, rest assured they're not.
Miley Cyrus' sister, Noah, was going out with a Soundcloud rapper called Lil Xan. With me so far? Good.
Apparently, they've broken up after she sent him a photoshopped meme of Charlie Puth's head on a porn star's body. Yeah.
Lil Xan, whose real name is Diego Leanos, posted to his Instagram Story and said, "I feel like I'm probably being cheated on." The post has since been deleted.
Noah then shared a screenshot of her text message with Lil Xan in which she had sent him the meme. In the text messages, her boyfriend replied: "Why did u send that pic. Wtf."
On the story, Noah captioned the screenshot and said: "I'm heartbroken and confused. This is the meme I sent Diego that made him think I'm cheating on him." She then went on Instagram Live and tearfully told fans:
I'll try to explain it more in the next couple of days. I never did anything that I'm getting accused of."
Noah also told young girls watching to "get away from every f**king person that goes into your life and just crushes it and crumbles it and makes you feel like a piece of f**king s**t."
*deep exhale* Ah, to be young again … (Just Jared)
Birdie Thompson Birdie Thompson
Dominic Cooper is moving on following his split from Ruth Negga.
The Mamma Mia 2 actor's been spotted cosying up to none other than Gemma Chan, star of recent smash Crazy Rich Asians and former flame of comedian Jack Whitehall.
Might be a bit awkward, given that the two are pals through James Corden. Someone has some explaining to do … (Goss)
And all of your other celebrity dirt…
Beyoncé's mam is attempting to embarrass the shite out of her on her birthday. (People)
David Walliams' mam loves Aidan Turner, pass it on. (DailyEdge)
Emma Willis interviewed Roxanne Pallett on Celebrity Big Brother, and, well … (DailyEdge)
DailyEdge is on Instagram!