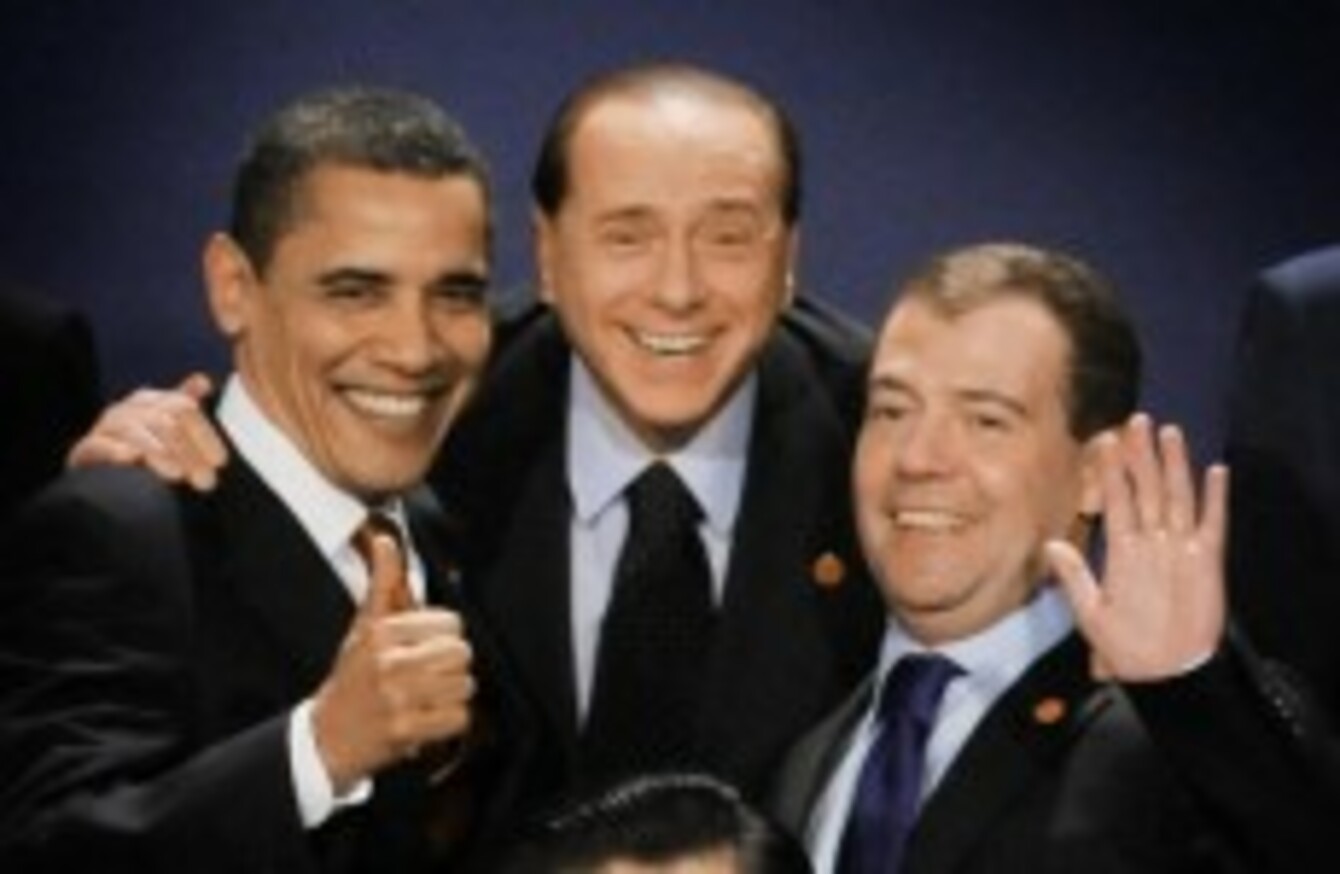 Image: Stefan Rousseau/PA Wire
Image: Stefan Rousseau/PA Wire
ITALY'S PRIME MINISTER Silvio Berlusconi resigned from office last night after pledging he would step down once a raft of economic reform measures were passed through the parliament.
The state's lower house obliged yesterday morning and Berlusconi tendered his resignation to the president last night.
Although 17 years as one of Italy's top political figures, Berlusconi is likely to be most remembered for his more eccentric moments. Check out our top seven:
1. Bunga Bunga: The beleaguered former prime minister is unlikely to ever shake off the shadow of 'bunga bunga'… The phrase emerged last year after a number of articles were published alleging that Berlusconi hosted a range of lavish parties at his villa which were allegedly attended by  prostitutes and models. Hollywood actor George Clooney recently revealed that he had been asked to testify on behalf of Berlusconi at a trial alleging that an underage prostitute was at such a party, but that Clooney wasn't actually at "his bunga bunga party".
2. Ruby: And speaking of the bunga bunga parties, when questioned over his office's inquiries into the arrest of a 17-year-old dancer and alleged prostitute known as 'Ruby the Heart Stealer', Berlusconi said his concern for her arose because he believed she was the granddaughter of former Egyptian president Hosni Mubarak. He also said that he gave the Moroccan-born teenager €45,000 – for laser hair removal equipment.
3. The new penis: Berlusconi's office spent November 2010 defending paying a certain 'refurbishment' bill: it spent €70,000 on having a new penis fitted on a statute of the Roman god Mars in the politician's office. Mind you, the cost also covered a new hand for his Venus statue.
4. Awkward… The former Italian premier left German Chancellor standing on her tod on the red carpet at a NATO summit two years ago. Speaking into his mobile phone, Berlusconi stepped out of his car onto the carpet and casually strolled around while Merkel tried to not look as annoyed as she was undoubtedly feeling:

Video uploaded by EUXTV
5. A beautiful investment: In 2003, Berlusconi advised US businesses that Italy was ripe for their investment because not only did it have "fewer communists" than before, it also had "beautiful secretaries", according to the BBC.
6. Lurve album: The eurozone debt crisis caused more than one major headache for Berlusconi – not only did it seriously impact on his premiership and Italy's bond yields, it also forced him to delay the release of his latest love song album. (You can get a taster here.)
7. L'Aquila: After a 5.6-magnitude earthquake devastated the central Italian city of L'Aquila in April 2009, leaving hundreds dead and 17,000 people homeless, Berlusconi quipped that those forced from their homes should treat the experience as a "camping weekend", the Guardian reported.
What other Silvio gaffes would you add to his 'top moments' list? Add your suggestions in the comments below.