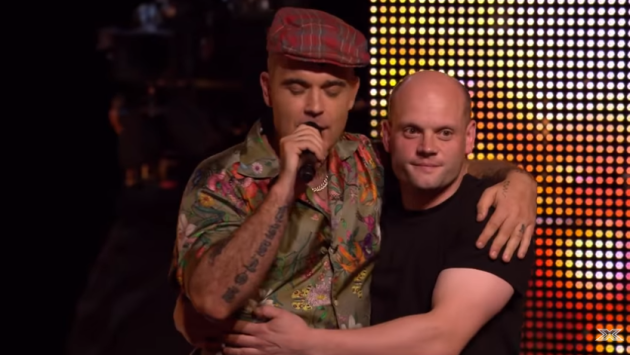 ITV ITV
THE MAIN HIGHLIGHT of last night's episode of The X Factor was undoubtedly Janice Robinson's incredible performance of 'Dreamer', but what really got viewers talking was the massive amount of attention that Robbie Williams got on the show. 
It's only episode one, and already we've had to endure a performance of 'Angels'. Who knows how many more Robbie Williams duets lay ahead? 
Last night one of the first contestants on this year's competition happened to be a Robbie Williams super-fan named Andy. Simon Cowell asked Andy to stop singing in the middle of auditioning with a song that he wrote himself. 
Okay, okay, Andy. I'm gonna do you a favour, if you wouldn't mind going back on the 'X', please, because I wanna hear your second song. 
Unsurprisingly, Andy's second song was 'Angels'. In fairness, Andy was absolutely delighted with Robbie said "I think you need a bit of help", before joining him on stage.
The X Factor UK / YouTube
Find yourself someone who looks at you the same way Andy looks at Robbie Williams #xfactor pic.twitter.com/lMkXOEvjUs

— Ryan (@_RyanMarshall_) September 1, 2018
Of course it was a nice gesture, but viewers found it just a little bit odd. 
I think if he didn't join in the singing (with a mic), I would be more inclined to say he was just being a nice guy. It was just a bit 'cringe' when he was singing his own song on stage and therefore upstaging the contestant!

— Emma Kindon (@EmmaKindon) September 1, 2018
It only took one hour and ten minutes for Robbie to sing Angles.. surprised it took this long #XFactor

— TV Hideout ⛈⚡️ (@BigHideout) September 1, 2018
65 minutes into Robbie Williams' first outing as an #XFactor judge and he's finally singing Angels on stage

— Ross Kempsell (@rosskempsell) September 1, 2018
Performance aside, people just don't understand why Robbie and his wife are on the show together.
Everyone sat watching Robbie Williams and his wife #XFactor pic.twitter.com/G7QkmsnCJp

— Brady Newstead (@bradynewstead) September 1, 2018
Robbie Williams and his wife cringe me right out already😫😫😫 #xfactor

— Nicole Wisby (@nicole_wisbyxo) September 1, 2018
Last night's episode was branded 'The Robbie Williams Show' by many viewers.
Just watched the Robbie Williams Show I mean @TheXFactor. I'm not sure if I get it ! filmed differently, production on the music with the contestants. For me to much happening gave me a headache. Not enough contestants. Not sure but give it a couple of weeks #xfactor

— Pete Price (@PeteCityPrice) September 1, 2018
Thoroughly enjoyed The Robbie Williams show tonight!! Oops, I mean #XFActor 😂

— JessicaJane Stafford (@KissJessicaJane) September 1, 2018
#XFactor is crap, come on now. Now it's the Robbie Williams Show 🙄👊🏼

— 🌹Vanessa 💄💅🏼🍹 (@Spirited_Enigma) September 1, 2018
This is awful now it's turned into Robbie Williams Show.Not going to watch anymore.#XFactor

— rosalind staples (@rosalindstaples) September 1, 2018
DailyEdge is on Instagram!