INTERNATIONAL SPACE STATION, Low Earth Orbit 51.603, The Universe.
That's the address that might see your letter reach the International Space Station if you fancy sending a bit of snail mail to Don Pettit and the rest of the crew on board.
Okay, so the ISS is constantly moving and An Post might have a problem getting your letter up there, but Pettit, writing on his blog, decided that since other frontier stations such as McMurdo Base or the Amundsen – Scott South Pole Base in Antartica have formal addresses, them so should he.
Pettit says that his "coffin-sized" sleep station is located on the fifth deck of Node 2 of the ISS. Taking his orbital inclination and his average altitude into account he's deduced that his address is:
Node 2, Deck 5, ISS, LEO 51.603
He's calling the 51.603 his "space zip code", with the first three digits indicating his orbital inclination and the last two as designators for his own particular space station ('01′ would be Salyut and '02′ would be Mir). Pettit says that this zip code system should work until there are more than 99 space stations in orbit.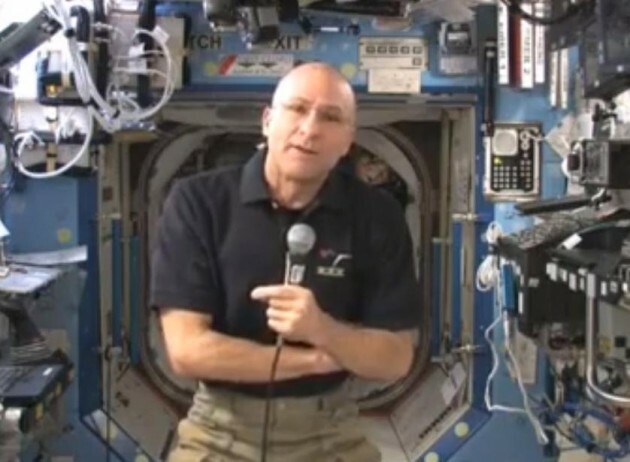 This is Don Pettit, in case you want to drop him a line. Pic: Screengrab from YouTube
The International Space Station is roughly the size of Croke Park and is the the largest ever spacecraft sent into orbit. It's been constantly manned for the past ten years and the current crew includes, along with Don Pettit, Oleg Kononenko, Andre Kipers, Gennady Padalka, Joe Acaba and Sergie Revin.
The latter three joined the ISS crew this week, launching in a Soyuz-FG rocket at the Russian leased Baikonur cosmodrome in Kazakhstan:
U.S. astronaut Joseph Acaba, left, Russian cosmonauts Gennady Padalka, center, and Sergei Revin, right, crew members of the mission to the International Space Station. Pic: AP Photo/Mikhail Metzel
You can see where the ISS is right now, have a look here.