IF YOU HAVEN'T heard or been outdoors at all the last couple of days, the forecast for the weekend ahead is not good.
Bitter winds, heavy rain and thunder are all predicted to make an appearance but it's the Bank Holiday, dammit, and we're determined to enjoy our extra day of freedom.
So, in the hopes of going back to work on Tuesday with something to say about our three days off, here are six things we could do.
Declutter
Right, it might not make for the most entertaining story but, by God, will you appreciate the effort you put in for the weeks to come.  
Start with clothes. No doubt there are quite a few pieces from last year's winter wardrobe that you won't be pulling out again this year… except to put it in one of the black bags you'll be taking to the clothes bank. 
With that stuff gone, you'll finally have the space to clear the rest of your room and get it back to a state that's fit for human habitation. 
Then it's on to the kitchen and mainly, the fridge. A slightly more monstrous task, but the sense of satisfaction you'll feel when it's done will be immense (if not slightly pathetic). 
Dedicate a few hours to the necessary places and you're free to move on to the next five suggestions. 
Netflix binge
It's likely you didn't need us to tell you that Netflix is a good option if you're planning on spending much of your weekend within the confines of your home but here we are. 
There have been quite a few eagerly anticipated shows added to the streaming service this month, many of them making for very appropriate binge-watching this Halloween weekend.  
If you haven't yet, the first eight-episode season of Elite is definitely worth considering. The series tells the story of three working-class teens who get scholarships to an exclusive private school in Spain and eventually become suspects in the murder investigation of a classmate.  
Want to have something to talk about at the kettle on Tuesday morning? Then investing ten-plus hours getting through the entirety of The Haunting of Hill House will definitely be worth it. It's cliche, we know, but it really is the show that everyone is talking about, even Stephen King himself who called it "close to a work of genius".   
And landing online yesterday, Chilling Adventures of Sabrina has many OG viewers of the show excited to see a fresh twist on the story while others remain sceptical of a remake. We'll hold off on judgement for now, but it's definitely worth watching if only to brag that you knew it wouldn't live up to the original. 
Baking 
Whether your Halloween plans have been scuppered because of the weather or not, it's unlikely it'll stop the doorbell from ringing on Wednesday night.
So it's probably best you have some treats ready to offload. 
But handing out budget penny sweets you bought in Dealz can be hungry work, so why not pre-prepare some sweet treats for yourself to enjoy when the madness is all over. 
Listen, sorry kids, but we're saving the good stuff for our own late-night screening of Saw. We're talking homemade brownies, candy apples or simply some rice crispy buns. 
Pick your baked good of choice, find yourself the easiest recipe to follow and make like Mary Berry. 
Future you will thank you for it.
Home spa
We've lost count of the number of times we've priced a day trip to a spa. It's a ritual that usually involves pure notions of grandeur, a ridiculously specific Google search like 'luxury spa days for cheap' and the quick realisation that Google's definition of 'cheap' is certainly not the same as ours. 
But don't let that stop you making like the ladies of RHOBH and treating yourself. There's quite a lot of pampering that can be done from the comfort of your own home.
Kick off your day by spending a little extra time preparing your breakfast, brew up a cup of whatever hot beverage takes your fancy and enjoy it all while listening to a calming playlist. (Unlike Google, Spotify totally gets what we mean when we search 'calming playlist').
Can't remember the last time you did a face mask? Well, today's the day, my friend. And don't just limit the pampering to your skin, get your hair in on the action too by lathering on a moisture treatment. 
If you feel like getting carried away, why not go all in with a full-body exfoliation before using your hair removal method of choice to rid yourself of the coat you've probably accumulated after you gave up on shaving when the temperatures started to drop earlier this month.
Finish your evening in the tub with all the bells and whistles you could find in the three-for-two in Boots and go to bed feeling like the queen you are.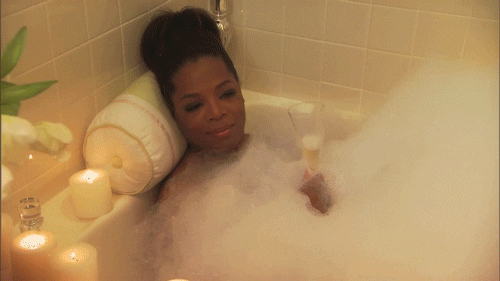 House party 
Have to cancel weekend plans because you just can't with this weather? Well then, why not move the party to your place? Whether you keep it intimate with just your nearest and dearest or you go all out with a Facebook Event (throwback!), get other people to make the effort on your behalf. 
Your contribution to the night?
Maybe some of those sweet treats you baked earlier, whatever booze you could gather together at such short notice and the freedom for others to enjoy a Halloween night out without being stepped, spilt or awkwardly hit on.  
You're welcome, friends!
Online shopping 
Some might not count this as an activity; we tell them to sit down. Online shopping is an endurance sport - only those who prevail will win.
We've watched many an evening go by as we scroll persistently through the 306 pages of 'New In' stock on ASOS only to go to the checkout with two items and feel a sense of triumph. 
Well, now is the time to be hitting that 'Add to basket' button as many of our favourite online retailers have some seriously killer (we couldn't help ourselves) Halloween offers on.
With sales and coupon codes aplenty, we're taking this weekend to purchase for our winter wardrobe, the work Christmas party and the summer holiday we haven't even booked yet. 
Early bird gets the worm and all that.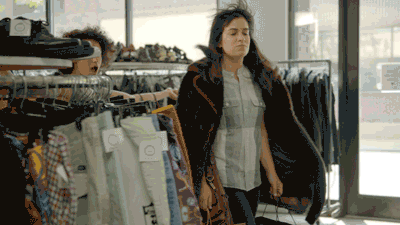 DailyEdge is on Instagram!