THERE WAS A flurry of activity on the internet last night as a rumour flew around various websites and social media.  The rumour?  That Friends was coming back.
Yep, according to Starmedia, NBC has 'reportedly confirmed' an entire new season of the show, apparently due to launch in 2014.
To say this 'reported' confirmation is unconfirmed is a bit of an understatement, but it's impossible not to feel a little bit wishful about the lads coming back to our televisions in new episodes.
But then, maybe we should be careful what we wish for.
When we picture them, we picture them smiling, beautiful, together, but things may not be what they once were.  Life has gone on for these characters and the last decade may have been tough on them.
Here's how things might have gone for Monica, Chandler, Rachel, Ross, Joey and Phoebe over the last ten years
YouTube/SoundFXNow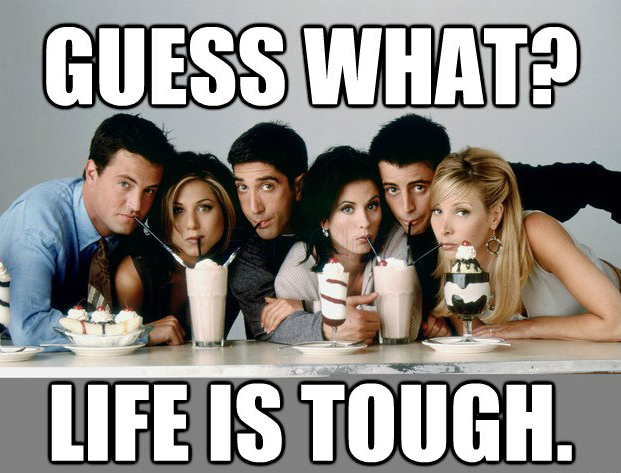 It's 2014, and times have not been easy for our gang.
Joey has had to call time on his acting career.  He's too old for the young parts now, and people just weren't buying his 'young' act.
YouTube/unofficiallyfriends
After a run of off-off-Broadway plays and some personal appearances at soap opera fan conferences, the opportunites have dried up.  He's had to leave his apartment and is staying with Ross and Rachel until he figures out what he's going to do.
Meanwhile, Ross is too wrapped up in his role as a sound consultant for Jurassic Park 3D to notice that Rachel isn't happy.
YouTube/GuyverRanger7·
She's lonely, tired of ferrying 10-year-old Emma around the city, and finds herself wondering more and more what her life might be like if she'd gone to Paris.  About a month ago she and Joey had one too many and woke up in bed together.  It was a lot like this.
Dirty.
They haven't spoken about it since.
Chandler lost his job in advertising because of the recession and has had to go back to the WENUS.  Remember how much he hated that?  He's still going on a lot of job interviews, but doesn't struggle not to joke as much as he used to.
YouTube/Fedotdotdot
He doesn't laugh much these days.
Monica is doing her best to hold it all together, cooking up a storm and catering every event in Connecticut, but has started eating her feelings again. Just like at the beginning, she's trying to make herself and Chandler happy with food.
YouTube/RushTheSilver
The 10 year old twins recently discovered that they're adopted.  Monica and Chandler had planned to tell them from the start, but there never seemed to be a right time.  Ironically, they discovered the truth when someone who was considering adoption came to visit them.
It was history repeating itself.
YouTube/PureBloodPaul
Phoebe's song 'Smelly Cat' was sampled by Snoop for his new incarnation as Snoop Catty Cat.
YouTube/lpss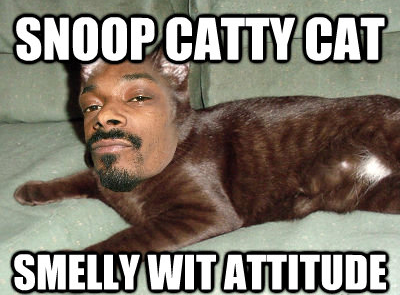 celebritiesascats.tumblr.com
She made a fortune and moved to LA where she managed to find someone with the actual surname 'Phalange'.  She married him of course, and now is on the reality show, the Real Housewives of Bel Air.
Fame has changed her, and the only 'Friend' she speaks to anymore is Janice, who features in the Real Housewives of Connecticut.
Things are going well for one member of the Friends cast though, albeit not one of the stars.  Ben, now 19, developed a web series based on the Holiday Armadillo which got picked up by Nickelodeon.  The series and its accompanying iPad app and merchandise has made him a very rich young man.
YouTube/oneandonlytaryn
At least it worked out for someone.
We'll have to wait and see if there is any truth to the rumour that Friends is coming back, but maybe we'd be better off without it, eh?